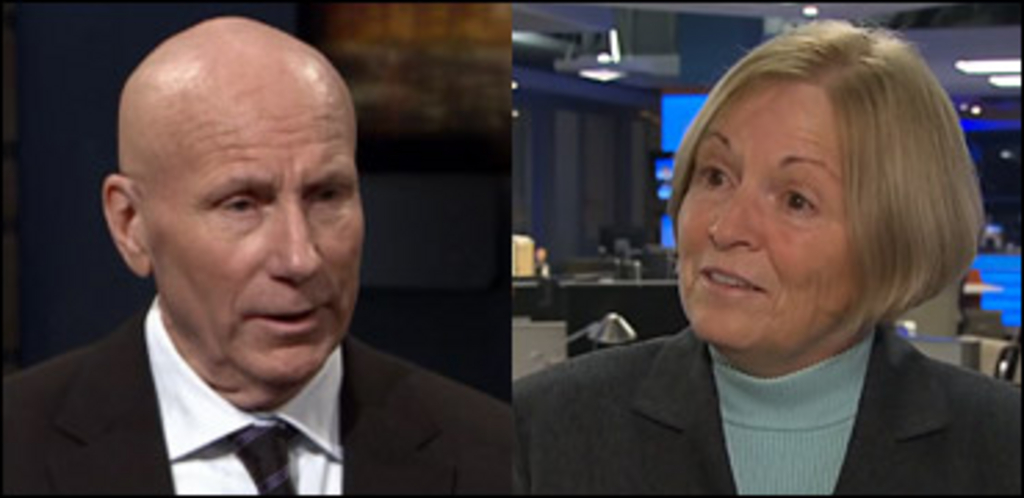 Published:
February 14, 2013 09:59 am EST

"I can't speak for our Board, I can only speak for me, we are getting very, very close to the point of losing our industry and I think we have to take whatever measures are necessary and spend whatever money is necessary to make that our Government clearly understands there is no more time."
The horse racing industry is now three weeks removed from the first sign of movement from the Ontario government's transition panel, whose agreement with Woodbine Entertainment gave the track a two-year window for hosting live racing. At that time, Minister Ted McMeekin stated more deals were set to be completed in the next few weeks.
For an update on the Panel's progress, Trot Radio contacted John Snobelen for an update.
"We're cognizant of the time problem. Think back a couple of weeks, we've had two announcements. One was that WEG would be open at both facilities for the next couple of years which is, I think, great news," Snobelen told Trot Radio's Norm Borg. "Last week, ORC issued a press release saying that they're going to be working with people in the industry on a $30-million HIP program, that's good news."
According to Snobelen, the current delay is in the Panel's process for creating a simpler template to streamline the negotiation process with the smaller tracks after creating a baseline template with WEG.
"We advised in our report that Finance go and do an audit with all the tracks, make sure we understand where Ground Zero is in terms of cost of racing. They've already started that process. The tracks have submitted financial information," stated Snobelen in an interview taped late Tuesday. "We've been meeting with Finance to work out a simpler template to talk with the rest of the tracks, and at least part of the delay has been us. We've been encouraging them to go out and do something a little simpler. We have an agreement on that, I think we'll be ready to go in the next few days.
"Everybody understands the time frame; what we really want to do is make sure it didn't take a month with each track to negotiate a deal. So all of this is actually in the interest of doing it faster."
OHRIA President Sue Leslie feels that the process is taking too long and stated in an interview on the association's website that she's personally close to the point where public action may be an option.
"We may have to take some measures now to engage the government in a more public way again through some type of a campaign to understand that we're nowhere near where we need to be."
One option that Leslie agreed is a possibility would be, as Borg put it, "no deal, no slots."
Given that no financial details have been discussed to date aside from the $30 million for Ontario's Horse Improvement Program, the anxiety level continues to mount for those connected to Ontario's horse racing industry. Yet Snobelen confidently concluded his interview by stating that "there will racing in Ontario for a long, long time." With the landscape in front of her and the rest of the racing industry so unclear, Leslie respectfully disagrees.
"I do have the utmost respect for him and I think he is working as hard as he possibly can to make that a reality but the fact is we're in the middle of February, the breeding sheds are opening, our breeders have no reassurance - nor do trainers and owners - have any reassurance that horse racing in going to exist three years from now. We know that Woodbine has funding to run racing for two years. That's what we know. And we know that there are some agreements in principle with some tracks for lease space. But that is all we know. And that certainly doesn't give an individual the comfort level that's needed to go out and buy a mare and breed it to an Ontario sire."
As Snobelen stated, the deal with WEG was the most complex and that perceived difficulty was part of the reason why that deal was completed first. Leslie wonders if Government has, in racing speak, eased up in deep stretch on this matter.
"I fear, and I could be wrong, the fact that Woodbine was able to get an agreement with the OMAFRA funding that we've taken the pressure off of government to think that 'well, if Woodbine's OK, everyone's OK.' And first of all Woodbine isn't very good and certainly no one else is any good."
Is Government trying to drag this process as a bartering tactic? Leslie doesn't think that's the strategy of the OMAFRA panel.
"I don't get that feeling from the transition panel, I think they're trying as hard as they can. Obviously I think all of us from time to time have it go through our minds as whether we're getting played here, whether we really have a Government that cares. I pretty much became convinced that the last Government didn't. I don't have enough evidence to say that this Government doesn't. I think, in fairness, we have to give [Premier Wynne] some time but she doesn't have a lot of time."
Despite her busy schedule, Snobelen feels that Premier Wynne won't require an exorbitant amount of time to deal with the Panel's report.
"I think we have all the approvals we need to have to do that and I don't think the briefing of the folks on the second floor [of Queen's Park] is going to take very long because they're very familiar with the file."
To listen to the full interviews, click the associated play button below.
---
Episode 285 – John Snobelen and the OMAFRA Panel
Audio Format: MP3 audio
Host: Norm Borg
---
OHRIA's Sue Leslie Responds
Audio Format: MP3 audio
Host: Norm Borg
---