For 11 years straight, beginning in the late 90s, driver Pascal Berube won anywhere from 101-215 races per year. Then, after Attractions Hippiques declared bankruptcy in 2009 and Quebec's racetracks started closing, those numbers, understandably, dropped. With Rideau Carleton an eight hour round-trip drive from his home, Berube contemplated leaving racing altogether, but took a job as a butcher and stayed involved as much as he could. Fast-forward a decade and Pascal is about to capture his third straight driving title at Hippodrome 3R, he's the second leading driver at Rideau, and has a 1-in-8 shot at representing Canada at the World Championships in Italy in 2023. It's probably safe to say, Berube's driving career is back-on-track. By Paul Delean.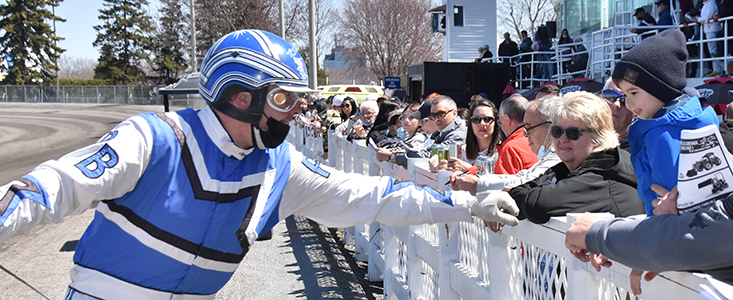 One of eight finalists that has a chance to represent Canada in the World Driving Championships in Italy, in 2023, Pascal Berube's career has come a long way since 2012, when Hippodrome de Québec closed for good. Forced into work as a butcher - a job that he loves and still maintains - Berube considered quitting the horses completely. He hung in there however, often making the eight-hour round-trip drive from his home in Portneuf, Quebec to Rideau Carleton Raceway just to drive a few horses. Now, the patience of the fun-loving driver has paid off in spades, and his driving stats have never been better.
In the dark days a decade ago,  when Quebec's last operating racetrack closed and his livelihood disappeared, horseman Pascal Berube could not have imagined a year like 2022.
Berube, who turned 50 in September, is on pace for his highest win total in 17 years and a career year in driving purses with more than $825,000 collected already at Rideau Carleton Raceway in Ottawa and Hippodrome 3R in Trois-Rivieres.
He's a shoo-in for his third consecutive driving title at Hippodrome 3R and stood second to Guy Gagnon in the driver standings at Rideau through September. Milestone win 3,000 is just a few dozen victories away and he surpassed $10 million in lifetime earnings earlier this year.
He and partner Isabelle Binet have been a couple for 30 years and they'll be visiting France this winter to watch their 24-year-old son Olivier play defence for a hockey team there called Les Diables Rouges de Valenciennes.
In addition to driving horses, Berube has a second job he loves, in the meat department of a friend's grocery store in Portneuf, QC, not far from his farm, midway between Trois-Rivieres and Quebec City.
All things considered, there's not a lot he would change about his current life.
"I feel very lucky," he said. "It doesn't feel like I'm working, even when I get home from Rideau [a four-hour drive from his home] at three in the morning. It never has. It's always fun.  I know it's not that way for everybody."
He's been a fixture on the Quebec harness-racing scene for more than three decades, getting his start as a teenager in his hometown of Mont-Joli. a community of 6,000 people in Quebec's Gaspe region, coincidentally also the hometown of one of Canada's leading big-circuit drivers, Louis-Philippe Roy.
Roy, 29, said he grew up idolizing Berube, whose father kept horses in the same barn at the local track.  "It was before live streaming, so we'd watch him on replays. Sometimes we'd even check the race results on the Standardbred Canada website as they unfolded to see how he was doing that day."
It was always a big deal when Berube came back to Mont-Joli for a visit or to compete on the regional racing circuit, Roy said. "We were excited to go see him. We were hungry to learn all we could from him."
A twist of fate is what led Berube, the eldest of three brothers, into the sport initially.
His mother Diane Lizotte, adopted at a young age, decided she wanted to know her birth mother, and eventually found her, and at the same time, a sister, also named Diane.
The sister's partner was a horseman, Jacques Sirois, who raced Standardbreds on the Gaspe Fair Circuit.
The first time the then-teenaged Berube accompanied them to the Price-Mont-Joli racetrack, he was smitten.
"I didn't really have any career plans at the time, didn't know what I wanted to do," said Berube, whose high-school interests were mostly music (he played drums in a Nirvana-era rock band called Profana) and hockey (he played goal).
"This was the first time I saw something that I felt could be my future. When I saw the horses training, I said that's for me."
He started helping out at the Sirois stable, and a year later, Pascal's father Gilles, a printer by trade, purchased a horse from Sirois, Sir Winston Kempt.
That particular horse was too aggressive for young Pascal to drive, but the next purchase, Jersey Mary, was a good fit.
"We raced for fun at the fair in Mont-Joli and I trained and drove her. She was my first drive."
His first start in an official race came at age 19 (June, 1992) on the fair track at Riviere-du-Loup with a horse called Special Drummond, whose owner wanted him to drive and paid for Berube's license.  Special Drummond broke behind the gate but still won, in a mile timed in 2:13.4.
There were more wins on the fair circuit, but Berube didn't think he had what it took to drive professionally, and nobody was telling him otherwise.
Because he enjoyed working with the animals however, and because school wasn't working out, he followed his passion to Quebec City, showing up unannounced at the racetrack and immediately landing a job in the stable of trainer Gabriel Boily, the first of many who'd employ him.
It was at the racetrack in Quebec City that he first encountered Isabelle Binet, who'd come there to watch her father's horse race. They soon teamed up on and off the track, buying a horse together and then growing their public stable from an initial two horses, owned by Berube's father, into a powerhouse barn at Hippodrome de Quebec and Hippodrome Trois-Rivières, where they would come to dominate both the driving and training standings.
But it took a while for Berube, who idolized Canadian driving stars Luc Ouellette and John Campbell,  to start driving himself. "It took me a couple of years [after his fair victory] to get my license for the bigger tracks," he said. "Until then, I didn't see myself as capable of driving at that level."
A win in the regional-circuit final at Hippodrome de Quebec in 1993, with his dad's mare Pegasus Rebecca, persuaded him to take the plunge. His first drive, and victory,  as a pro came with the same horse at Quebec City in 1994, when the pair captured a $3,000 claiming event by six open lengths.
Thus began a productive 15-year run for Berube, who topped 100 victories a year from 1999 to 2009 and had a career-high 215 in 2003.
Beyond the Quebec City-Trois Rivieres circuit, he'd  make an occasional foray to Hippodrome de Montreal, notably capturing the $85,000 Prix du Quebec final there in 2008 with aged pacer Stallone.
It all looked to come crashing down for Pascal in 2012 however, when Hippodrome de Quebec closed for good, razed to make way for a new arena.
Hippodrome de Quebec was the last domino to fall for the province's standardbred industry, hanging by a thread after the bankruptcy in 2009 of Attractions Hippiques, the private company to which the Quebec government had conferred management of the province's four racetracks. Hippodrome de Montreal, Aylmer and Trois-Rivieres already were shuttered.
For Berube, it was the bleakest of times. "I was close to quitting," he said.
To make ends meet, he started to work at a friend's grocery store. "The butcher was retiring and they hadn't found anyone to replace him, so I said I'd try. His last week there, I spent with him, learning as much as I could. I learned to cut meat, make sausage. I discovered I liked doing it, I liked the people I worked with and dealing with the public… I felt appreciated.  Ten years later I still do it, anywhere from two to five days a week, depending on the time of year and how much I'm racing."
As much as he enjoyed his new vocation however, horses were still top of mind, so when owner Pierre Leclerc called to ask if he'd qualify a couple of horses for him at Rideau Carleton - a four-hour drive each way - Berube thought, "why not?"
"As soon as I did it again I thought, I can't stop having this in my life. It made me happy."
He still needed customers for his services, and that took a while.
His win total dropped from 101 in 2009 to just 21 in 2010, and with far fewer starts than usual the driver accustomed to 100-win seasons never captured more than 41 in a year until 2018.
That's when occasional requests to drive at Rideau became more frequent, especially from trainers from his home province, and with more opportunities his win totals began to rise again.
He's a big wheel now at Rideau, associated with horses like fan favourite National Debt, a preferred pacer with more than 80 career wins, half of which came with Berube in the sulky.
Standardbred owner Francois Morin, an acquaintance of 25 years who had horses trained by Berube and encouraged him to give Rideau a shot, said there was never any doubt in his mind he would make the grade.
"Pascal  is a very calm, reflective person in real life, and a very aggressive, reflective person on the track. He analyzes what's going on and Rideau has helped him step up his game. He's always wanted to win. One thing about him, he collaborates with the trainers so the horses can be their best. If he drives for you, he'll take the time after the race to tell you, very calmly, what you might change for a better result next time. He wants the horse to be better."
As far as Hippodrome 3R, when it reopened in the fall of 2012, with a limited schedule under the management of the non-profit Quebec Jockey Club, Berube needed no urging to return to a track he had commuted to regularly before the industry collapsed.
He's been a dominant driver there ever since, and never more so than this year,  wth his win percentage hovering around 30 per cent and his current UDRS at an incredible .465. Virtually every horse he drives is a contender at  Hippodrome 3R, where he's a master at getting off the gate.
"He's very good, and competitive, and he listens to the horse," said Louis-Philippe Roy. "The first time he drives a horse, that horse often is  dangerous [a threat to win the race]. He gets speed from them and gives them a chance to win."
Hippodrome 3R track announcer Guy Lafontaine, who has called thousands of races with Berube driving, said he combines aggressiveness, maturity and joie-de-vivre. "He's a guy who likes to have fun, always smiling. He considers himself lucky and it shows," says Lafontaine.
Since 2019, when Berube's workload at Rideau grew, he's topped 100 wins every season. He had a career-high $831,648 in earnings in 2019 but that total will almost certainly be eclipsed this year.
He believes he's a better and more complete driver today than at any previous time, and that's certainly what the numbers suggest. His overall UDRS in 2022  is near .400, the highest it's been since he started driving regularly.
"It's a combination of things, I think. Confidence, aggressiveness, patience, accumulated experience, the trust of trainers who give me good horses to drive. Good trainers won't use you if you can't deliver.
"When I went to the Gold Cup and Saucer in Charlottetown this year [to drive Major Hill], I was excited, not nervous. It's not the same thing. That's how I approach it now.
"I love being able to get results for people who worked all week to get that horse ready, finish the job for them. get them the result they were hoping for. It's really gratifying."
He and Binet used to have their own stable, at one point training as many as 42 horses, but they gave that up completely last year, and he's now a catch-driver exclusively, filling the rest of his week with shifts at the grocery store and garage-league hockey games.
"I started getting more drives at Rideau and It was just too much work, having to rush from Hippodrome 3R on Sunday afternoon to make it to Rideau in time for the first race while also arranging to get our horses trailered  back to the farm from Trois-Rivieres," he said. "Friends helped us out but you hate to have to rely on them."
Morin has noticed a positive difference since the switch.
"I think he's more relaxed now. He has more time to think about the races without stable management. He was too busy before. He's always been a pleasant guy, never jealous. Just a beautiful human being."
Berube said he's happy where he is and has no aspirations now to follow past Trois-Rivieres stars like Roy, Daniel Dube and Yannick Gingras to the bigger and richer circuits.
In fact, he still enjoys the fair tracks, and returns regularly to his hometown of Mont-Joli to race when the regional circuit presents a day of racing there. "I can remember seeing the Roys there, Louis-Philippe and Pierre-Luc, when they were younger. I'd give them whips and they were so happy. It's funny to think I used to inspire Louis-Philippe and now it's the other way around, but I don't feel I'm missing anything. I love my life. I wouldn't change anything."
Well, maybe one thing.
"I still don't have a win at Mohawk, and I'd like to get one," he said. "Maybe this winter I 'll claim a horse, leave it with a friend like Richard Moreau and go drive it when it's entered. There's something about Mohawk. Like The Meadowlands, it has an aura like nowhere else."
With the way the past few years have gone, don't bet against him getting that win either.
 This feature originally appeared in the October issue of TROT Magazine. Subscribe to TROT today by clicking the banner below.