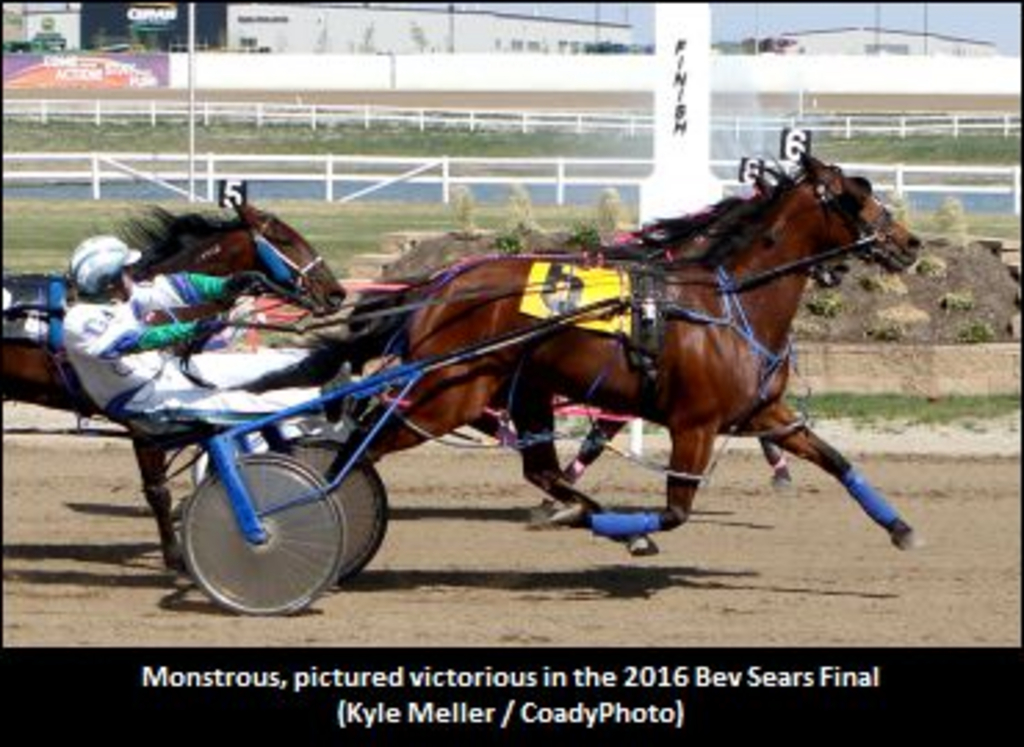 Published:
September 9, 2018 09:51 am EDT
Trot Insider has learned that Monstrous, the 2016 Three-Year-Old Filly of the Year in Alberta, was euthanized on the morning of Monday, September 3 following complications from overnight colic surgery.
"So she went into surgery with severe colic and we operated thinking it was a large colon issue, but she never came out of the colicy (sic) situation and she had to be euthanized," owner-breeder Dr. Warren Fuller said over the phone.
Monstrous had gone to the veterinary clinic Saturday morning (Sept. 1) for surgery. Fuller said it was the second case of colic the filly by Allamerican Navajo had developed – her first episode had occurred in January 2017, the start of her four-year-old year.
"It was one of the reasons she hasn't been back as an aged horse," Fuller said.
The Daryl Cutting-trained champion filly made one start in 2017, where she finished eighth by 11 lengths against top-level conditioned pacers at Century Downs. She came back in 2018 with six starts, but failed to collect a cheque in any of those miles.
"She was never the same horse after that," Fuller said of the first colic episode. "It led to other soundness issues and things. We qualified her a couple of times, raced her a few times, but she was never the racehorse she was as a three-year-old."
According to vets, Monstrous likely developed the second bout of colic as a result of her first case back in 2017 and that, being the second time around, the condition likely worsened.
Fuller's homebred stateside star shined brightest in her sophomore campaign back in 2016. As a three-year-old, she won the $70,000 Ralph Klein Memorial and the $80,000 Alberta Sires Stakes Super Final. She also finished second in the $30,000 Bev Sears Memorial and the $58,100 Alberta Sires Stakes Princess Final. Overall, she won seven races from 29 starts and banked $164,814.
"She was a once-in-a-lifetime horse as an owner," Fuller said. "I'm proud that she was a homebred — we had the mare and foaled Monstrous out. Other than that, she was a special horse for us; Three-Year-Old Open Filly of the Year here in Alberta and Three-Year-Old Alberta Sired Filly [of the Year]. That doesn't happen very often which was a blessing for us."
Please join Standardbred Canada in offering condolences to the connections of Monstrous.