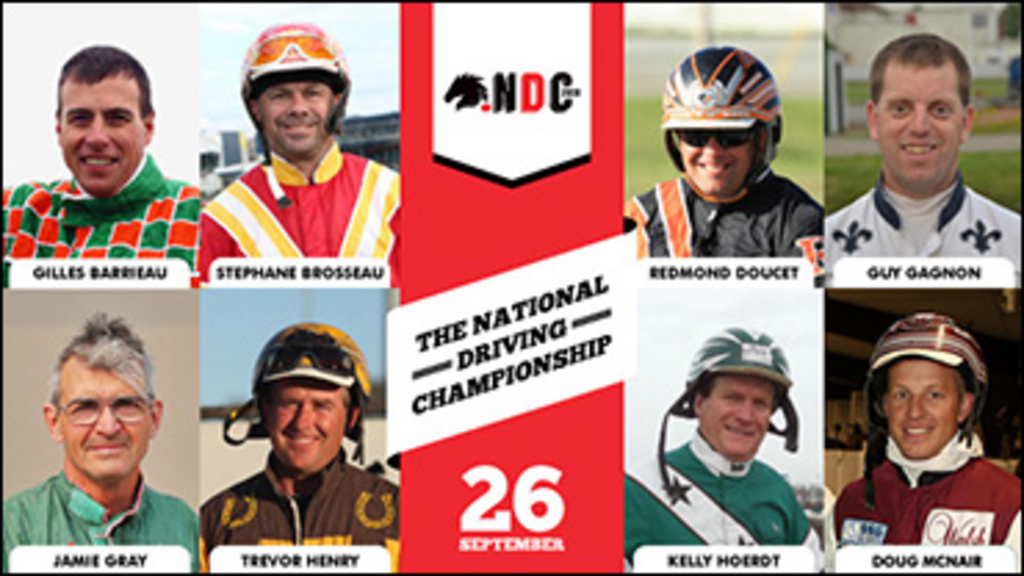 Published:
September 26, 2018 08:36 am EDT
The National Driving Championship, presented by Standardbred Canada, will take place tonight -- Wednesday, September 26 -- at Grand River Raceway in Elora, Ontario. One of the eight drivers will represent Canada in the 2019 World Driving Championship next May in Sweden.
The National Driving Championship is an eight-race event and drivers earn points based upon their finishing positions. Drivers were able to have input into the horses they will be driving as a hockey pool style "draft" was conducted Friday for them to choose their horses in each race before the post position draw was made.
Eight drivers from across the country have qualified in four regional events co-ordinated by Standardbred Canada and will congregate in Elora, Ont. this evening. Here is a recap of the qualifying events from earlier this year: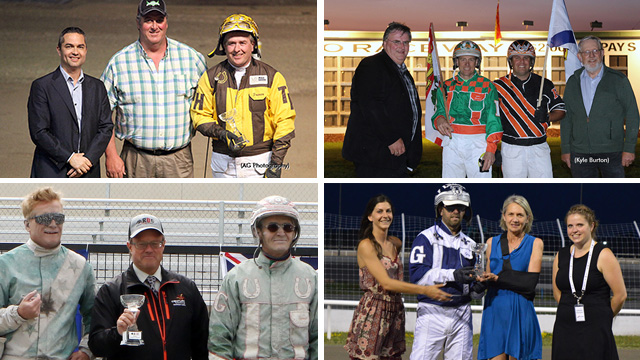 Trevor Henry captured the 2018 Ontario Regional Driving Championship (ORDC), held Wednesday, May 16 at The Raceway at Western Fair District in London, Ont. Henry advanced along with third-place finisher Doug McNair, replacing ORDC runner-up Louis-Philippe Roy.
Consistently strong efforts from Alberta-based drivers Kelly Hoerdt and Jamie Gray landed that pair atop the standings in the Western Regional Driving Championship (WRDC) held Saturday, June 23 at Century Downs.
Gilles Barrieau won three of eight legs en route to victory in the 2018 Atlantic Regional Driving Championship on Friday, June 29 at Truro Raceway in Truro, N.S. Barrieau advanced along with driver Redmond Doucet.
Guy Gagnon emerged victorious in the Eastern Ontario / Quebec Regional Driving Championship at Kawartha Downs in Fraserville, Ont. on Saturday, June 30. Gagnon will be joined at the NDC by EOQRDC runner-up Stephane Brosseau.
Here's a look at the drivers:
Driver
Gilles Barrieau
Stephane Brosseau
Redmond Doucet
Guy Gagnon
Jamie Gray
Trevor Henry
Kelly Hoerdt
Doug McNair
Years Driving
38
32
18
31
38
30
33
11
Career Starts
19,276
26,158
2,813
27,941
17,733
35,877
13,456
17,769
Career Wins
4,397
3,139
590
5,076
2,477
6,570
1,993
3,116
Earnings
$8.7 million
$19.6 million
$618,000
$23.9 million
$11.6 million
$55 million
$12.7 million
$49.9 million
The NDC races are carded as races 2, 3, 4, 5, 6, 7, 8 and 9. First race post time is 6:30 p.m.
The National Driving Championship will adapt the point system utilized in the World Driving Championship. Points will be awarded on the order of finish as follows:
Number of Starters: 8
15 (1st)
10 (2nd)
7 (3rd)
5 (4th)
4 (5th)
3 (6th)
2 (7th)
1 (8th)
In the event of a scratch where an also-eligible is not available, the driver will receive five points. To download a printable NDC scorecard, click the following link: 2018 NDC Scorecard.
A scratch has already been announced. Trot Insider has learned that Three Pink Boys, who was scheduled to contest Race 9 from Post 6 for driver Kelly Hoerdt, will not be racing. The AE1, Mighty Mouse, will move into Post 6 and will be steered by Hoerdt.
The oddmakers at Grand River have given the edge in tonight's National Driving Championship to driver Trevor Henry.
Based on the morning line odds and the NDC point system, if the horses finish as the oddsmakers predict Ontario-based Trevor Henry will tally 59 points. That total will top the points accumulated by Quebec's Guy Gagnon (54.5) and Alberta's Kelly Hoerdt (52).
Here's how the oddsmakers have assessed the 2018 National Driving Championship standings based on morning line odds.
1. Trevor Henry - 59
2. Guy Gagnon - 54.5
3. Kelly Hoerdt - 52
4. Doug McNair - 48.5
5. Stephane Brosseau - 42
6. Redmond Doucet - 41
7. Gilles Barrieau - 40.5
8. Jamie Gray - 38.5
To view the complete fields, click here or view program pages here courtesy of TrackIT.
Who do you think will win the 2018 National Driving Championship? Have your say in the weekly SC web poll and enter the NDC Pick 8 Online Handicapping contest.
The action will be streamed live as the SC website will feature the Grand River simulcast show, starting at 6:00 p.m. Two past World Driving Champions, James MacDonald and Jody Jamieson will provide colour commentary alongside anchor Greg Blanchard, while Jason Portuondo will be interviewing drivers pre-race and post race.
Upon arrival at Grand River, racing fans can meet and mingle with the eight competing drivers in the NDC. If you're one of the first 500 to purchase a racing program, you'll receive a souvenir Ontario Racing / NDC hat, courtesy of Ontario Racing.
Enter the "Choose The Champ" contest for a chance a winning $1,000! Sponsored by Grand River Raceway and Ontario Racing, entrants must complete a ballot (ballots will be in the race program) and put it in the ballot box of the driver you think will win the NDC. The winning driver will draw the Grand Prize winner at the end of the NDC races.
To add to the fun, The I Love Canadian Harness Racing Fan Club also has a couple of on-track contests.
Racing fans who are coming out to Grand River are invited to make a sign to use to cheer on their favourite driver! Register at the Fan Club desk and show them your sign and you'll have a chance to win a $100 betting voucher! (Fan Club membership not necessary to enter.)
Take a photo of the NDC action at Grand River tonight and post it on Facebook, Twitter or Instagram with the hashtag #NDC18 for a chance to win a $50 gift card to the racetrack of choice and a $50 swag package. Deadline to enter is Thursday, Sept. 27 at noon. (Fan Club membership not necessary to enter.)
Trot Insider will provide live coverage of the NDC on standardbredcanada.ca.