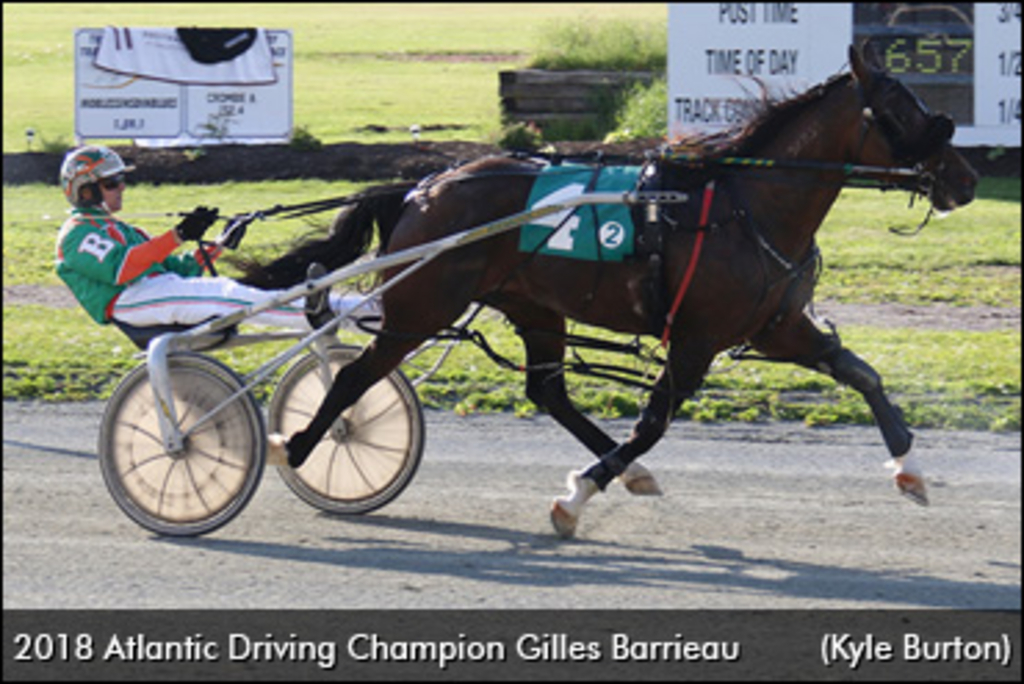 Published:
June 29, 2018 04:06 pm EDT
Gilles Barrieau won three of eight legs en route to victory in the 2018 Atlantic Regional Driving Championship on Friday (June 29) at Truro Raceway in Truro, N.S.
The New Brunswick native advances to the National Driving Championship in September at Grand River Raceway in Elora, Ont. along with driver Redmond Doucet of Inverness, N.S. No stranger to this level of competition, Barrieau won the 2007 National Driving Championship and represented Canada overseas.
"I had a great night...everything worked into place," said Barrieau after the card. "They're all competitive drivers...and they're all good drivers."
Barrieau finished with 72 points, and Doucet finished second with 61 -- one point ahead of PEI's Jason Hughes, who dead-heated for third in his final drive. That dead heat took his third-place finish in that race from a seven-point tally to six.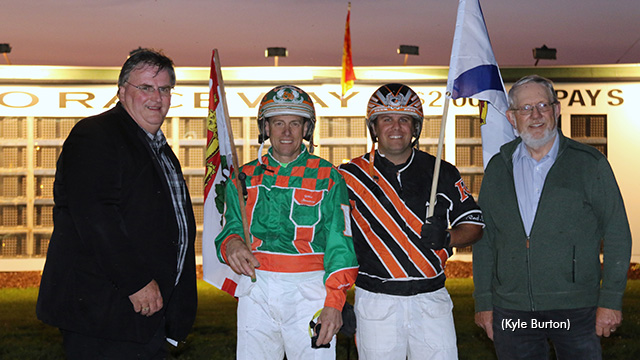 2018 Atlantic Regional Driving Champion Gilles Barrieau (second from L) and runner-up Redmond Doucet (second from R) flanked by Standardbred Canada directors Kent Oakes (L) and Tony Zuethoff (R)
Barrieau and Doucet will join other six drivers, including Ontario finalists Trevor Henry and Louis-Philippe Roy and Western Canadian finalists Kelly Hoerdt and Jamie Gray, at the 2018 National Driving Championship at Grand River Raceway in September.
The winner of the 2018 NDC will have the opportunity to represent Canada in the World Driving Championship (WDC), and join 2017 World Driving Champion, James MacDonald, in the 2019 WDC in Sweden.
Race Recaps
ARDC Race 1: Redmond Doucet claimed the early spot atop the leaderboard with his off-the-pace score aboard C J Bluefin in the first leg of the Atlantic Regional Driving Championship. Doucet and C J Bluefin stopped the clock in 2:00, with Leda Atomica (Gilles Barrieau) and Allcountry (Jason Hughes) completing the top three.
ARDC Race 2: Sock It To Em lived up to his name with a dominant effort to give Gilles Barrieau the lead after two ARDC legs. Barrieau had the veteran pacer on top early, yielded briefly to Fleetwood Cam (Marc Campbell), then retook down the backstretch. A mid-race challenge from Silverhill King (Darren Crowe) was harshly rebuffed as the ten-year-old pulled away to win by more than five in a lifetime-best-equalling 1:58.1. Fleetwood Cam nosed out Silverhill King for runner-up honours.
ARDC Race 3: Redmond Doucet piloted Dontstandinmyway to an off-the-pace score to give the Nova Scotia-based driver his second win of the competition. The seven-year-old pacer held off a late bid from longshot Flag Of Honor (Jason Hughes) to stop the clock in 2:01. Eye Forty Seven (Marc Campbell) held third over Mister Pibb (Gilles Barrieau), who recovered well from a miscue off the gate.
"I thought Marc might have been the best horse in the race, I got the tow behind him and it all worked out," said Doucet after the win that vaulted him back to the top of the standings.
ARDC Race 4: Jason Hughes sent favoured Silverinyourpocket to the front and made four left turns to capture his first race of the competition and make a dent in the standings. On top by some five lengths at the third station, Silverinyourpocket hung on to win in 1:58.1 over a hard-closing Brookdale Buster (Marc Campbell). Canbec Is Back (Redmond Doucet) prevailed in a photo for show.
ARDC Race 5: Miss Sangria has been red-hot since a move east from Quebec, and that was music to the ears of catch-driver Gilles Barrieau. After riding the pocket behind P H Powerful (Marc Campbell) and looking hopelessly locked in heading for home, Barrieau found a seam at the head of the lane and tracked down stretch leader Grins Little Flirt Todd Trites) for the 1:58.2 victory. Gold Record (Darren Crowe) angled up the pylons for third.
ARDC Race 6: In a trip that looked very similar to his earlier win, driver Jason Hughes was intent on the front end with Jeb, got it and didn't relinquish en route to an open-length score that vaulted 'The Blue Knight' to the lead for the first time in the 2018 Atlantic Regional Driving Championship. The 3-5 favourite stopped the clock in 1:57, some five lengths in front of Saulsbrook Quick (Marc Campbell), who fought back valiantly after a failed first-over bid to nose out Electric Syl (Redmond Doucet).
ARDC Race 7: Classy veteran Montreal Phil connected for his 75th lifetime win, a gate-to-wire score in 1:57 for driver Darren Crowe to give the local driver his first win of the Atlantic Regional Driving Championship. After carving out all the fractions, he showed his backclass to repel a late bid from pocket-sitting Dragon Fire for the 1:57.2 score. Always Reese (Redmond Doucet) closed well from the back to nab show dough and much-needed points for his pilot.
ARDC Race 8: In a thrilling finale, Gilles Barrieau prevailed in a hotly-contested race to Four Brass Starz to win the 2018 Atlantic Regional Driving Competition. Away near the back of the pack early, Barrieau had his charge sitting second over from the three-eighth point on, tipped three wide around the final turn and then into the four path in the stretch for the 1:59.4 score over Dinger Two (Marc Campbell).
Leaderboard (Final)
1. Gilles Barrieau - 72
2. Redmond Doucet - 61
3. Jason Hughes - 60
4. Marc Campbell - 57
5. Darren Crowe - 42
6. Todd Trites - 40
7. Gerard Kennedy - 23
8. Ken Murphy - 20
The only race not part of the ARDC on Truro's Friday night card was a $2,500 Preferred Pace. Mr Irresistible was the darling of the pari-mutuel players at 1-9, and he delivered like a 1-9 shot going gate-to-wire for trainer-driver Jason Hughes and owner Danny Birt to win for fun in 1:54.2. Preceptor (Paul Langille) chased and placed with show honours to Distinctiv Rusty (Redmond Doucet).
Important Links: