Published:
September 1, 2015 09:52 am EDT

The I Love Canadian Harness Racing Fan Club's Heart of Harness Racing Calendar photographer for September is Pierre Rochette, of La Malbaie, Quebec.
The photo captures Carl Duguay and Final Curtain out on the track at Hippodrome de la Vallée.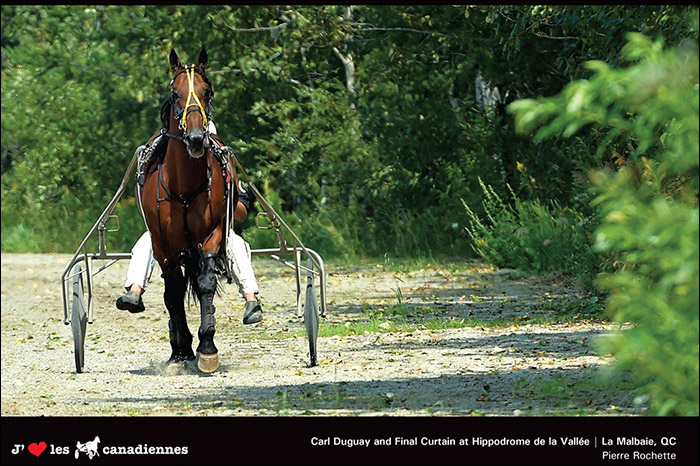 Rochette, who hails from the Charlevoix region in Quebec, has made his way through life with a camera in his hand. Picking up a camera at the impressionable young age of twelve, it has become an integral part of his routine.
"She never leaves me," admits Rochette. "I particularly like photographing athletes, like horses in action or racing, or dog sled teams."
When he isn't snapping photos for fun, Rochette photographs harness racing as a press photographer and journalist for the Charlevoix region newspaper. He taught himself the tricks of the photography trade and has been shooting horse racing since the mid-1980s.
He had the pleasant surprise of being published in the prestigious magazine Chausseur d'Images, the premiere photo magazine in Europe. With the use of a compact Fuji X100, he captured a scene of Lake Nairne at sunset. One of the first in Quebec to purchase the camera, his work was noticed by the director of the magazine after displaying his work on a photography forum. More of Pierre's work is available at Le Charlevoisien.
"Before converting to digital in 2005, I used a Leica M6 silver. The void was filled with the arrival of the X100 that looks very much like a Leica."
Rochette believes himself to be quite fortunate, as his work is also his one true passion. When he's off the clock, he continues to do what he loves: photography.