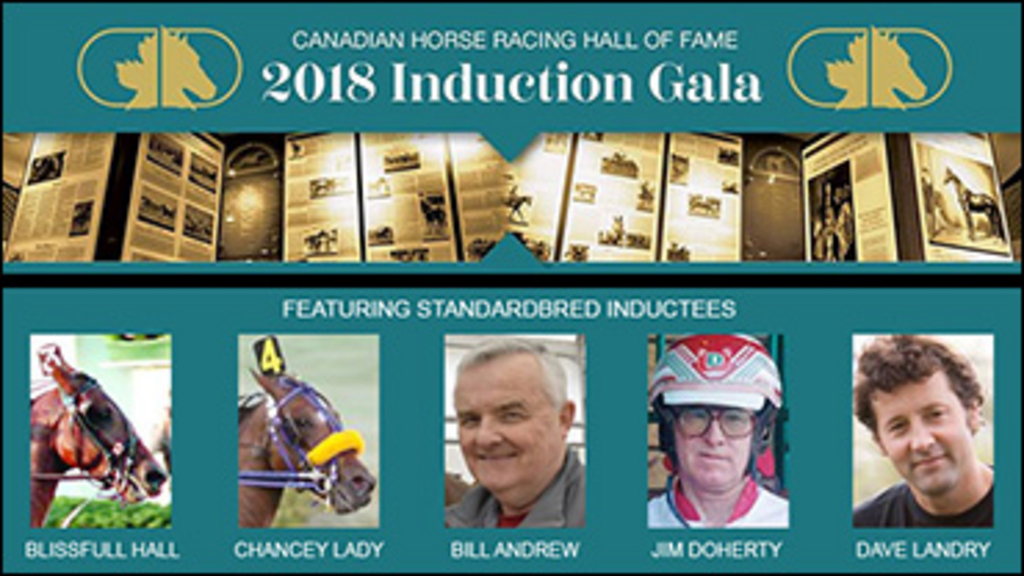 Published:
August 8, 2018 10:06 pm EDT
On Wednesday (Aug. 8), the Canadian Horse Racing Hall of Fame welcomed 10 new members. Six people and four horses comprised the class of 2018.
The Canadian Horse Racing Hall of Fame 2018 Induction Ceremony took place in front of a solid crowd at the Mississauga (Ont.) Convention Centre. Standardbred inductees included Builder William (Bill) Andrew, Communicator Dave Landry and Trainer/Driver Jim Doherty, along with horses Chancey Lady and Blissfull Hall. Full speeches from the 2018 Canadian Horse Racing Hall of Fame ceremony are available here.
Bill Andrew, originally from Clinton, Ont. and now a resident of Calgary, Alta., has been involved in harness racing since he purchased his first yearling in 1990. His focus shifted from racing to breeding in 2003 and since that time he has made a tremendous impact on the Canadian Standardbred industry, especially in Alberta and Prince Edward Island, where his two Meridian Farms breeding operations are based.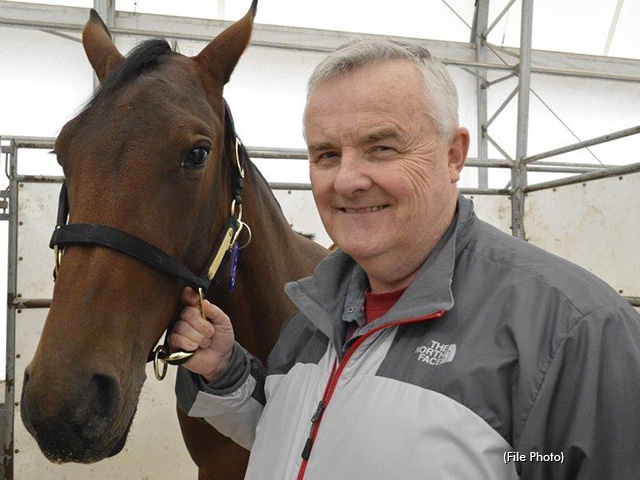 Aside from being a leading breeder in those two provinces, Andrew has given much back to the racing industry he loves, through charitable projects and financial contributions. In 2015, Bill Andrew was awarded Standardbred Canada's coveted Cam Fella Award for meritorious service to the Canadian Standardbred industry. He has financially supported the Atlantic Sires Stakes trotting events, Truro Raceway and the Nova Scotia Provincial Exhibition Select Yearling Sale at Truro Raceway. Andrew initiated the Fun For Fans Stables and the Hurrah For Charity Stable where earnings from his horses in the stable benefitted a different charity partner each month. Andrew has also donated the proceeds from the sale of yearlings to community projects, and continues to financially support PEI's Matinee Racetrack Development Project where children learn horsemanship skills so that they can possibly make the transition to larger tracks and eventual full-time employment in racing.
"For the past dozen years, we've worked to bring back fans and gain new fans for the greatest sport on earth and the greatest animals on earth, and to involve our communities in the effort," Andrew said. "I've learned in life that you can have all the cream and salt and ice in the world, but you'll never make ice cream without lots of help with the churning."
Toronto native Dave Landry's trips to the racetrack as a child with his father began a lifelong fascination with horse racing that turned into an award-winning career photographing some of the sport's greatest equine and human athletes, including numerous Canadian Horse Racing Hall of Fame members.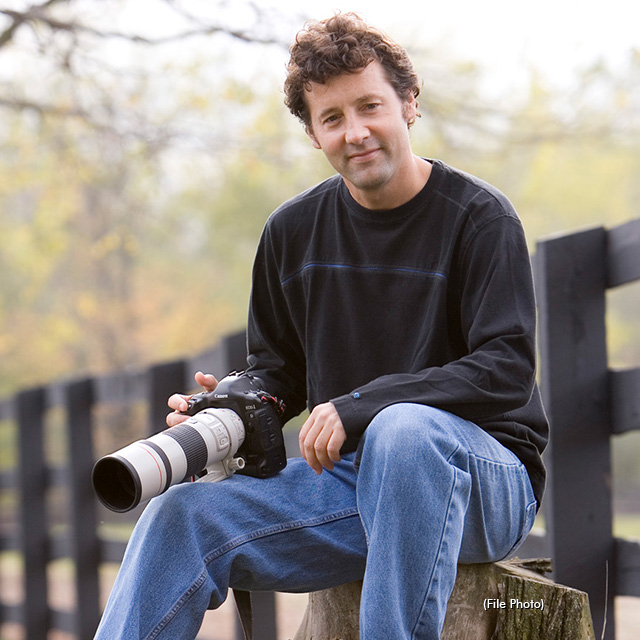 Landry, who now resides in Burlington, Ont., has earned numerous awards for his equine photography, including six Sovereign Awards, an Eclipse Award, an International Media Award, a Horse Publications of America Award, and a George Smallsreed Award. He is nominated for a seventh Sovereign Award for one of his Thoroughbred photos taken in 2017. His work has appeared on the cover of more than 500 magazines or publications. His clients have included TROT Magazine, Woodbine Entertainment Group, The Canadian Sportsman, Horse Racing Alberta, Equine Guelph, as well as countless breeding farms and racing industry related businesses. Dave has given generously to the racing industry, providing his photography services for many worthwhile promotional and fundraising projects. Dave's brother, jockey Robert Landry, was inducted to the Hall of Fame in 2014.
"It's a privilege and an honour, and no doubt the pinnacle of my career. It's such a great moment for me," Landry said. "It's probably going to be impossible for me to, being dual-breed, recognise every organisation or individual that has helped me get here."
Landry continued: "I feel it is important to preserve the history of our sport. By supporting the Canadian Horse Racing Hall of Fame, it preserves our past and hopefully encourages others to carve out the future."
The late Jim Doherty, known as 'Gentleman Jim' and highly respected by his peers, started his career in the horse racing industry in 1956 at the age of 16 working for Milton Downey in St. John, New Brunswick. Jim moved to New England in 1969 and soon became one of the leading trainers and drivers at Rockingham Park & Foxboro Raceway until his move to New Jersey in 1976 when the Meadowlands opened. There he trained and drove a large stable for the better part of 40 years.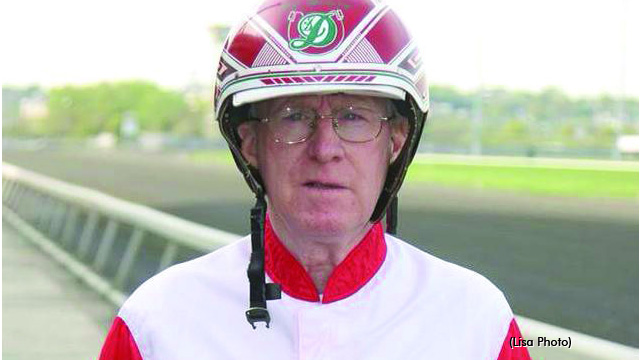 Doherty developed numerous champions during his career as a trainer-driver including $3 million earner and 2002 United States Trotter of the Year, Fools Goal, as well as 1997 Three-Year-Old Trotting Filly of the Year No Nonsense Woman, and Starchip Enterprise, winner of the Valley Victory and Canadian Trotting Classic in the late 1990s. He also drove Green With Envy, two-time Older Pacing Mare of the Year in 1984 and 1985. During his career, Doherty drove or trained winners of 4,700 races and $45 million in purses. In 2003 Doherty was inducted to the Harness Racing Hall of Fame in Goshen, New York. He is also a member of the New England Harness Writers Hall of Fame, New Brunswick Sports Hall of Fame, and the Saint John Sports Hall of Fame.
"Few people wake up every morning and get to do what they love most in life," said Anne Gilbride, Doherty's sister. "Jimmy was one of those lucky people. Jim often offered advice and encouragement to others. He became known as 'Gentleman Jim' Doherty, a name that suited him very well. Jim would be so pleased to be here this evening."
Chancey Lady's racing career spanned from 2007 through 2013. During that time the daughter of Camluck started in 143 races. She won 43, finished second in 22 races and posted 15 thirds, earning $2,083,514 and had a mark of 1:48.4 which was taken at Harrah's Philadelphia. She was a $60,000 yearling purchase for the late Niele Jiwan of Surrey, B. C. and was trained by Casie Coleman during her 2007 campaign and until just after her Fan Hanover victory in June 2008, when she moved into the John Pentland Stable, winning the first two starts for her new conditioner including an Ontario Sires Stakes Gold Final.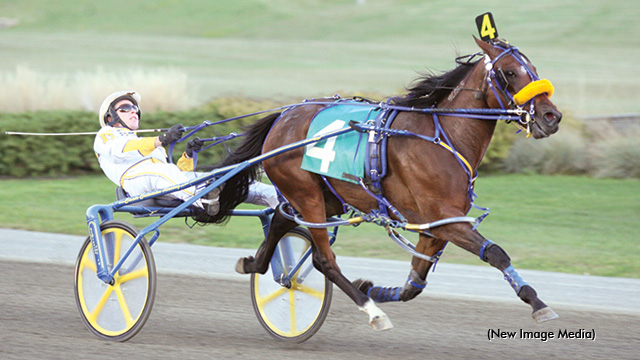 At age four Chancey Lady won two divisions of the Blue Chip Stake at Yonkers and a division and final of the Cape & Cutter at the Meadowlands. In 2011 the mare racked up six victories in divisions of the Blue Chip and a Milton Stakes elimination as well as shattering the track record for fillies and mares at Mohegan Sun at Pocono Downs with a 1:49.2 victory in the Open Pace. In 2012 she won four divisions of the Blue Chip Matchmaker. Trainers during the latter part of her career included Mark Kesmodel, P.J. Fraley, and Josh Green.
"The owners, trainers, caretakers and breeders of this mare could not be more proud of her accomplishments," said Pat Woods on behalf of Winbak Farms of Canada. "Although she was not big in size, she raced like she was every time she hit the track. She is enjoying a much quieter life now, being a mom."
In 1999, Blissfull Hall captured harness racing's elusive Pacing Triple Crown for owners Ecuries Daniel Plouffe, Inc. of Bromont, Que., trainer Ben Wallace, and driver Ron Pierce. A racing career of 31 races over two seasons included a record of 19-4-6, a mark of 1:49.2, earnings of $1.4 million and wins in the American National, the Adios, the Cane, the Messenger, the Simcoe Stake, the Little Brown Jug, an elimination of the Breeders Crown and the Progress Pace.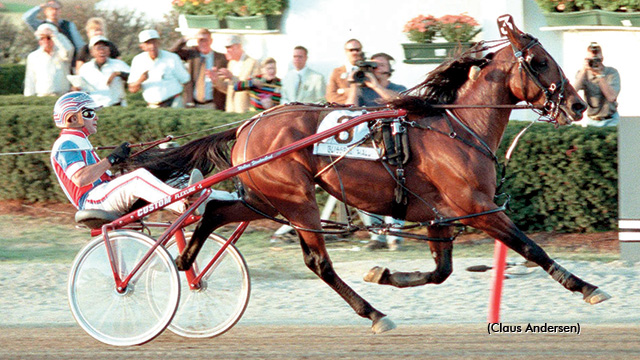 He was the recipient of the 1999 O'Brien Award for Three Year Old Pacing Colts/Geldings and 1999 O'Brien Award for Horse Of the Year and 1999 USHWA Dan Patch Award for Three Year Old Pacing Colts and Winner of 1999 USHWA Dan Patch Pacer Of The Year. As a stallion Blissfull Hall's progeny include millionaires Marnie Hall and Camelot Hall. His offspring have earnings of over $74 million on the track. That includes 85 horses with earnings over $250,000, 228 horses with earnings over $100,000, and average earnings per starter of $99,762.
"He checked every box when it comes to superlatives, trainer Ben Wallace said of Blissfull Hall. "He was just an absolute gentleman. I was so proud to be around him. He is where he belongs, in the Hall of Fame."
Representing Thoroughbreds in the Class of 2018: Builder John G. Sikura, Trainer Reade Baker, and Communicator Dan Loiselle as well as horses Judy the Beauty, and Shaman Ghost.
Canadian-born John G. Sikura, Owner and President of Hill'n'Dale Farms (Kentucky), has been a mainstay in the breeding business there since 1994. Since then he has built Hill 'n' Dale into a leading stallion farm and sales operation, serving horse people across the continent. A shrewd but humble man, Mr. Sikura is an expert on thoroughbred pedigrees and continues to help improve the breed as an industry leader. To date, his farm has consigned 95 horses selling for $1,000,000 (US) and over. Better Than Honour was the most expensive broodmare sold at public auction ($14 million) and five others were sold for world-record sale prices. The 2018 stallion roster at Hill'n'Dale includes two-time Horse of the Year Curlin as well as influential sires Kitten's Joy, Stormy Atlantic and Midnight Lute. John's father, John Sikura, Jr., was inducted into the Hall of Fame in 2013.
Dan Loiselle's horse-racing career spans almost five decades, initially as a Standardbred racing official and announcer, and then as Woodbine Thoroughbred announcer, replacing Daryl Wells in 1986. During his tenure at Woodbine, Loiselle called 28 editions of the Queen's Plate and five Triple Crown champions including With Approval (1989), Izvestia (1990), Dance Smartly (1991), Peteski (1993) and Wando (2003). ​His signature accuracy and clarity was accompanied by a flair for entertaining his audience both at the track and during national television broadcasts of marquee events including the Canadian Triple Crown, the Woodbine Mile and the Canadian International. Loiselle has served as Master of Ceremonies at many industry functions and interviewed celebrities from the world of sports and entertainment. In November of 2015, Dan was inducted into the Etobicoke Sports Hall of Fame and was saluted by the Toronto Sports Media with a special award. Most recently he hosted a special exhibition celebrating the 250th Anniversary of Horse Racing in Canada during the 2017 Royal Agricultural Winter Fair.
Reade Baker's training career spans four decades and over 1,100 wins. 126 of those wins in stakes events, 30 in graded races. The 2005 Sovereign Award recipient as Outstanding Trainer, Baker's stake winners include Horse of the Year champions Fatal Bullet (2008) and Biofuel (2010). To date Baker conditioned horses have won 13 Sovereign Awards including Bear Now, 2008 Sovereign Award for Older Female and Tu Endie Wei, 2011 Sovereign Award winner as Champion Two-Year-Old Filly. Baker's 2015 Prince of Wales winner, Breaking Lucky, surpassed the million dollar mark in 2017 to join Fatal Bullet, Bear Now, and Judith's Wild Rush as millionaire runners trained by Baker. Prior to embarking on a career as a trainer in 1989, Reade Baker was a top jockey's agent and later stable manager for Richard Kennedy, who campaigned 1987 Canadian Champion, Afleet. Mr. Baker is also a member of the Etobicoke Sports Hall of Fame. Career stats: 7078 starts (1106-1000-901) and $54,408,858.
Ghostzapper daughter, Judy the Beauty, bred by Adena Springs North was a $20,000 yearling purchase by Owner/Trainer Wesley Ward who directed her through a 22-race career spanning five years with earnings surpassing $1.8 million. As a juvenile, she found victory on the turf in France before winning in the Shady Well Stakes at Woodbine, and finishing second in the Spinaway Stakes (Gr 1) at Saratoga. After three second place finishes at age three, she again visited the winner's circle at age four, this time as a sprinter, winning the Thoroughbred Club of America Stakes (Gr 2) before finishing 2nd to Groupie Doll in the Breeders' Cup Filly and Mare Sprint (Gr 1). At age five she was named 2014 Eclipse Award Champion Female Sprinter as a result of a four graded- stakes win year, that included the Las Flores Handicap (Gr 3) at Santa Anita, the Madison Stakes (Gr 1) at Keeneland and the Rancho Bernardo Hcp. (Gr 3) before culminating with the Breeders' Cup Filly and Mare Sprint (Gr 1) at Santa Anita. Career Stats: 22 starts; 9 wins, 9 seconds, 2 thirds and $1,815,922 in earnings.
Adena Springs bred and Frank Stronach-owned Shaman Ghost won eight of 17 starts for earnings of $3,859,311 under the training direction of U.S.-based trainer Jimmy Jerkins, making him the second-richest Canadian-bred of all-time behind his paternal grandsire Awesome Again, also bred by Adena Springs and a Hall of Fame Honoured Member. Shaman Ghost was named Canada's Champion Three-Year-Old Colt in 2015 on the strength of a campaign that included wins in the Queen's Plate and Grade 3 Marine Stakes at Woodbine and a second-place finish in the Prince of Wales Stakes at Fort Erie. Other victories of note include the Grade 1 Santa Anita Handicap and Woodward Stakes at Saratoga, the Grade 2 Brooklyn Invitational Stakes in New York, and the Grade 3 Pimlico Special Handicap in Maryland. The now six-year-old son of Ghostzapper out of Getback Time by Gilded Time was recently retired and is beginning his stallion career this year in California. Career stats: 17 starts; 8 wins, 3 seconds, 2 thirds and $3,859,311 in earnings.
Standardbred Inductees
Builder: William (Bill) Andrew, born in Clinton, ON; resident of Calgary, AB

Communicator: Dave Landry, born in Toronto, ON; resident of Burlington, ON

Driver/Trainer: Jim Doherty (deceased) Born in Saint John, NB

Male Horse: Blissfull Hall, bred by Walnut Hall Limited, Lexington, KY. Owner: Ecuries Daniel Plouffe Inc., Bromont, QC; Trainer: Ben Wallace, Puslinch, ON

Female Horse: Chancey Lady, bred by Brittany Farms, Versailles, KY & Daisy Acres, Astoria, NY. Owned by the late Niele Jiwan of Surrey, B.C. Current owner: Winbak Farm, Chesapeake City, MD. Trainers Casie Coleman, John Pentland, Mark Kesmodel, P.J. Fraley, Josh Green
Thoroughbred Inductees
Builder: John G. Sikura, born in Toronto, ON; resident of Lexington, KY

Communicator: Dan Loiselle, born in Toronto, ON; resident of Milton, ON

Trainer: Reade Baker, born in St. Catharines ON, resident of Etobicoke, ON

Female Horse: Judy the Beauty, breeder: Adena Springs, Aurora, ON; owned and trained by Wesley Ward

Male Horse: Shaman Ghost, breeder: Adena Springs, Aurora, ON; owner: Stronach Stable, Aurora, ON; trainer: James A. Jerkins
(with files from the Canadian Horse Racing Hall of Fame)