Published:
July 20, 2012 10:54 am EDT

A pair of eights is a great way to begin a poker hand, but it's not such an auspicious draw when you're trying to win the $600,000 Delvin Miller Adios. Yet, trainer Bob McIntosh must deal with that hand, as his two Adios hopefuls, Thinking Out Loud and Dapper Dude, have each drawn Post 8 starting spots in their respective nine-horse eliminations this Saturday at the Meadows.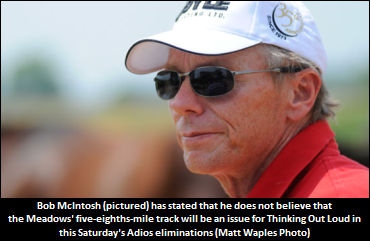 The elims will head postward as Race 4 and Race 6. The top four finishers in each elim will return for next Saturday's final. First post for the elimination card is 6:55 p.m.
"I can't tell you how disappointed I was when I saw 'eight' and 'eight,'" McIntosh said. "But it is what it is. You gotta race them."
Don't mourn for McIntosh's Adios chances just yet. The Hall of Famer is a seven-time Trainer of the Year in Canada and twice has won the Glen Garnsey award as the top U.S. conditioner. Artsplace and Staying Together earned back-to-back Horse of the Year honours for him in 1992-1993. In 1998, alone, the Ontario native and resident trained three Dan Patch Award winners in Artiscape, Island Fantasy and Mattaroni. Plus, his Adios horses are not exactly slouches.
Thinking Out Loud, a son of Ponder--Los Angeles, won the North America Cup at post-time odds of 8-1, but came up short in the final of the Meadowlands Pace, as he finished sixth after going off as the post-time choice. On the down side, he's drawn into one of the most impressive Adios eliminations ever assembled --- a field which includes Dan Patch awardee Sweet Lou, Meadowlands Pace champion A Rocknroll Dance, and Hurrikane Kingcole, who captured the Meadowlands Pace consolation in a sizzling 1:47.3.
2012 Pepsi North America Cup - Thinking Out Loud - 1:47.4
In addition, Thinking Out Loud has never performed on a track smaller than seven-eighths of a mile --- the Meadows is a five-eighths-mile oval --- although, McIntosh doesn't consider that an issue.
"The trip didn't work out for him at the Meadowlands --- he just plain got beat," McIntosh said. "I have him back on the farm, and he's doing well. He works on a half-mile track here, so I don't think track size will be a problem."
Dapper Dude won his NA Cup elimination and was beaten only a half-length by his stablemate in the final. The son of The Panderosa--Dress To Suggest comes to the Adios off a sharp 1:50.1 victory in a Mohawk Preferred event.
McIntosh typically breeds his horses to race rather than sell; that's true of his Adios duo, both homebreds, although Al McIntosh Holdings owns a piece of each and CSX Stables owns part of Thinking Out Loud.
"I just don't sell my homebreds at public auction," he said, "but I well sell pieces to people. I might change that some day. I will take all calls."
McIntosh never has taken home the Adios orchids, a resume gap he'd like to fill this year.
"I'd love to win one, but we definitely have our work cut out for us," he said. "If we can sneak into the final, maybe we'll have reason to come to the Meadows next week. You never know. That's why we have the races."
With regular driver Randy Waples remaining at Mohawk Racetrack to drive several McIntosh trainees, he's named John Campbell to pilot Thinking Out Loud.
"Having John is like having Allstate --- you're in good hands," he said.
With all driving assignments now firm, the Adios elims look like this:
Elim 1
(Race 4)
(Post Position - Head Number - Horse - Listed Driver - Morning Line)
1 - 1 - Escape The News - David Miller - 10-1
2 - 2 - EZ Noah - Dave Palone - 8-1
3 - 3 - Special Forces - Dave Palone - 8-1
4 - 4 - Sweet Lou - Dave Palone - 3-1
5 - 5 - Bakin On The Beach - Jim Morrill Jr. - 6-1
6 - 1A - One Through Ten - Ron Pierce - 10-1
7 - 6 - Hurrikane Kingcole - Daniel Dube - 9-2
8 - 7 - A Rocknroll Dance - Yannick Gingras - 7-2
9 - 8 - Thinking Out Loud - John Campbell - 10-1
Elim 2
(Race 6)
(Post Position - Head Number - Horse - Listed Driver - Morning Line)
1 - 2 - Bolt The Duer - Mark MacDonald - 7-2
2 - 3 - Star Recruit - Mike Wilder - 6-1
3 - 4 - McAttaboy - David Miller - 10-1
4 - 1 - All Star Legend - Jim Morrill Jr. - 5-2
5 - 5 - Breakin The Law - Dave Palone - 8-1
6 - 6 - Ezpass Hanover - Brian Zendt - 8-1
7 - 7 - Hillbilly Hanover - Ron Pierce - 10-1
8 - 8 - Dapper Dude - John Campbell - 9-2
9 - 1A - Bettors Edge - Daniel Dube - 5-2
(Meadows)