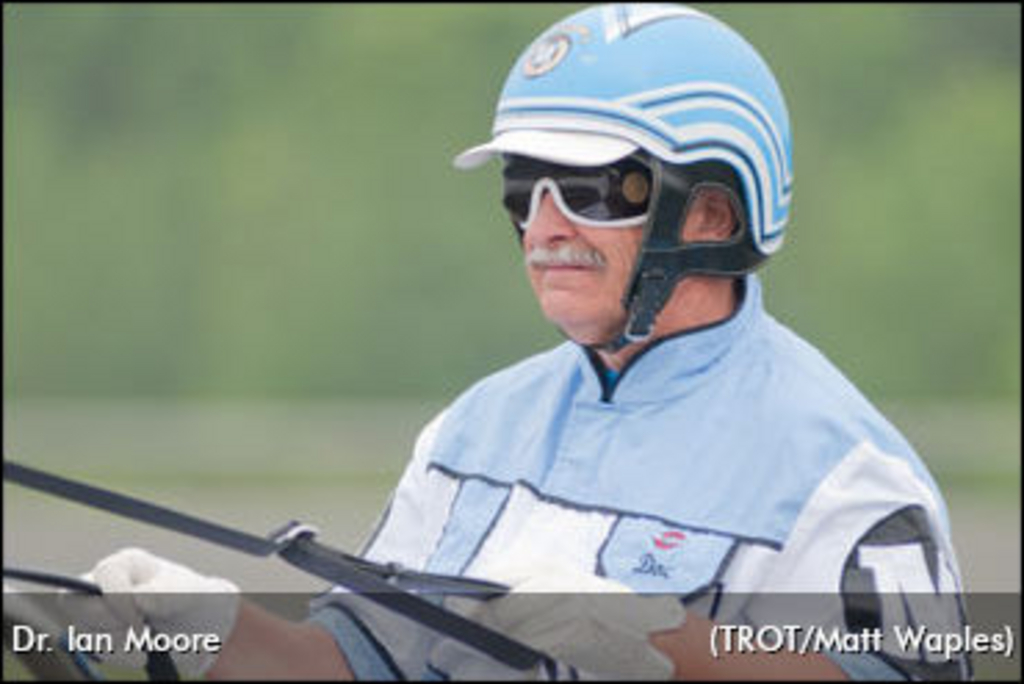 Published:
July 14, 2021 06:26 pm EDT

Trainer Dr. Ian Moore has a one-two punch set to fire in the cavalcade of stakes action slated for The Meadowlands on Saturday (July 17).
In the evening's big event, the $700,000 Meadowlands Pace, Dr. Moore will send O'Brien Award winner Lawless Shadow to post with Mark MacDonald driving following a headstrong second-place finish by a neck to Southwind Gendry in the elimination.
"He was all revved up," Moore told Trot Insider of the noticeable hold first-time driver Mark MacDonald had on the horse. "I told Mark [to] put him on the gate. I guess Mark sat a little off [the gate] and he was wanting to go. He had quite a hold of him. He's all excited [for the final] – he texted me at about two o'clock in the morning with the draw list," continued Moore. "We drew pretty decent and he likes our chances, and I guess I do too.
"I gave him two days off," said Moore of his son of Shadow Play. "I was planning on going home Sunday and coming back maybe Wednesday or Thursday, but it's not going to work out for me. I was worrying about it, but I'm not going to worry about it now. Everything will have to wait."
Lawless Shadow lands in Post 5 for the 2021 Meadowlands Pace Final with Dr. Moore potentially having a couple of changes in store for the sophomore.
"The only thing I thought – and I'm still thinking about it – is that Lawless [Shadow] seemed to level off down the stretch there, and then when Perfect Sting came on the outside of him he came back. So I thought about opening him up," Dr. Moore said, "but I don't know if I've got enough [nerve] to do that. I might do it the week after the Golds, but I thought about opening him up so he could see a little more. As it stands right now, he wears a closed bridle, but the blinds on him I've got them set back so they're right on the edge of his eyes. I'm thinking about it."
The field for the $700,000 Meadowlands Pace, an open event for three-year-olds, that takes place Saturday, July 17 (post time, 9:46 p.m. [EDT]) at The Meadowlands, with post position, horse (driver, trainer), and morning line odds.
1. Perfect Sting (David Miller, Joe Holloway) 7-2
2. Hellabalou (Andrew McCarthy, Eddie Dennis) 8
3. Chase H Hanover (Brian Sears, Scott Cox) 15
4. Southwind Gendry (Yannick Gingras, Ron Burke) 3
5. Lawless Shadow (Mark MacDonald, Ian Moore) 10
6. Rockyroad Hanover (Dexter Dunn, Tony Alagna) 15
7. One Eight Hundred (Tim Tetrick, Nancy Takter) 9-2
8. Abuckabett Hanover (Andrew McCarthy, Tony Alagna) 15
9. Charlie May (Brett Miller, Steve Carter) 5
10. American Courage (Matt Kakaley, Travis Alexander) 10
The Meadowlands Pace marks one of the last stateside stakes engagements this month for Lawless Shadow, who Dr. Moore said will ship back to Woodbine Mohawk Park following the final.
"Because of the schedule of January and February, I didn't pay him up to many U.S. stakes early," Dr. Moore said. "So the next one he was in is the Hempt at Pocono, but that's not until the middle of August. When he's done there, he'll be coming back. I think Century Farroh doesn't have anything until the first of August too, so I may bring him back home too."
Last season's O'Brien Horse of the Year, Century Farroh competes a few races before his stablemate in a division of the $265,400 William Haughton Memorial. The five-year-old son of Mach Three enters off a fourth-place finish in the $113,000 Roll With Joe by 1-1/4 lengths while pacing his final quarter in :25.4 off a pylon-skimming trip for a mile in 1:48.4-- his fastest performance of the year.
"I think Dave wasn't expecting that [fast final quarter], which is why he left him in. I'm hoping he won't leave him in this week."
Century Farroh has drawn Post 2 on Saturday, with his Haughton division set for Race 7.
1. Ana Afreet N (TBA, Jeff Cullipher)
2. Century Farroh (David Miller, Ian Moore)
3. Brassy Hanover (Brian Sears, Jeff Cullipher)
4. Backstreet Shadow (Tim Tetrick, Ron Burke)
5. Angers Bayama (Andy McCarthy, Tony Alagna)
6. Allywag Hanover (Tim Tetrick, Brett Pelling)
7. Stars Align A (Joe Bongiorno, Jenn Bongiorno)
8. Ruthless Hanover (Brian Sears, Tom Cancelliere)
9. Warrawee Vital (Brian Sears, Ron Coyne)
10. Catch The Fire (Scott Zeron, Todd Luther)
To view the entries for the card, click the following link: Saturday Entries - Meadowlands Racetrack.