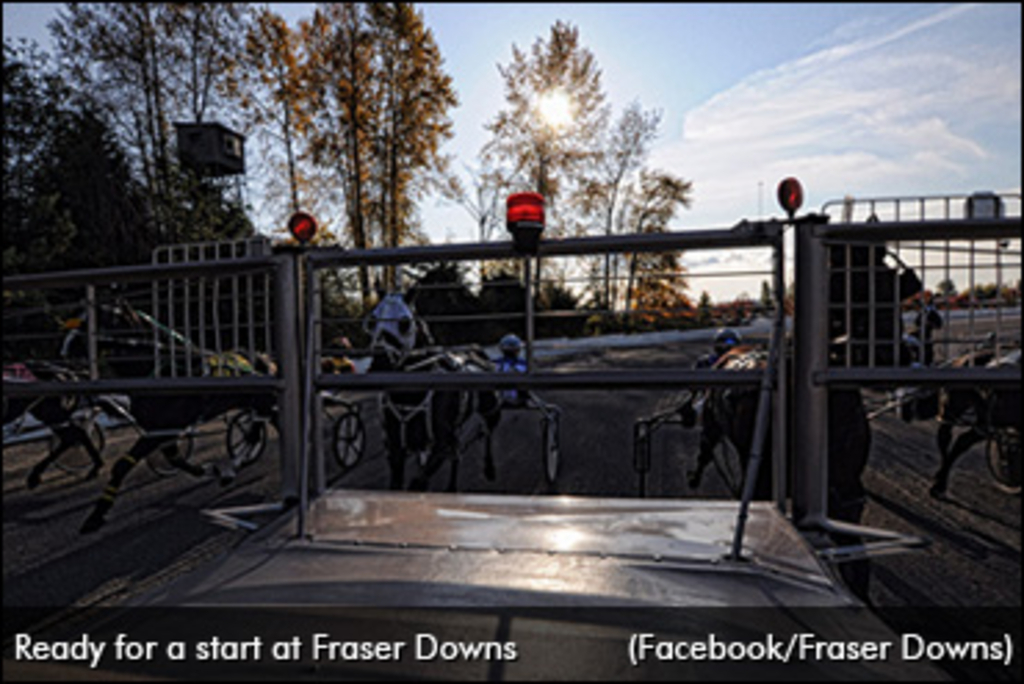 Published:
June 9, 2017 09:34 am EDT
After a rough winter with questions about the track and race dates, signs point to optimism for Western Canada's horsemen after recent developments concerning Fraser Downs and racing in British Columbia.
In February, discussion revolved around missed race dates at Fraser Downs and the condition of the track. The issues made local headlines and started the ball rolling on some much-needed discussion between Harness Racing B.C. and operator Great Canadian Gaming.
"It gave us a really good opportunity to open up the lines a lot more with Great Canadian, and get them more involved with the harness racing end of it," Harness Racing B.C. (HRBC) Executive Director Carla Robin told Trot Insider. "Their new Director of Racing Darren MacDonald, he's been in that position a couple of years and he's very knowledgeable on the Thoroughbred side but I don't think he knew a whole lot about harness racing. He's been watching what's going on and he's been quite amazed about the fan base we actually have out here...even with us being kind of forced to be a winter sport out here."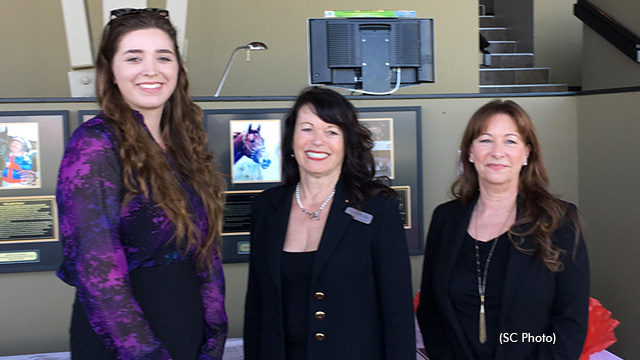 Carla Robin (C) with Samantha Anderson of the Cloverdale Reporter and HRBC's Diane Pennington
Robin and HRBC presented a business plan to Great Canadian based on the missed race dates due to track conditions, pointing out that the dates not only impacted the horsemen but most assuredly Great Canadian as well.
"Those nine missed race days translated into a month of solid racing with no chance for horsemen to earn an income," stated Robin. "On the front side, too, the weather hit them hard. Fans couldn't come out to watch racing because it wasn't there, there was less money coming in on the slots and on the front side for food & beverage. Our business case was the live racing, especially during the winter, is really bringing in a lot of money into our whole industry out here and to the local community."
The plan was received favourably by Great Canadian, providing horsemen for some added racing opportunities in October 2017.
"He really listened to us and agreed to give us those days basically into April. The year before we'd also run some three-day weeks in January, as the challenge out here is that they want to shorten up our season...something that's been worked on over a few years to bring us down to six months for us and six months for the Thoroughbreds, which, as you know, just doesn't work for harness racing. So that severely affected our breeding programs.
"So I think for him really taking a good hard look at all this, he realized 'yeah, we really do need those extra days back' or at least a portion of them. So working through him we managed to get those extra days into our October race schedule. And that gives us those three-day weeks, which is timely for us. We're racing those two days in our regular Thursdays and Fridays, but the Tuesdays are really going to help with our overnights because during October we card the eliminations for the Breeders Stakes so they take up a lot of the races on the weekend. And one of the things I've heard since I've started is that people were complaining there weren't enough spots for the overnight horses to race when people have their horses here for the Breeders Stakes. So that will give us those nights where race secretary Darren Callaghan can get a lot more of the overnight horses and lower claimers racing, and hopefully increase our export handle too. People do like our product, and we tend to card fairly full fields."
Both Robin and MacDonald will hope those Tuesday cards attract full fields, and that the horseplayers will follow as Fraser Downs will be positioned as a Standardbred option after the conclusion of Mohawk Racetrack on the simulcast schedule.
"The idea was to give the Tuesdays a try due to the limited amount of product out there, hoping it will derive some more export revenue from the races," noted MacDonald. "The worst thing to do is be bouncing all over the place, and we figured Tuesday was the best day to avoid bouncing back and forth and add some continuity to the month. And it will be easier for our simulcast director, when he's selling the signal, to say we're running four Tuesdays in October."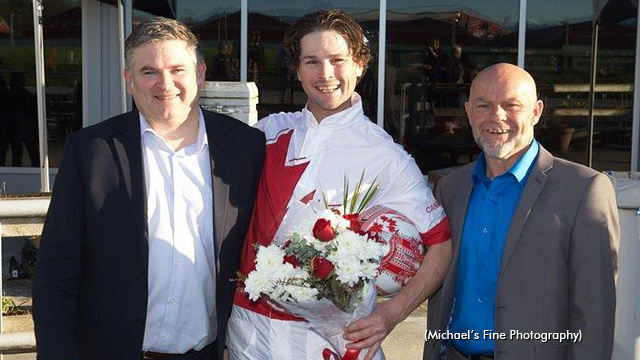 Darren MacDonald (L) with Brandon Campbell and Darren Callaghan
If these Tuesday cards prove successful, Robin is hopeful that HRBC can leverage that success to add more dates for Fraser in the future.
"It was a real challenge to get that extra month and we don't want to stop there. We're still hunting to get September back too," said Robin. "As most people know all those local dollars that are generated by the horse industry, that money
stays locally. It really is generating a huge portion of the local economy...and is providing a lot of jobs."
While not having access to specific data pertaining to expanded gaming business on race nights, Robin did say that based on racing's percentage derived from expanded gaming in B.C. there is strong evidence to suggest that there's more total gaming revenue when racing is present. That's not to mention potential increased revenue for Great Canadian on the food & beverage side.
"We're situated in a great location here in the Fraser Valley in Surrey, which is the fastest growing city in Canada right now. We're nestled in Cloverdale, and our location is prime: we're right next to Langley, Abbotsford and the Valley and people here love the horse sports so we've got a great opportunity here to really work with Great Canadian and expand our racing product."
With that location also comes pitfalls, specifically from the aspect of horse population. Thus, HRBC provided some additional benefits to come and stay in the form of a starting incentive.
"It is a strategic move for us, because we're isolated out here," added Robin. "And so the only place we can really draw from at this point is Alberta, and hopefully try to get some people out of the fair meet industry in Saskatchewan and Manitoba...and hopefully we can draw on some out of the U.S.
"We have a very defined and limited horse population to draw from; even trying to purchase horses right now, it's a very tight market out there."
That horse shortage issue isn't lost on MacDonald, who credited HRBC for its proactive approach.
"I understood where they were coming from and I liked the idea that they figured they could attract some more horses because under the current situation we definitely don't have enough horses to run three days a week," said MacDonald.
According to Robin, more plans are in the works to shore up horse supply on the breeding side.
"We've got some great breeding incentives out here, probably some of the best ones in the country from what I hear from different people in different provinces and we want to keep it that way, and we want to expand it. We're coming up with some really innovative ideas to increase our broodmare program. You can stay tuned for those."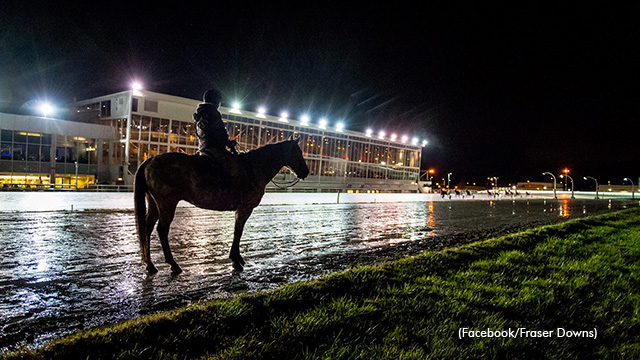 Outrider watches on as field heads in front of the grandstand at Fraser Downs
Not just adding race dates, Fraser will start the 2017-18 season with a 10 percent purse increase as well. According to Robin that increase came from discussion with and approval from the HRBC Board.
"The slots were performing well; we want to make sure that with that shortened race season we had and a possibly expanded one -- wanting back more race months than what we currently have now -- we can afford to raise those purses, so let's do it and let's make sure that money is being generated right back into the industry, right now, so that those who are spending all of the money on getting those horses racing are getting a return on it."
Clearly HRBC has done its part to attract horsemen and attept to stabilize the horse population; however, the issues of track condition from February still persist. Robin told Trot Insider that the outer fence still needs that repair work.
"I know they've had their quotes on it, so we're waiting to hear back from [MacDonald] and Darren Callaghan as to when that's going to take place so that we can coordinate all the training of the horses for next season.
"I think that they're looking very soon to have to get that fence done and some regrading of the track. There are some new staff here and they're really making a concerted effort to fix the stalls and areas that much attention hasn't been paid to them. To me, that's for the health and safety not only of the horses but our membership."
MacDonald stated that the condition of the track has been addressed but that the majority of the issues are out of Great Canadian's control and rest at the whim of Mother Nature.
"It was the worst winter in 45 years. It was one of those things where there was a lot of hard feelings and stuff but we did everything that we could.
"Our track guy, we had him out in Ontario...he spent some time at Flamboro and Mohawk trying to pick up some extra tips from those guys and basically what he came back with was the freeze-thaw is the big issue. There's nothing you can do. In Ontario, it stays below zero for extended lengths of time. Here, you get the fluctuation where it comes above to the point where part of the track will melt. To top it off this year, we had a ton of snow which we almost never get here."
So with progress and solutions on the issues that plagued B.C.'s harness racing industry earlier this year, Robin now feels they've got a good, solid base for positive steps going forward to build and sustain a strong and vibrant harness racing industry in B.C.
"I think there gets to be that renewed enthusiasm and excitement where you can see the light at the end of the tunnel. Hopefully we just keep pushing forward."