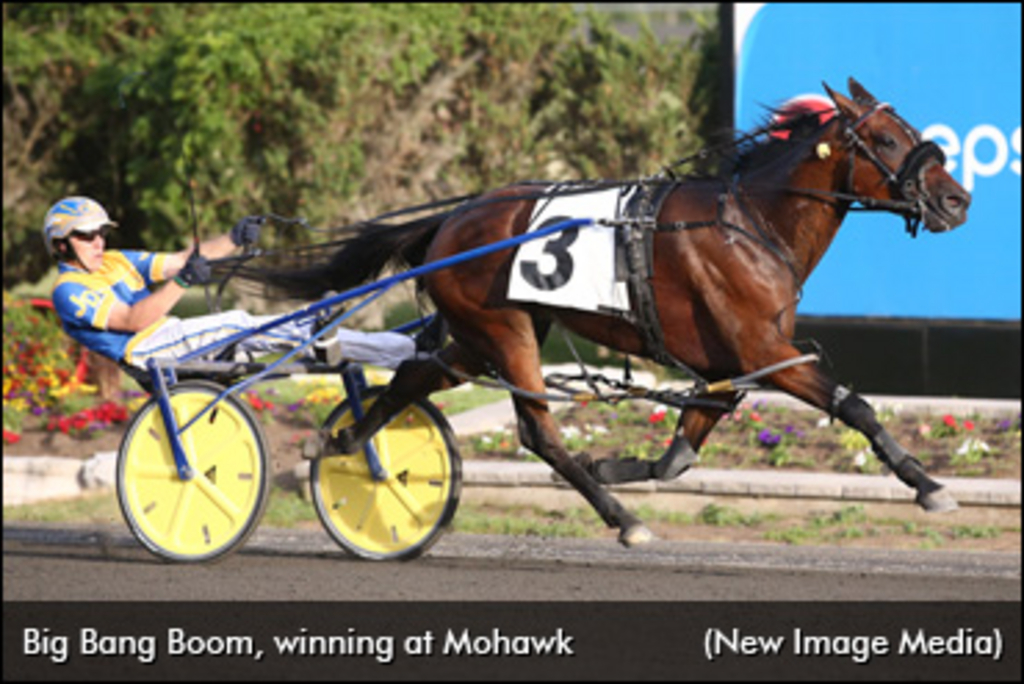 Published:
June 29, 2018 03:42 pm EDT

Seven weeks can be a long time, especially in harness racing. A lot can, and will, happen. Just ask Carmen Auciello about Big Bang Boom.
Big Bang Boom, a five-year-old son of Big Jim, raced in a $15,000 conditioned-claimer at Woodbine Mohawk Park as recently as May 11. He won that race by three-quarters of a length in 1:53.4. Fast forward seven weeks, and the brown gelding and trainer Auciello find themselves just one class below the Preferred after an impressive run from mediocrity to the higher classes of racing: wins in six of his last seven starts and a new lifetime mark of 1:49.2. Clearly, a lot can happen in seven weeks.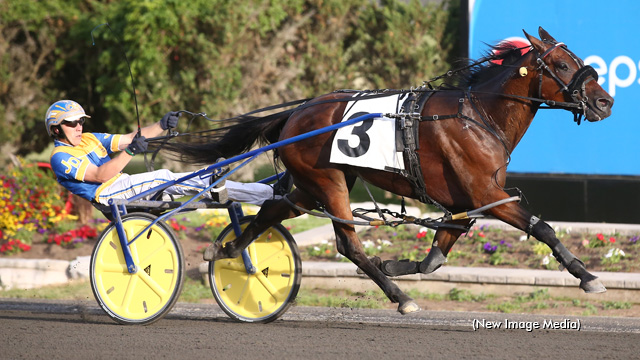 An impressive start to his career saw Big Bang Boom win his first four lifetime starts as a two-year-old, including an impressive debut win in 1:52.3 by 5-1/4 lengths back in late 2015. Two of those wins came in the first two legs of the Autumn Series, but sometimes impressive debuts are very tough to outdo later on in a career.
"We were really high on him at two, he was one of the horses that had a ton of speed but he wasn't real strong and didn't have good manners, he just wanted to go 100 km/h all the way around...he wouldn't relax," Auciello told Trot Insider.
Big Bang Boom would only win twice more over the next two years and only paced faster than his debut start just a handful of times. Auciello pointed to health issues and lack of maturing as reasons for the horse's poor form.
"It was one thing after another with him...he had breathing issues, then it was steering issues, but we always knew he had ability," Auciello said.
Auciello gave him some time off between his two and three-year-old campaigns, but he never regained his form from of his freshman season. Starts in both the OSS Gold and Grassroots series only materialized a third-place finish in August of 2016 in the Grassroots at Kawartha Downs.
Big Bang Boom was lame off and on throughout his four-year-old campaign. "We just couldn't figure out what was wrong with him," Auciello said, "and then we sent him to my stable in New York and he got really lame there."
While in the Empire State, Auciello said that was when they finally figured out the lameness issues.
"We found a hairline fracture in his pastern and a bone bruise, so we sent him back home and gave him three months stall rest," Woodbine Mohawk Park's leading dash-winning trainer shared. "The time in the stall was probably the best thing for him, he's a whole different horse [now]," Auciello added.
"He learned how to relax and isn't as hard on himself [as he was], but I never imagined he would be doing what he is doing now. I knew he had speed, but a not for a sub-1:50 mile," Auciello said with an upbeat tone in his voice.
The newest stable star in the Auciello barn starts from post eight in Saturday's fifth race at Woodbine Mohawk Park in a non-winners of $25,000 last five starts conditioned event, with Chris Christoforou in the bike. If Big Bang Boom's current hot streak can continue, his trainer -- who is now also a half-owner of the horse along with partner Michael Virdiramo -- will most definitely be looking forward to seeing what the next seven weeks could possibly have in store.
To view the entries for Saturday's card of harness racing at Mohawk, click the following link: Saturday Entries - Woodbine Mohawk Park.
(A Trot Insider Exclusive by Justin Fisher)