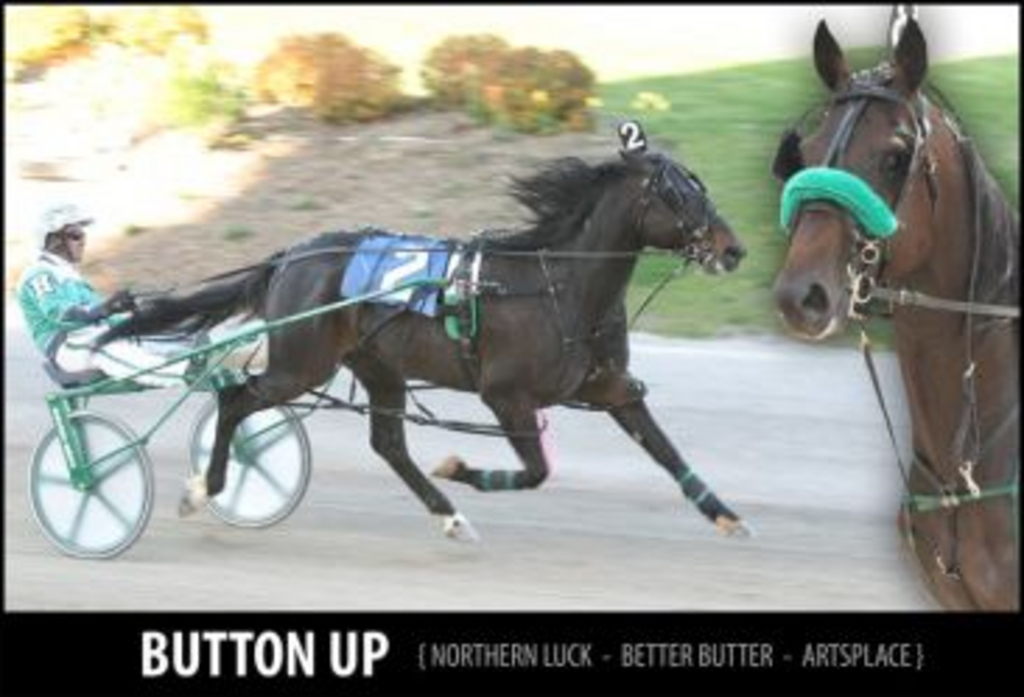 Published:
June 2, 2016 12:24 pm EDT
Button Up, one of the most recognizable names in Ontario harness racing over the past decade, has officially hung up his horse shoes at age 13.
The connections of the popular pacer have announced his retirement following a distinguished 341-race career in which he amassed more than $824,000.
Bred by Bill Andrew and Dr. Fred Kruszelnicki of Alberta, the son of Northern Luck – Better Butter sold for $18,000 as a yearling at the 2004 Kentucky Standardbred Yearling Sale. He was campaigned throughout his entire career by Mark Horner and his wife Stephanie of St. Marys, Ont., along with his caretaker, Susan McNeight, and driver, Mike Horner. The entire Button Up team has remained in place since the beginning of his career, a rarity in today's game.
The biggest payday of his career came as a rookie in the 2005 edition of the $300,000 Battle of Waterloo at Grand River Raceway. On that day, the slick-gaited pacer routed his rivals by seven lengths in 1:56.2.
Little did the Horners know, but that win would be the beginning of a very special streak that they are particularly proud of.
"Button Up is undefeated on Industry Day at Grand River," explains Mark Horner. "He won the 'Battle' there in 2005 and then won the Preferred on the undercard as an older horse in 2007, 2010 and 2012. He loved that track and his home track of London in particular. He was great gaited and durable – two of his best attributes."
Health issues have forced Button Up to the sidelines recently, which prompted his connections to call it a career and allow him to now live out his days kicking up his heels on the family farm.
"He has given us quite a ride," says Horner. "It's sad to see it end, but he deserves it and will always have a good home here. Horses like Button Up are rare and special and we appreciate all he has given us and the fans who enjoyed watching him compete over the years."
Button Up retires with an impressive tally of 49 wins and 170 top-three finishes– a 50 per cent on-the-board rate. He averaged $2,400 in purse winnings every time he raced throughout his career, and in November of this past year showed his longevity with a sparkling 1:54.1 win at The Raceway at Western Fair District.
Congratulations to Button Up on a wonderful racing career and best wishes for a happy retirement.
(The Raceway at Western Fair District)