Published:
May 25, 2015 01:18 pm EDT
The harness racing industry in Canada is unique in many ways. Few groups can boast such an ability to unite in the face of challenge, or show the incredible dedication and work ethic that horse people display. The racing industry is so multi-faceted; every individual has an experience worth sharing.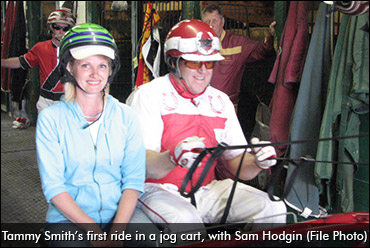 It's time to harness your nostalgia; the I Love Canadian Harness Racing Fan Club wants to hear about your favourite racing memory. Whether you are a lifelong participant or new to the industry, we want to hear what moment has stood out to you. It could be the first time you sat in a racebike, the time you helped deliver a foal, the year you won a major race or even your first visit to the racetrack.
The top five stories will be featured on the Standardbred Canada website in the weeks leading up to the Bring A Friend weekend that will be happening nationwide from July 9-12. We want to capture and share the stories that are unique to our industry.
In 500 words or less, tell us about your "moment", the who, what, where and whens of your memory. We want to know why this moment stands out to you. Accompanying pictures are encouraged but not required.
The Bring A Friend promotion offered lots of opportunities for some first-time racing memories for newcomers last year. Tammy Smith joined Sam Hodgin in the bike on Bring A Friend Day at Exhibition Park Raceway in Saint John, N.B. last June to take a spin around the track with ROF Peruvian High.
"I had never been in a cart before so that in itself was very exciting, but when Sam gave me the reins I was elated. It was an exciting day for me," said Smith.
The contest closes June 15 so make sure you submit your story to [email protected]!
Hannah Beckett, Marketing Co-op Student at Standardbred Canada shares one of hers:
"Back in 2008, my Dad's trotting mare foaled a beautiful filly by Malabar Maple on March 3. She was our second homebred and fortunately this birth went without a hitch. It was a cold night and I was drying her off with towels when she fell asleep in my lap. From then on, we were inseparable. This little filly was my partner in crime, a total attention hog who would chase after me in the paddock and compete for affection during nightly barn checks. She always had a fierce look of determination in her eye, she meant business.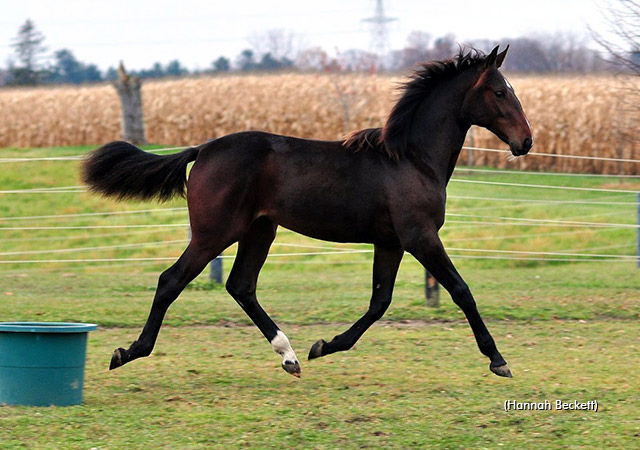 I've been around a lot of horses in my life as a rider and in this industry and seen many come and go. I know I wouldn't be the first to say that there's always one that stands out and Ruby was that horse for me. On Christmas morning, I was opening gifts with my parents when my Dad told me to check my email. He had forwarded me a message from Standardbred Canada, saying that she had been transferred into my name; I now held ownership of the soon-to-be yearling. I was completely overwhelmed, everything else prior and since then has paled in comparison. At the age of thirteen, my friends were receiving the latest gaming consoles but this gift trumped all others; she was really and truly mine. Saying I got a horse for Christmas left other parents facing the inevitable, 'but why didn't I get a horse for Christmas too?'
She went on to break her maiden at Woodstock and earned me my first training win that day, something I had dreamed about since I was little. Thanks to Ruby, I'm fortunate to have a whole bunch of favourite racing memories, not just one!"
So tell us...what's your story?