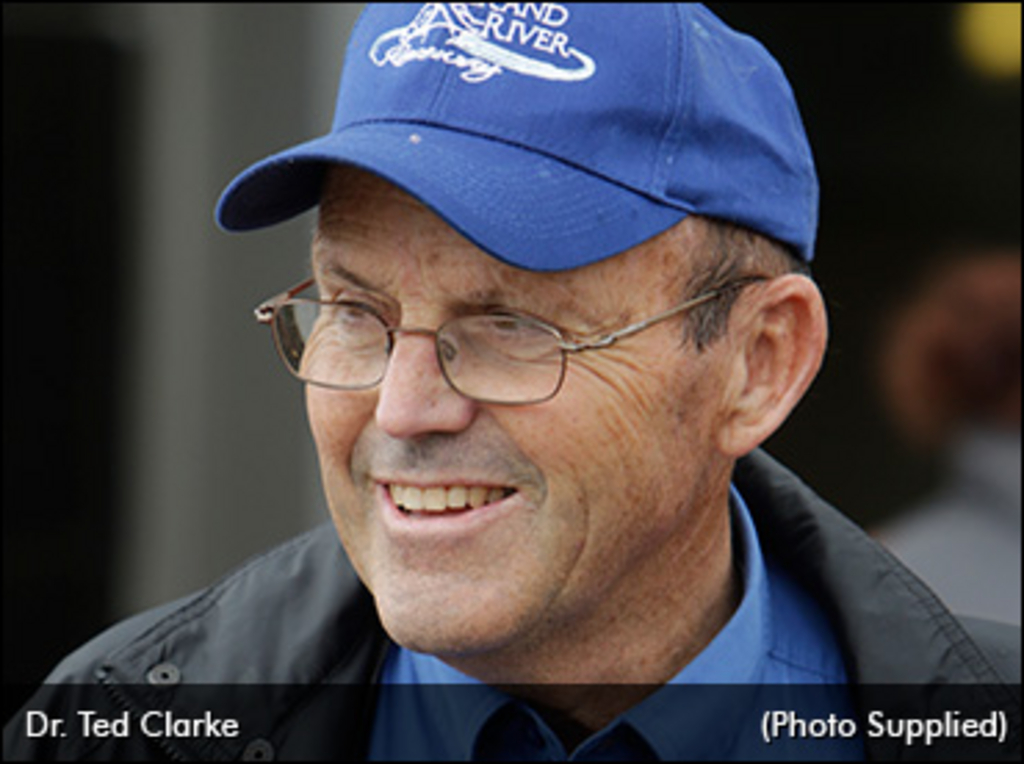 Published:
April 28, 2019 05:38 pm EDT
Dr. C. E. 'Ted' Clarke, 71, passed away on Saturday, April 27, 2019 at St. Mary's Hospital in Kitchener, Ont.
A graduate of Ontario Veterinary College, Dr. Clarke lived in Elmira, Ont. with his family for the past 47 years.
He co-owned Eldale Veterinary Clinic and was a practicing veterinarian while being heavily involved with the management of Elmira Raceway starting in the late '80s, when he helped steer the track from financial ruin while he served as the horseperson's representative with the Ontario Harness Horse Association (OHHA).
In 1994, Dr. Clarke helped establish the Ontario Teletheatre Network. He became the official general manager of Elmira Raceway in 1995 (while still maintaining his veterinary practice) and pioneered a number of initiatives which solidified the track's finances and reputation. In 1998, Elmira Raceway became the first Ontario 'B-track' to simulcast its races to a network of tracks and teletheatres throughout Canada and the U.S.
In 1998, Dr. Clarke worked with local horsepeople to create the track's signature race, the (then) $200,000 Battle of Waterloo. The following year, Elmira Raceway was awarded the prestigious Lloyd Chisholm Achievement Award by the Standardbred Breeders' & Owners Association of Ontario, in recognition of its racing innovations for the betterment of the Ontario harness racing industry.
In 2002, Dr. Clarke left veterinary medicine to assume a full-time role as the general manager of the new Grand River Raceway in Elora, Ont.
The creation of the track was his passion project.
Recognized by his peers as an innovator and highly regarded for his thoughtful insights, Dr. Clarke's strong and steady leadership established Grand River Raceway's reputation as an award-winning racing and entertainment destination.
In 2014, Dr. Clarke was inducted into the Canadian Horse Racing Hall of Fame in the 'Builders' category. The honour highlighted a career spent in the pursuit of the common good for horse racing.
In an article from TROT Magazine in 2014 (commemorating Dr. Clarke's Hall of Fame induction) longtime friend Dr. John Hayes (who attended Ontario Veterinary College with Clarke in the early '70s) is quoted:
"That's the magic of Ted Clarke: patience to entertain dissenting views; a conciliatory demeanour that never offends; integrity of purpose; and intelligence to separate chicken soup and feathers."
After more than 30 years of tireless work in the Ontario harness racing industry, Dr. Clarke retired from his post as the general manager of Grand River Raceway in September 2017.
Dr. Clarke is survived by his wife Valorie; sister Christine and brother David; daughters Carrie and Amy; and granddaughters Morgan and Riley.
At Dr. Clarke's request, cremation has taken place and there will be no funeral home visitation or service.
A celebration of life will be held on Wednesday, May 15 from 2:00 p.m. - 5:00 p.m. in the Lighthouse Restaurant at Grand River Raceway: 7445 Wellington County Rd. 21, Elora.
In lieu of flowers, the family requests donations be made to the Canadian Diabetes Association or St. Mary's Hospital Foundation (Kitchener) – Cardiac Care.
Arrangements have been entrusted to the Dreisinger Funeral Home, Elmira (www.dreisingerfuneralhome.com).
Please join Standardbred Canada in offering condolences to the family and friends of Dr. Ted Clarke.