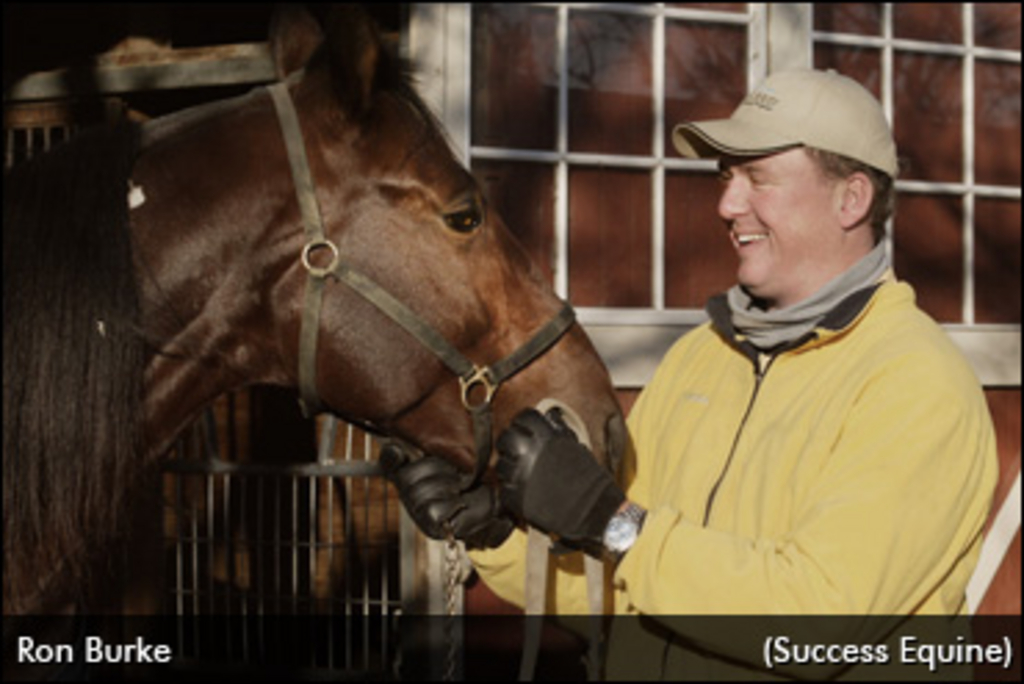 Published:
April 20, 2018 09:55 am EDT
Trainer Ron Burke will start one horse each in the Blue Chip Matchmaker and George Morton Levy Series Finals Saturday night (April 21) and both will start from a disadvantageous post position.
Trainer Ron Burke will start one horse each in the Blue Chip Matchmaker and George Morton Levy Series Finals Saturday night (April 21) and both will start from a disadvantageous post position. In a random draw, Lakeisha Hall and Rockin Ron both burdened with post eight. Despite the bad luck, Burke is keeping a positive attitude and isn't surrendering before races even begin.
"It's awesome," Burke said with a laugh. "I race in a lot of big races, so sooner or later you always have it, but you hate to start the year off with it. If anything, we're going to err on the side of aggressiveness. I'd rather be parked and sit last and get nothing. If I get parked, maybe find a hole fourth or fifth, maybe upset the apple cart, but the idea of sitting eighth doesn't appeal to me in either race. I'm not just going out there to take a ride around the track. I want to give my horses a chance."
George Brennan will drive Lakeisha Hall, a 15-1 shot in the $373,000 Matchmaker Final, carded as race nine on the loaded 12-race program. In post position order, they will face Shartin, the 8-5 favourite, Sell A Bit, Medusa, Lady Shadow, Motu Moonbeam, Dudesalady, and Twinkle.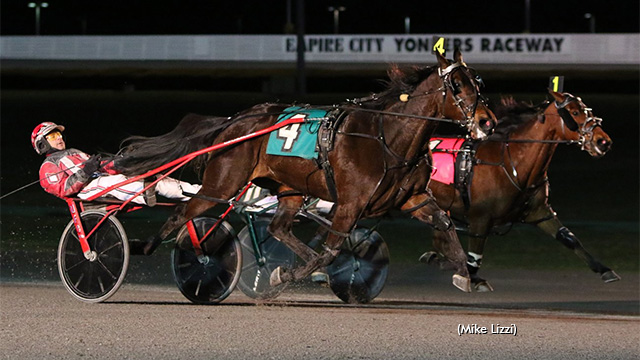 Lakeisha Hall's path to the Matchmaker Final included a fifth in week one in her first start off the bench, a second to last year's Matchmaker champion Mackenzie in leg two, a pair of victories in weeks three and four, and a third last week to rivals Dudesalady and Lady Shadow. Except in her first start, she's been forwardly placed in all her races thus far.
"She's a very good mare and I've been very happy with her until her last start," Burke said. "She had a little tie up issue last week and we got her through it, but I think it took just a little of the sharpness off her. I look for her to bounce back and be super this week. I thought, I've done the right thing to prep for this race, this is her home, so I have her ready to go."
Burke purchased Lakeisha Hall as a weanling with ambitions of her becoming a Kentucky Sire Stakes Champion. The daughter of Third Straight out of the Art Major mare Lantana accomplished that mission, winning the $175,000 KYSS Finals at ages two and three. Now a five-year-old, she's exceeded expectations, earning 21 wins and $491,043 in 53 starts. The Matchmaker Final will be the biggest race of her career thus far.
"We set out with a plan to win the Kentucky Sire Stakes those two years and we went out and bought three weanlings. We looked them over, broke them for a month, and then sold the other two and decided to try to keep the best one," Burke explained. "The plan worked to perfection. She was two- and three-year-old champ and has been more than just a Kentucky Sire Stakes horse, so we were thrilled.
"She really doesn't have many stakes other than this and for her to draw the eight hole, that hurt, but it is what it is," Burke continued. "Try to move on, at least get something. Crazy things will happen in these races, there's a lot of money up for grabs. There will be constant movement in here, even if I have to be the one making the movement."
In the $532,000 Levy Final one race later, Yannick Gingras will drive Rockin Ron. The 20-1 morning line shot's road to the series final was shaky. He posted a pair of victories in legs one and two and finished second by a nose to Western Fame in leg three before finishing fifth beaten four lengths in week four. Burke gave Rockin Ron the last week off and narrowly made the final. With 230 points earned, Rockin Ron was ranked eighth in the standings, only six points ahead of Missile J in ninth.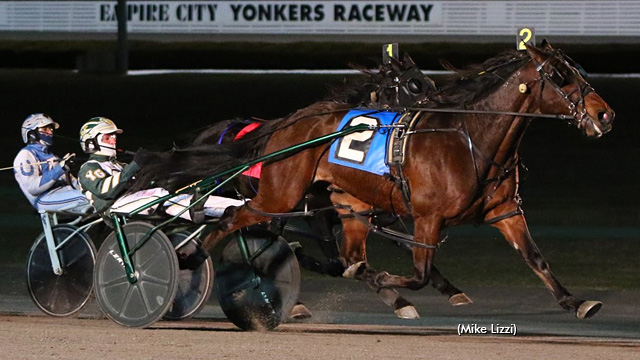 "I thought I did the right thing and I had to sweat it out with Rockin Ron. I gave him last week off," Burke said. "Usually, you do what's right for the horse and they do race well for you in the long run. I had a great feel going into the race, I thought, if I can draw in the right spot we can be competitive. We got the eight, I said, 'you've got to be kidding me.'"
Although his races look good on paper, Burke doesn't feel Rockin Ron, a $1.1 million earner who twice beat Wiggle It Jiggleit at four, has been up to par in any of his races in the series. Burke was more impressed with the six-year-old son of Real Desire's qualifier and seasonal debut at the Meadowlands in February than his series wins.
"Honestly, I haven't been happy with any of his races. The race that he really raced well was the race he was second in. The next week, I didn't feel like at any point he had pace, Burke said. "I pulled blood, I didn't like his blood. I haven't liked his stomach since he came back. That's why I made the decision, sink or swim, I'm giving him the week off and going to try and get him right and get him ready for the final.
"We've done a lot of work on him the last couple weeks and I do think that he will be better," Burke continued. "I look for him to be way improved this week."
In post-position order, Western Fame, Dr J Hanover, defending series champion Keystone Velocity, Evenin Of Pleasure, Somewhere In L A, Mach It So, and 2016 series champion Bit Of A Legend will start to Rockin Ron's inside in the Levy Final.
First post time Saturday night is 6:50 p.m.
(SOA of NY)