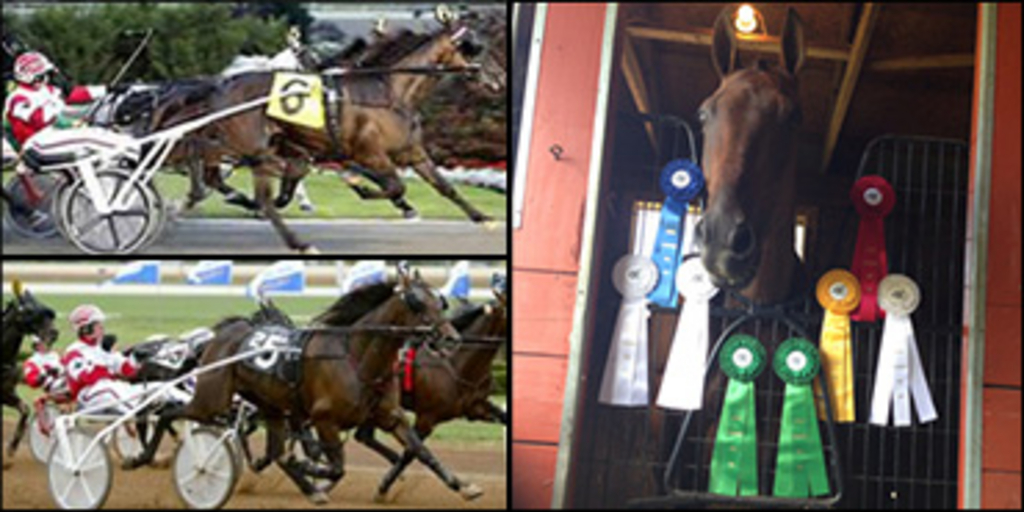 Published:
March 28, 2016 12:04 pm EDT
World champion and O'Brien Award winner Casimir Camotion was euthanized on Friday, March 25, at a New Jersey clinic. Casimir Camotion was 15 and was just two days shy of 16 years from his foaling date.
A winner of 53 of 269 lifetime starts with earnings of $1,962,412 for Bill Matz and Cary Potkin's M&M Harness Racing LLC, Casimir Camotion's biggest victory came when he captured the $920,000 Canadian Pacing Derby at Woodbine Racetrack in a career-best 1:48.3. Casimir Camotion equaled that time two years later in a Classic Series leg at Dover Downs, which established a new world record for gelding pacers on a five-eighths mile track.
Bred in Ontario by Murray McConnell's Casimir Stables and Errol Platt, Casimir Camotion (Camluck - Adulation) was trained during his racing career by Stew Firlotte, Pat Lachance and Bruce Saunders. He was retired from racing while still healthy and happy at the age of 13. He became competitive in the life of a pleasure horse, earning multiple ribbons in the 2013 Standardbred Pleasure Horse Show.
"It's difficult to keep up a good trot. All he wants to do is really pace, but he's coming along really well," Linda Depinto, who groomed the horse while in the Bruce Saunders stable, told Trot Magazine in a January 2014 interview. She also remarked that she had sent out Christmas cards with her dressed as an elf and Casimir Camotion as Santa Claus.
"He loved it," Depinto said. "He loves the attention. He had that type of personality as a racehorse. He's just a great horse all the way around."
Saunders noted that Casimir Camotion had longevity because he didn't race as a two-year-old and also missed a good portion of racing as an eight-year-old with a slab fracture of the knee… which required surgery.
"It's still a remarkable accomplishment to race at that level for such a long period of time," Saunders said. "When we retired him, he was racing well but the speeds in today's world are so much faster than they were in 2010 and 2011. It was very difficult for him to be competitive in condition races. The owners (M and M Harness Racing of New York) would never put him in a claimer where somebody could claim him from them and go through that life of being in the claiming ranks. They wouldn't do that to him because he was too good of a horse. Even in the condition ranks at the Meadowlands in the lowest (level), they were still going extremely fast and he couldn't go as fast as he did in previous years. He was healthy, he was sound, he was very happy. He loved his job, loved being in the barn, loved being around the other horses and loved to train. He was just a marvelous horse, very intelligent. He just couldn't go quite fast enough anymore. The owners decided it was time."
The ultimate warrior on the racetrack, Casimir Camotion was intelligent, sensitive and appreciate of the people around him. He was a most unique horse and will be mourned by those whose presence he graced.
Please join Standardbred Canada in offering condolences to the connections of Casimir Camotion.