Trot Magazine has tracked down four past O'Brien Award winners - Casimir Camotion, Meadowview Sunny, Nebupanezzar and Western Dreamer. Through their stories, it is revealed that despite being out of the spotlight, their stardom has not faded.
Story by Perry Lefko / Traduction Louise Rioux
CASIMIR CAMOTION
When they use the term "war horse" to describe the gallant hardknocking types that battle on despite their age, Casimir Camotion certainly fits into that revered group.
He raced for 11 years, beginning in 2003, finally retiring in July, 2013, following a career that included 269 starts and resulted in 53 wins, a speed badge of 1:48.3f and earnings just shy of $2 million. Even in his last year of racing, at age 13, he still managed to record a couple wins and take a seasonal mark of 1:52.2.
He won the O'Brien Award as a four-year-old in 2004, in the Older Horse/Gelding category for pacers. The highlight of that season came winning the $920,000 Canadian Pacing Derby, trained and driven at the time by Patrick Lachance.
Perhaps not surprisingly, Casimir Camotion is still active in his retirement from racing, only now it's as a pleasure riding horse.
"It's difficult to keep up a good trot. All he wants to do is really pace, but he's coming along really well," said Linda Depinto, who groomed the horse towards the end of his career (racing out of the Bruce Saunders Stable) and is an accomplished equestrian rider. She has him at her farm in Cream Ridge, New Jersey.
Depinto figured the horse would find it easier to be around her than to be sent to an unfamiliar place. She also trains other horses to become riding horses, and Casimir has become a willing student. He recently won a ribbon in a national standardbred competition at the New Jersey Horse Park. He won in the category of 'Fresh Off The Track'.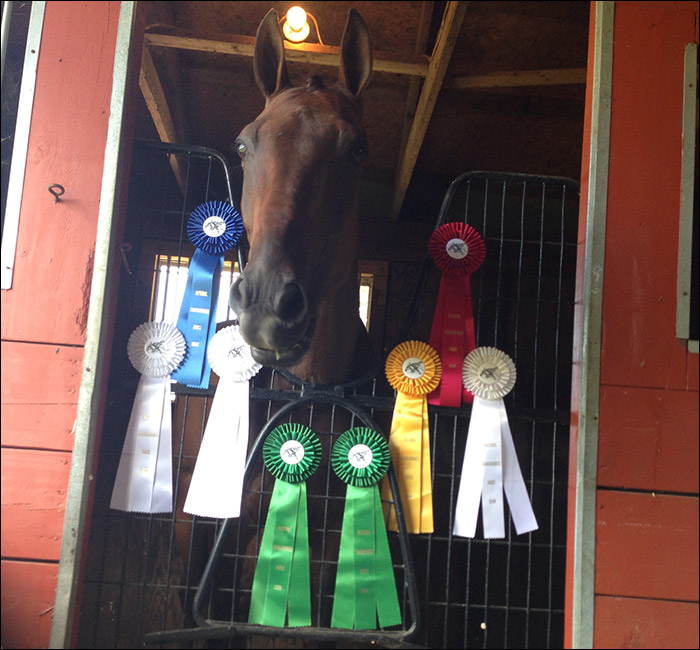 Depinto recently also sent out some Christmas greeting cards with her dressed as an elf and Casimir as Santa Claus.
"He loved it," Depinto said. "He loves the attention. He had that type of personality as a racehorse. He's just a great horse all the way around."
Bruce Saunders, who began training the horse in his fourth year of racing, said Casimir Camotion had longevity because he didn't race as a two-year-old and also missed a good portion of racing as an eight-year-old with a slab fracture of the knee… which required surgery.
"It's still a remarkable accomplishment to race at that level for such a long period of time," Saunders said. "When we retired him, he was racing well but the speeds in today's world are so much faster than they were in 2010 and 2011. It was very difficult for him to be competitive in condition races. The owners (M and M Harness Racing of New York) would never put him in a claimer where somebody could claim him from them and go through that life of being in the claiming ranks. They wouldn't do that to him because he was too good of a horse. Even in the condition ranks at the Meadowlands in the lowest (level), they were still going extremely fast and he couldn't go as fast as he did in previous years. He was healthy, he was sound, he was very happy. He loved his job, loved being in the barn, loved being around the other horses and loved to train. He was just a marvelous horse, very intelligent. He just couldn't go quite fast enough anymore. The owners decided it was time."
Now, with a loving caretaker, amidst a life of winning ribbons and modelling on Christmas cards, the horse is reaping the rewards from all those years of hard work. Just the way it should be.
MEADOWVIEW SUNNY
The old bay horse isn't what he used to be, but he's still proving quite useful.
Meadowview Sunny 3,1:55.3s ($814,178), who raced from 2002 to early 2011 and then retired, is enjoying a peaceful life in retirement at a 200-acre farm in between Waterloo and Elmira. And if he takes to it, he might be hooked up to pull a sleigh for young kids this winter, and young brides and grooms in the spring.
"I'm sure the old guy would like to get hooked up again and pull a sled around," said Paul Shakes, who trained him along with his son, Brad. They also owned the horse with breeder, Charlie Reid, and later added Connie Scott into the partnership.
"He's at a very good home there, lots of pasture with other horses to go out with," Shakes added. "He has very good flesh on him and he's happy. You can tell because he doesn't have his head back in his stall feeling sorry for himself. You can always tell a horse's personality, but he was always kind of a grumpy horse. You couldn't let your guard down because he would bite or kick. He still has that disposition to him. You have to watch him. He wasn't a kid's horse."
By Classic Adam out of the Brisco Hanover mare Frisky Mitchelle, Meadowview Sunny impressed Paul Shakes by romping to an easy five-length win in his first qualifier and almost doubling the winning margin in his second qualifier in June of his two-year-old year. Driven by Doug Brown, he won his first five starts, all in Ontario Sires Stakes action, including a couple with purses of $130,000, and finished the season with six wins in 12 races and earnings of more than $280,000.
For Paul Shakes, Meadowview Sunny winning the O'Brien award as the top Two-Year-Old Trotting Colt was a dream come true.
"Everyone in the business is striving to have a horse like that," he said. "I felt very fortunate to have him. It was like winning the Academy Award for me. To have the best trotting colt in Canada, I don't know what words can describe it. I was elated."
And what many don't know is that all of this came following a life-saving operation, shortly after the colt was broke as a baby. Due to a bit of a nasty disposition, Meadowview Sunny was gelded at a young age… but serious complications set in immediately and he almost died. And even once his life was no longer in danger, the vets told the Shakes' that the colt would live, but he would more than likely never race. Did he prove them wrong… with an O'Brien Award sized exclamation mark!
When it became obvious, at age 11, that Meadowview Sunny could no longer compete at an elite level, the decision was made to retire him. The Shakes' wanted to send the horse to a farm where he could be looked after, but it didn't materialize and at that point he stayed at a boarding farm where he was turned out with another horse. Subsequently, the other horse left after six months and Sunny, who didn't like being alone, started to sour.
His next chapter began when a horseman from Acton approached Shakes about training Meadowview Sunny to be a roadster at the Royal Winter Fair… and he was given the opportunity. In roadster ponying, a horse is hitched to a jog cart and prances around a ring high-stepping its front legs. Meadowview Sunny had the competitive desire but lacked the proper attributes, and the experiment ended after six months.
Brad Shakes understood it that a roadster is to carry a nice high head while competing. "That's not Sunny" says the son of trainer Paul. "He carried his head low, and even raced much of his career without an overcheck."
"I thought he would be absolutely perfect for it, but it just didn't pan out for him," Paul Shakes said. "It wasn't what they wanted."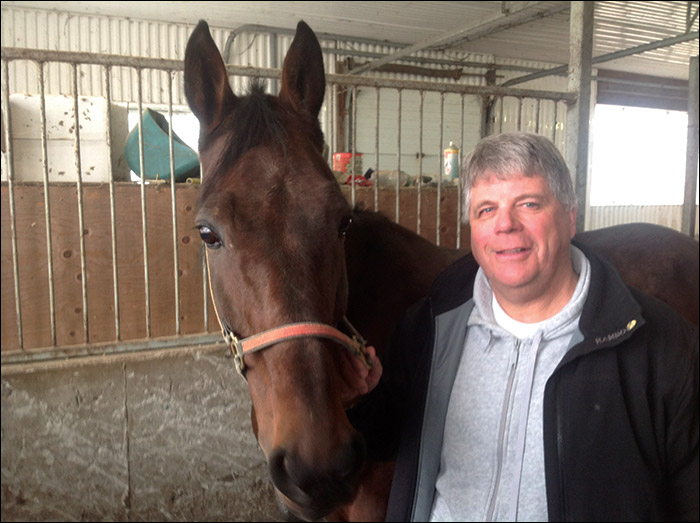 This current chapter of his life sees the large, gelded, 13-year-old at a farm where he is quite happy. And assuming he takes to pulling the sleigh, and possibly a carriage in the warmer months, there are many more people out there that he's sure to make happy as well.
NEBUPANEZZAR
In the town of LaSalle, Ontario, where Hall of Famer Bob McIntosh trains and keeps some of his broodmares, Nebupanezzar p,2,1:51.2s; Q1:51.1 ($1,090,930) is treated like a king.
He runs around in the fields near the training centre where he once circled the oval with blistering speed.
"He's just out there with the mares enjoying life now," McIntosh says. "He's king of the castle. He's mellowed out over the years. He was a pretty high energy horse when training, but he's enjoying his retirement now. He thinks he's the head of the herd over there. He's got a little harem. Originally he was kind of a slim-Jim (in build), but in retirement he's gotten bigger."
Tendon problems which could not be repaired with stem-cell surgery impacted the altered son of No Pan Intended following his fantastic freshman season in 2008. He won of 10 of 14 starts and $1,088,050, the most of any two-year-old that year, and garnered the O'Brien Award as Canada's top two-year-old male pacer. His biggest victory came at Woodbine in the $820,000 Governor's Cup, in which he rallied from far back to score a neck victory at just under 6-1 odds with Steve Condren driving.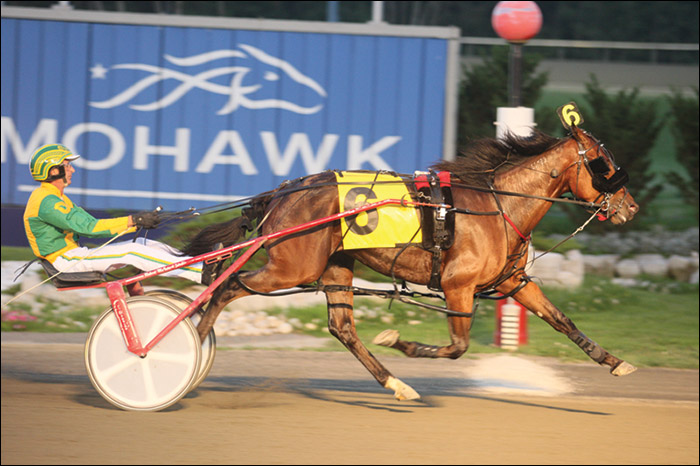 While hopes were high for Nebupanezzar heading into his three-year-old season, in particular for the North America Cup in June, the tendon problems forced him to miss the pivotal race. He qualified two times in August and was subsequently sidelined with the hope that healing time would enable him to return to the races. He qualified three times as a four-year-old, but after just two starts, including a third-place finish at Mohawk, he had to be sidelined again. He finally returned to the races at five and had two starts, finishing last both times in races that would both be timed in sub-1:50. The second start saw him break stride early and never recover.
Owner/breeder Bob Glazer of Peter Pan Stables in Ohio gave McIntosh the option of dropping the gelding into the claiming ranks, but the veteran conditioner didn't want that for the horse and opted to retire him at his farm.
"Any horse that's been really good to me I've always found them a good home or turned them out with my mares," McIntosh says.
Nebupanezzar took the spot of Lustras Big Guy, who raced 130 times in his career and won almost $1 million. The gelded son of Big Towner passed away 12 years ago.
McIntosh says Nebupanezzar has a special place in his heart as the only two-year-old colt he's trained that won $1 million as a freshman.
"He was extremely fast and gifted, that's for sure," McIntosh said. "He had a great gait to him. He had a great desire to compete. He definitely had the will to win."
After starting his career with a fifth-place finish, following a break at the start, Nebupanezzar scored four consecutive victories in Ontario Sires Stakes races and then increased the streak to five in a division of the Metro Stakes. He finished second by three quarters of a length to Major In Art in the $1 million Metro final. Three starts later he won the Governor's Cup. He finished his season winning a $300,000 Ontario Sires Stakes Super Final, taking the early lead on the sloppy track and coasting to an easy 4½-length win.
And now… he's living the good life with more girlfriends than any guy could ever ask for.
WESTERN DREAMER
At the Kentucky Horse Park, the prestigious home to some of the legends of the equine industry, Western Dreamer is among elite company.
He has been residing there since 2001, a fitting place for a horse that won Pacing's Triple Crown in 1997 and was voted Horse Of The Year in Canada. He is one of only 16 to sweep the Triple Crown, which includes the Little Brown Jug, Cane and Messenger Stakes, since its introduction in 1955, and he is the only gelding of any breed to sweep a Triple Crown.
"I've probably visited him about four or five times," said Dan Daly, who owns the Western Hanover horse with his brothers Matthew and Patrick. "It's a wonderful place for him to retire."
Western Dreamer won 27 of 91 starts, more than $1.8 million and has a speed mark of 1:49. After the gallant gelding raced six starts as a five-year-old, the Dalys retired him to a boarding farm in Caledonia. When they were told about the Kentucky Horse Park in Lexington, the Dalys made an inquiry to send Western Dreamer there but were initially rebuffed. The Park already had a quota of standardbreds, including the great Cam Fella.
About four months later, Cam Fella passed away and the Park called the Dalys to see if they were still interested in donating the horse.
"We took him down there and they had a nice big ceremony for him," Dan Daly said. And he has resided there ever since.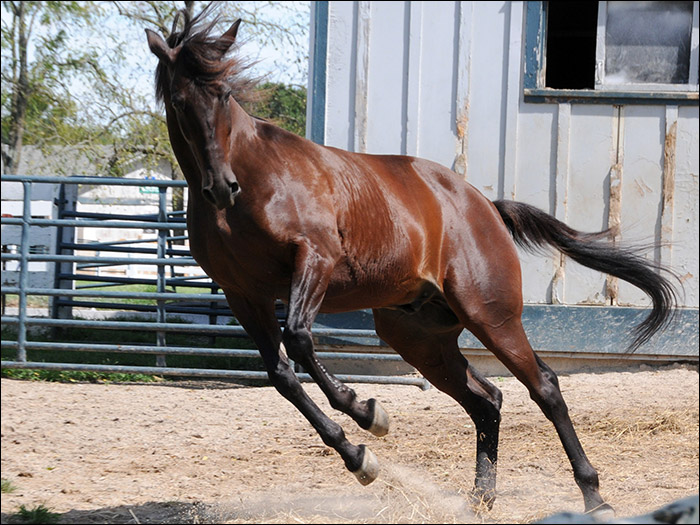 An attempt was made to ship him to the Little Brown Jug last year to lead the post-parade before the start of the big race. It didn't work out because he became a little too worked up in the van ride to Delaware. So upon arrival, he was placed in a stall where people could visit him. The change of plans was made with the health of the horse first-and-foremost in everybody's minds.
The Dalys purchased Western Dreamer privately towards the end of his juvenile season in November of 1996 on the recommendation of trainer Bill Robinson, who conditioned some other horses for the brothers at the time. In his first start for the new connections, and suffering interference behind the gate, Western Dreamer placed fifth in the $612,600 Governor's Cup at Garden State Park. He was retired for the season after that, but Robinson advised the Dalys to heavily stake the horse for his sophomore campaign.
He began that year racing in Ontario, but didn't show anything in eight starts to suggest he was heading for a big year. In his ninth start he won the consolation of the North America Cup by 3 ½ lengths… and then he was sent to the U.S. After a win and a second in three-year-old Open company at The Meadowlands, and a second-place finish in his Pace elimination, Western Dreamer would finish third (beat just a length) in the $1 million Meadowlands Pace. Driver Mike Lachance knew after the race he might have won it had he had a better trip, and the signs were there of something big. Western Dreamer won the $308,083 Art Rooney Stakes two starts later. He won his next four starts also, including the $318,141 Cane Pace. Five starts later, he recorded a five-length score in the $326,813 Jug final. He followed that two starts later by winning the $331,300 Messenger to capture the elusive Triple Crown. He finished the year with 14 wins in 29 starts and earnings of more than $1.3 million. He won O'Brien Awards as Horse Of The Year and Three-Year-Old Colt Pacer Of The Year in Canada, and was also named Pacer of the Year and Three-Year-Old Colt Pacer Of The Year in the U.S.
"We thought we were buying a horse we thought we could have a lot of fun with. Without a doubt he did more than we ever expected," Dan Daly said. And now, thanks to his appreciative owners, the 20-year-old, former Triple Crown winner is living the life he deserves, after providing that fun all of those years ago.