Published:
March 1, 2016 08:40 am EST

Evelyn Sabraw of Acme, Alberta, is the Heart of Harness Racing's Calendar photographer for March.
Sabraw captured this great image of Southwind Jaden and Outlaw Turn N Burn battling it out at Century Downs, near Calgary, Alberta last season. "It was a great day, sunny and warm with great light, and a very exciting race! I was just lucky to capture the competitive spirit and eagerness of the horses with my camera."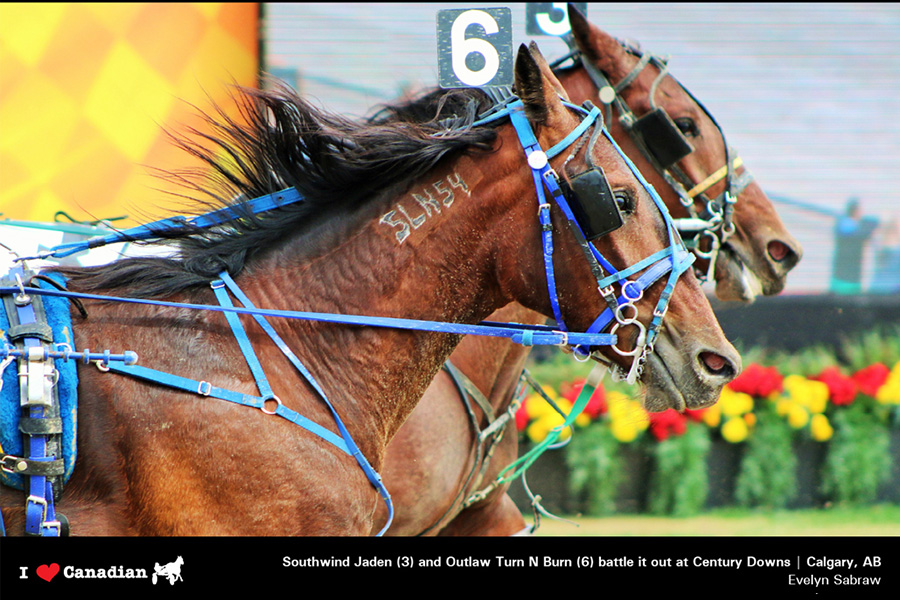 Sabraw, who works full time as a Warranty Analyst at Greatwest Kenworth in Calgary, is fairly new to the racing industry but not to horses. Growing up in Switzerland, she rode show jumpers from the age of seven.
In 2007, she was introduced to Standardbreds when she purchased "Truce" as a trail horse. She currently owns four non-racing Standardbreds and enjoys helping at the track -- Century Downs -- on weekends as a groom.
According to Sabraw, she's had some pretty amazing tutors throughout her life in all kinds of horse disciplines, but if referring to the racetrack, she enjoys spending time with Connie Kolthammer, who Sabraw considers "a very accomplished horse woman with a wealth of knowledge and a great sense of humour!"
She's very modest with respect to her ability as a photographer. "I'm just a hobby photographer who's always trying to look at things from a different angle. I just recently got a decent camera and took some courses to improve my skills. Horses are definitely my favourite subject and I look forward to the new racing season to hopefully capture more exciting moments with my camera.
"I would love to have my own horse on the track one day! For now I'm watching, learning and enjoying the industry from the back seat -- the barn -- as a groom."