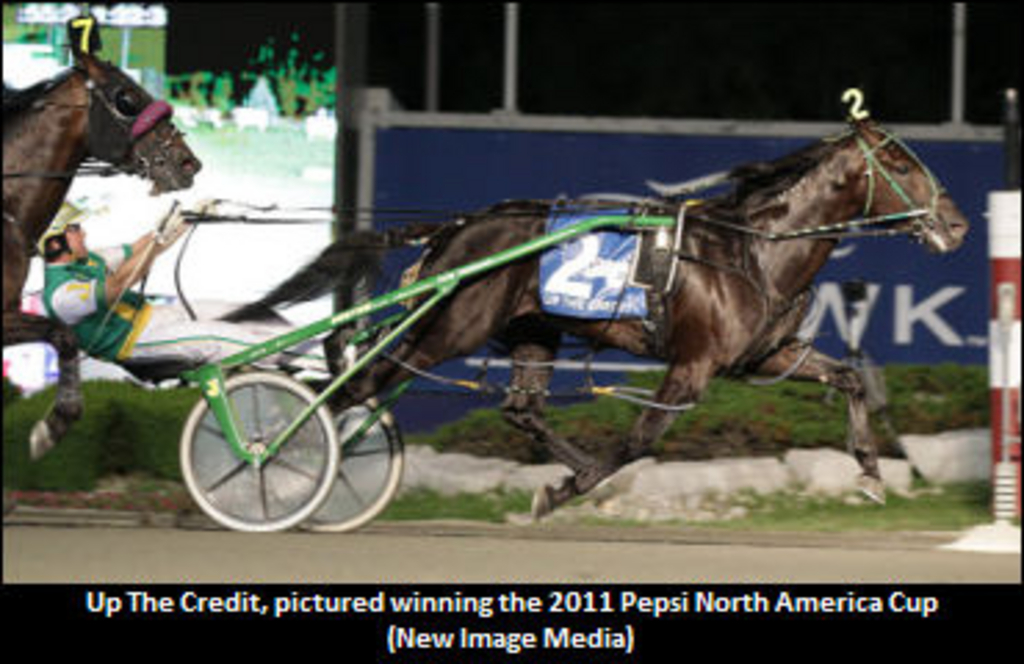 Published:
December 9, 2011 10:32 am EST

Seelster Farms is proud to announce the addition of the fast and talented Up The Credit p, 2, 1:51.4s; 3, 1:49s '11 ($1,161,643) to its stallion roster for the 2012 breeding season
.
Winner of the $1.5-million Pepsi North America Cup, Up The Credit's other sophomore victories include the $117,644 Simcoe Stakes, $100,000 Somebeachsomewhere Stakes, $100,000 Meadowlands Pace consolation, $80,000 Diplomat Pacing Series final and an elimination of the North America Cup.
From just five starts at age two, Up The Credit paced to a record of 1:51.4 in just his second lifetime start.
A son of leading pacing sire Western Terror and the prolific Pacific Rocket mare Cantbuymehappiness, the half sister to O'Brien Award winner Precious Delight p, 2, 1:53.3f; 3, 1:51.1 ($1,352,372), Up The Credit possesses one of the most desirable pedigrees in the sport today. His second dam is the half sister to the great Staying Together p, 3, 1:52.4f; 4, 1:48.2 ($1,692,832).
In addition to Up The Credit, Cantbuymehappiness has produced Dont Deny Me p, 2, 1:54.3; 3, 1:51.1; 1:50 '10 ($362,382), Wish All You Want p, 4, 1:52.1f '10 ($208,137), and Johnny Charisma p, 3, 1:49.3 ($184,286) from just six foals of racing age.
Up The Credit will commence stud duty with a record of 10 wins, four seconds, and two thirds in 26 lifetime starts and earnings of $1,161,643. His lifetime mark of 1:49 came in his dominant victory in the Somebeachsomewhere Stakes, where he closed with a brilliant 26-second final quarter to seal the victory.
Up The Credit will stand for an introductory fee of $5,000. Multiple mare and loyalty discounts may apply. For further information, contact Ann Straatman of Seelster Farms at 519-227-4294.
(Seelster Farms)