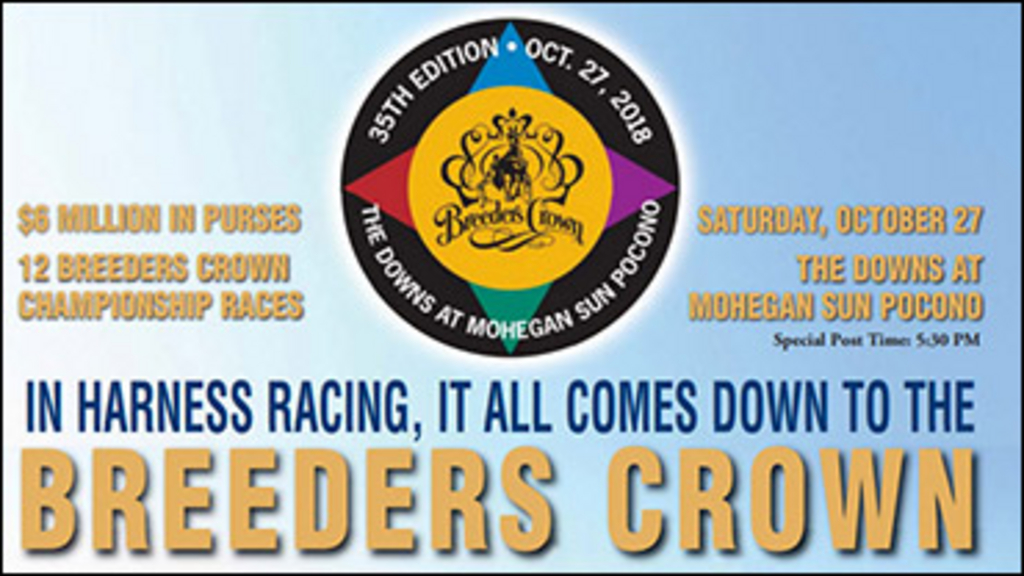 Published:
October 27, 2018 05:13 pm EDT

Breeders Crown night is now in the books with the 12 championship finals taking place under less-than-ideal conditions at The Downs at Mohegan Sun Pocono in Wilkes-Barre, Pennsylvania.
The card boasted $6.4 million in total purses with most of harness racing's biggest names and brightest stars in action. Here are Trot Insider's live recaps of the championship finals.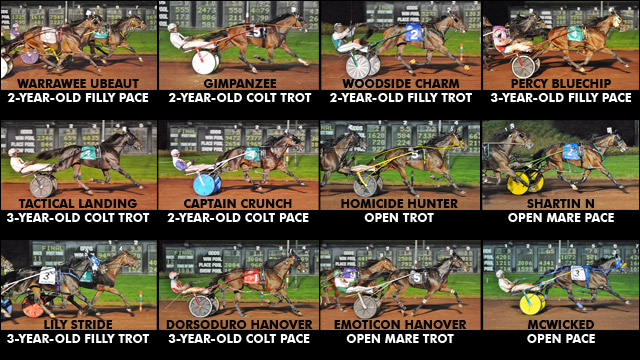 Mcwicked Kicks Butt In Crown
It was one of those 'no doubt about it' scores for Mcwicked, who steamrolled over the sport's top older pacing horses in the $430,000 Breeders Crown Open Pace for the duo of driver Brian Sears and trainer Casie Coleman....read on
Emoticon Hanover Goes Back-To-Back
It takes a special horse to race in the Breeders Crown, it takes an extra special horse to win a Breeders Crown. That makes a horse like Emoticon Hanover that not only wins but defends a Breeders Crown title almost heavenly...read on
Dominant Performance For Dorsoduro Hanover
They weren't going to beat Dorsoduro Hanover tonight in the $530,000 Breeders Crown Three-Year-Old Colt Pace, not if they went around the Pocono Downs oval again....read on
Lily Finds Her Best 'Stride'
Many would state that the 2018 crop of three-year-old trotting fillies is one of the deepest in recent memory. So to win a major race and defeat those fillies is no small feat....read on
Shartin N Goes The Distance
Tim Tetrick pressed the pedal early with Shartin N in the $270,000 Breeders Crown Mare Pace, and the Jim King, Jr. trainee rolled to a gutsy score in 1:52 despite feeling pressure for much off the mile...read on
Homicide Hunter Best In Open Trot
What a month for Homicide Hunter. After etching his name in harness racing's history books as the fastest ever at The Red Mile, he's followed that up with a Breeders Crown victory once again defeating the division's best...read on
Johansson's Colt Comes Through In The 'Crunch'
The trip was sweet and the payday turned out to be even sweeter for Captain Crunch who collared Proof in the stretch to capture the $600,000 Breeders Crown Two-Year-Old Colt Pace for the tandem of driver Scott Zeron and trainer Nancy Johansson...read on
Tactical Landing Delivers Decisively
When a horse sells for $800,000 as a yearling and boasts a sibling the likes of Mission Brief, the expectations are high. Tactical Landing's effort in the 2018 $600,000 Breeders Crown for three-year-old trotting colts & geldings gave those investors the kind of performance they were hoping for in taking that chance two years ago....read on
Percy Bluechip Plays Giant Killer
Percy Bluechip parlayed a ground-saving trip into a 50-1 upset in the $500,000 Breeders Crown Three-Year-Old Filly Pace for driver Matt Kakaley, who owes drivers Yannick Gingras and Scott Zeron a dinner date on him...read on
Woodside Charm Is For Real
Woodside Charm showed that her dominant elimination performance from last week was no fluke after another thoroughly impressive effort to capture the $600,000 Breeders Crown Final for two-year-old trotting fillies...read on
Melander Mastery With Rookie Trotting Colts
Trainer Marcus Melander was loaded for bear in the $600,000 Breeders Crown Two-Year-Old Colt Trot, and his star students delivered a strong 1-2 punch in the rich affair…read on
A-Plus Effort From Warrawee Ubeaut
Harness racing's fastest freshman pacer Warrawee Ubeaut cemented her status as the 'it-girl' in the two-year-old pacing filly ranks with a gutsy performance in her division's $600,000 Breeders Crown Final...read on
Breeders Crown Undercard
$75,000 Invitational - Three-Year-old Trotters
Driver Simon Allard pointed Whats The Word to the front and cleared after a :27.2 opening quarter. The duo then confidently trotted through a middle half of :56.4 and 1:25 before striding away to a three-and-a-half length decision over Exarch and Gemologist in 1:53.1.
Rene Allard trains Whats The Word (Donato Hanover - Your Word Is Good) for Go Fast Stable of Powell, Ohio, Kapildeo Singh of Yorktown Heights, N.Y. and Earl Hill Jr. of Ohsweken, Ont. The colt picked up his sixth seasonal win and 10th lifetime tally.
$75,000 Invitational - Three-Year-old Pacers
Jimmy Freight came first up on rival Stay Hungry after the half-mile point and put that foe away around the final turn before powering away to an impressive 1:51.4 score. Ideal Feeling (Tim Tetrick) emerged from a photo for place over Decoy (David Miller).
Scott Zeron picked up the catch drive on Ontario Sires Stakes star Jimmy Freight, owned by Adriano Sorella and trained stateside by Andrew Harris. The son of Sportswriter - Allamerican Summer picked up his tenth win of the year in 18 starts.