Published:
October 12, 2017 04:42 pm EDT
Larry Karr remembers his days as a teenager fondly when his father, Allen, raced horses in the New York metro area. The names of those horses would mean little to most people today, Karr said, but he still can recall his favourites, such as hard-knocking pacer Jester J.
On Saturday, Karr will head to Yonkers Raceway to watch a trotter that he hopes people might remember in the years to come. Karr is among the owners of five-year-old gelding In Secret, who will face nine rivals in the $1 million Yonkers International Trot.
In Secret is one of two U.S. representatives in the 39th edition of the invitational event, which also includes trotters from Canada, Denmark, Finland, France, Italy, and Sweden. The other U.S. contender is Resolve, who won last year's International Trot.
The race was held from 1959 through 1995 before being resurrected three years ago by Yonkers President and CEO Tim Rooney. The race is at the extended distance of one and one-quarter miles.
"This is actually my home track," said Karr, who grew up in Rockland County, N.Y., about 20 miles from Yonkers Raceway. "(My dad) used to race horses at Yonkers, the Meadowlands, and Roosevelt. To have a horse, when my dad owned cheap claimers, that can race in a race like this is a dream come true."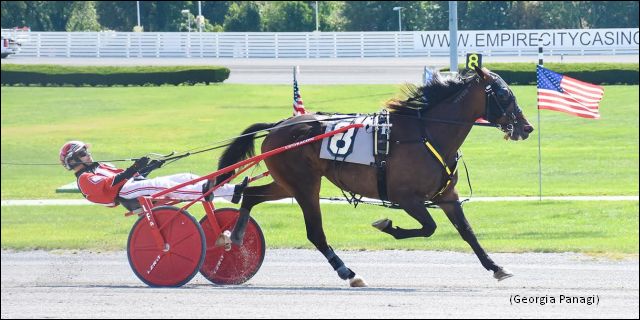 In Secret, pictured victorious at Yonkers Raceway (Photo courtesy Georgia Panagi)
In Secret will be driven by George Brennan, whose stepfather, Joe Ricco Jr., sometimes drove horses for Karr's dad.
"It's an interesting connection," Karr said.
Trainer Ron Burke bought In Secret for $140,000 at July's Tattersalls Summer Mixed Sale at the Meadowlands Racetrack. The horse – a son of Deweycheatumnhowe out of the mare Secret Magic, whose family includes million-dollar-earner Possess The Magic – is owned by Burke Racing, the partnership of Mark Weaver and Mike Bruscemi, J&T Silva Stables, and Karr.
Following the acquisition, In Secret and Brennan won five consecutive starts at Yonkers, with four coming in the open handicap. For his career, In Secret has won 21 of 75 races and earned $358,385.
"We talked about the possibility that this could occur," Karr said of receiving an invitation to the International Trot. "We were hopeful that it would occur and that Yonkers would recognize the great races this horse has put in against home-track horses. It will be very interesting to see how he stacks up internationally."
In Secret will have his work cut out for him. He drew Post 8, the outermost spot on the starting gate, which has produced winners in only three percent of the track's races at the standard distance of one mile. However, In Secret and Brennan have a victory at Yonkers from Post 8 in a race that was contested at one and a quarter miles on August 13.
"That was against much lesser company," Brennan said. "I've raced him both ways (from the front and off the lead). In a race like this, you're definitely going to have to try to move forward and try to get involved somehow. He's versatile. But he's going to have to be real versatile."
Brennan is a two-time U.S. Driver of the Year Award winner and has twice led the Yonkers driving colony in seasonal victories. He is one of two drivers to win the Hambletonian and Hambletonian Oaks on the same day, with Broad Bahn in the Hambletonian and Bold And Fresh in the Oaks in 2011, and sat in for an injured John Campbell to guide Glidemaster to victory in the 2006 Yonkers Trot and complete the colt's sweep of the Trotting Triple Crown.
"(Winning the International Trot) would be terrific," Brennan said. "I thank Mr. Rooney for carrying it on, the legacy. And Yonkers being my home track, it would be icing on the cake. It would be great."
In Secret is 6-1 on the morning line. Resolve is the 3-1 favourite, followed by Italy's Twister Bi at 4-1, Canada's Marion Marauder and Italy's Oasis Bi at 5-1, and France's Dreammoko at 6-1.
"There's plenty in there to beat, that's for sure," Brennan said.
---
This story courtesy of Harness Racing Communications, a division of the U.S. Trotting Association. For more information, visit www.ustrotting.com.