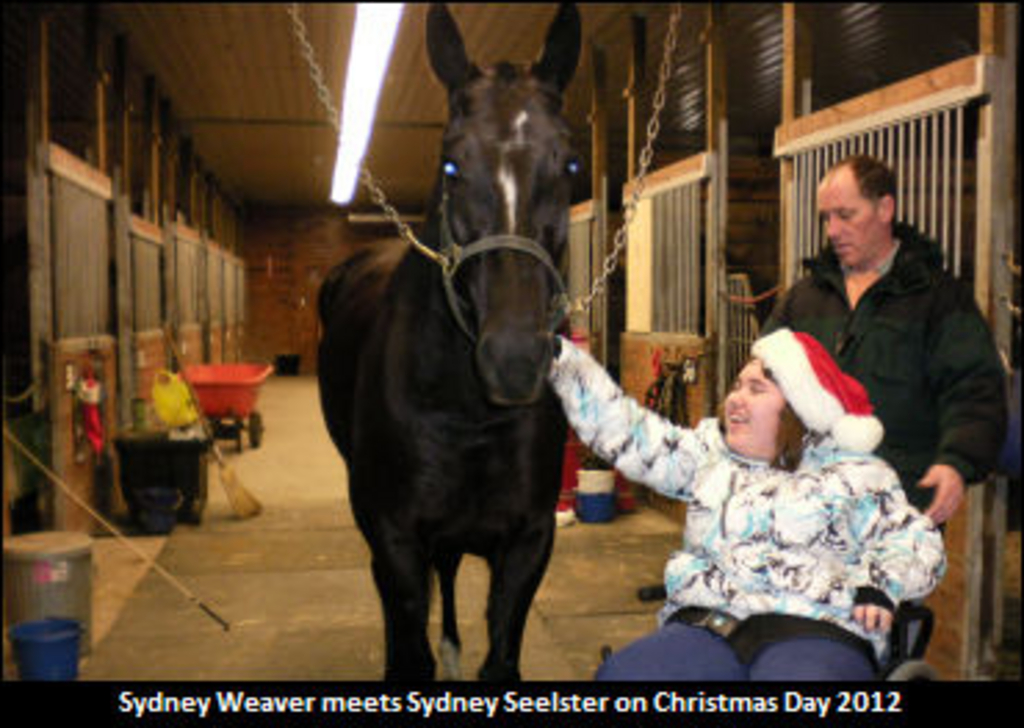 Published:
January 18, 2013 08:24 am EST
All Sydney Weaver, one of harness racing's biggest fans, wanted for Christmas was a racehorse.
The 12-year-old resident of Acton, Ont. has immersed herself in harness racing the past few years, attending the races at tracks throughout the province and making friends with many of the sport's participants. Longtime harness horse owner Cesar Kowalski, a friend of the Weavers, made Sydney's wish come true.
Kowalski, who has been active as an owner in harness racing for over 30 years, met the Weaver family over two and a half years ago at Mohawk Racetrack. It was a rainy day and Kowalski arranged for Sydney to take part in a winner's circle photo. "We've been friends ever since," said the retired welder. "She's a great gal and she is very motivated."
Cesar was writing a Christmas card to the Weavers, and when he phoned to confirm their address, Don, Sydney's father, mentioned to Cesar that Sydney wanted a horse for Christmas. All the while, Cesar's wife had been researching a horse by the name of Sydney Seelster. They tried to buy the horse outright, but that didn't work out, so they entered a successful claim on the pacing mare on Sunday, December 23 at Flamboro Downs.
Kowalski arranged for the Weaver family --- Sydney, Don and his wife, Lisa --- to meet him at 8:00 a.m. on Christmas morning at the Campbellville Training Centre, telling Sydney that he had some books that might be helpful to her in studying to get her trainer's license. She had to get them that day because he was heading up north.
When Sydney got to Debbie O'Brien Moran's stable, there was a wrapped gift for her. Cesar gave Sydney the present, which was a plaqued photo of Sydney Seelster that had an engraving which named Sydney as co-owner.
"She was in awe," said Kowalski. "I'm not sure if it's sunk in yet." They put the mare in the cross ties and Sydney spent most of her Christmas morning brushing and grooming her. "She was a good investment for me and she'll be great for Sydney," said Kowalski.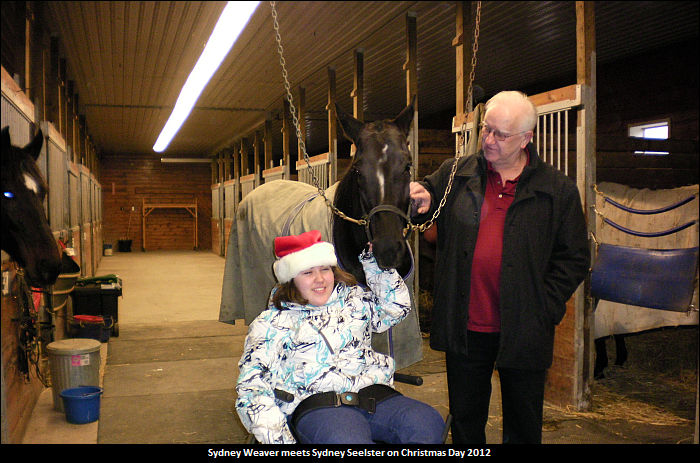 Sydney Seelster wears pink harness, has her own Facebook page, and will be racing for the second time for her new connections this Saturday at Flamboro Downs (Race 3). Her cheering section, led by Sydney (Weaver), will be easy to spot --- they'll all be wearing something pink!
Despite being in a wheelchair, Sydney knows no boundaries. Along with her parents, she can be found at racetracks throughout the province on major events days and any given day.
Sydney achieved her long-time dream of being able to jog a harness horse this past spring following her 12th birthday, with a little help from two of her biggest fans, Ron Waples and Bill O'Donnell.
Sydney's can-do attitude, caring nature and unflinching enthusiasm for the sport have endeared her to legions of Ontario harness racing participants over the past couple of years.