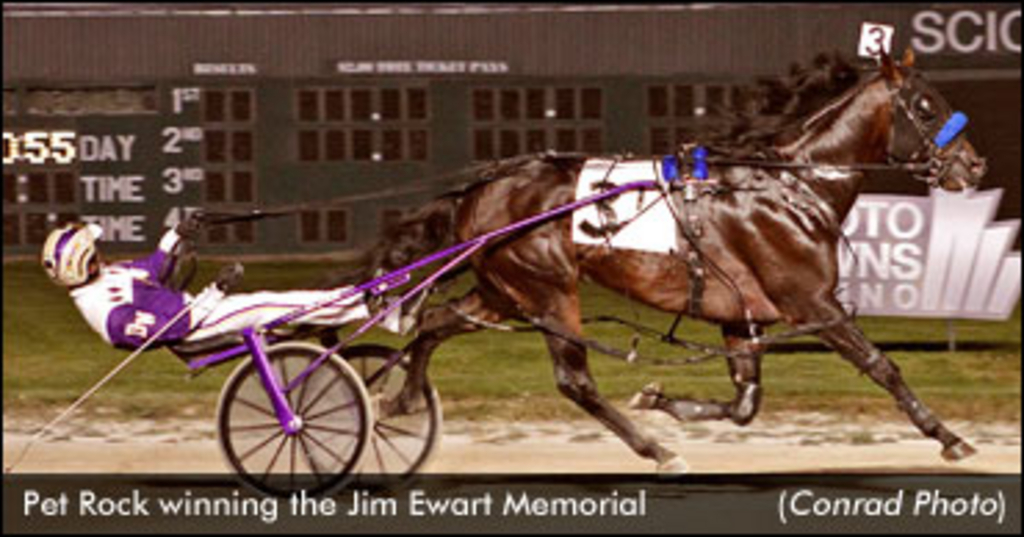 Published:
September 7, 2013 11:52 pm EDT

Pet Rock and driver Dan Noble set the new world record for pacers on a five-eighths mile track in the $125,000 Jim Ewart Memorial Invitational when they crossed the line in 1:47.2 during Saturday's Ohio Super Night card at Scioto Downs Racino.
Previously held at Pocono Downs in Wilkes-Barre, Pennsylvania, the record was in trouble from the word "go" with Noble and Pet Rock parking A Rocknroll Dance and Kayne Kauffman to an opening quarter of :25. The pair hit the half in :52.4 and the three-quarters in 1:20.1 before crossing the line first in 1:47.2.
The former all-age record on a five-eighth-mile track of 1:47.4 was held jointly by Bolt The Duer, Sunshine Beach and A Rocknroll Dance.
"He was real strong in the lane and had plenty left," said Noble.
Virgil Morgan, Jr. trains the four-year-old stallion for owner Frank Bellino of Bronx, New York.
Morgan had a big night even before Pet Rock won as he became the first trainer in history, since the United States Trotting Association has kept records, to hit 5,000 lifetime wins. Earlier in the evening he was also presented as the leading trainer at his home track for the 2013 racing season.
(With files from Scioto Downs)