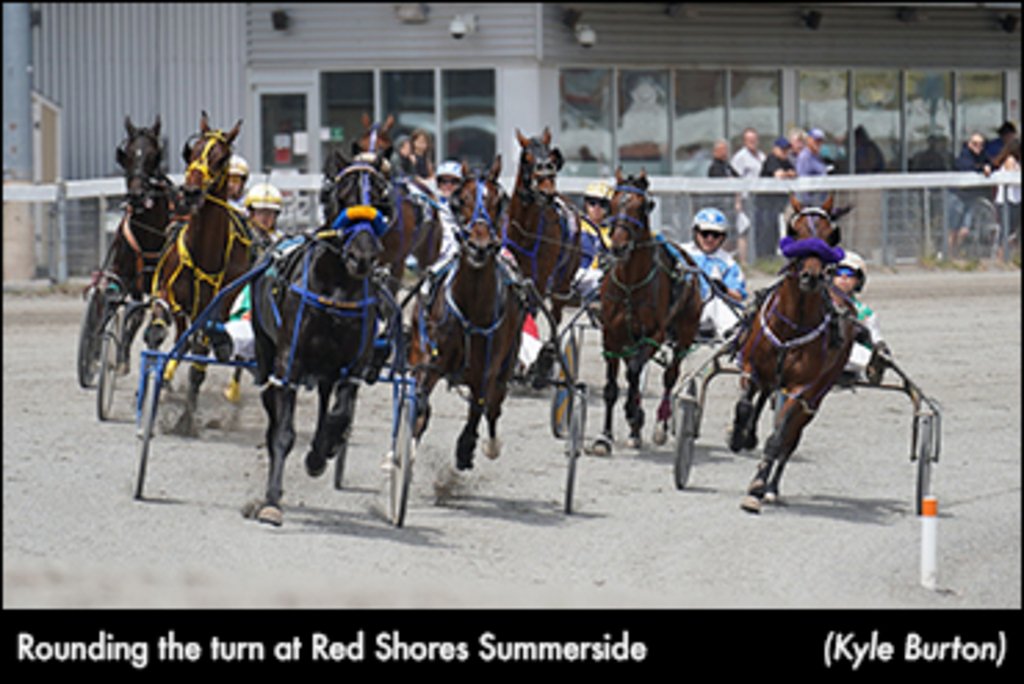 Published:
September 6, 2021 05:32 pm EDT

Stash It Away got away last, but he was much the best in Joe O'Brien Memorial action on an all-stakes Monday (Sept. 6) at Red Shores at the Summerside Raceway.
Corey MacPherson was unhurried with the son of Pang Shui in his $23,670 O'Brien Gold division for two-year-old pacing colts as he was sitting seventh at the start. Stash It Away began his advance on the outside heading to the half and circled the field to win by two lengths in 1:58.4 over a rain-soaked track rated two seconds off by the end of the day. Kevin MacLean trains the winning colt for owner Reg MacPherson.
The $10,125 O'Brien Grassroots divisions for rookies were won by Howmac Maximus (1:59.4) and driver Adam Merner, Tobins Burke (2:00.2) with Gilles Barrieau, and JJ Xavier (1:59.3) for driver Brodie MacPhee.
Woodmere Stealdeal wired his $18,750 O'Brien Gold division for three-year-old pacing colts in a snappy 1:55.1 in line to Marc Campbell for trainer Danny Romo and owners Kevin Dorey, Robert Sumarah, Glenn MacDonald and Frank Brundle.
The other sophomore Gold division went to Jadensmagicsteel (1:57.1) with Merner driving for trainer Melissa Rennie and Boys Will Be Boys Racing.
Class Hero (1:59.4) won his O'Brien three-year-old Grassroots race, while Woodmere Fenn (Driven by Barrieau) and Windemere Bestman (MacPherson) landed on the line together for a 1:58.4 dead heat in the other division.
JJ Scarlett (1:58) remained spectacular on the day, winning a $17,550 Lady Slipper Gold division for two-year-old pacing fillies with Danny Gillis supplying the drive for trainer Walter Walker and owners Wwggmacinnismackinnon stable.
Girl In A Tavern (1:57.4) prevailed in her Gold split for trainer-driver Hughes and owner Donald MacRae.
The $8,500 Lady Slipper Grassroots divisions went to Mystical Gal (2:01.1) and Hughes, Red Dirt Lovenlife (2:01.3) and MacPhee, as well as Outrageous Style (1:59.2) with Barrieau above the wheels.
Live racing continues Thursday (Sept. 9) and Saturday (Sept. 11) at 6 p.m. at Red Shores Charlottetown, while Red Shores Summerside will host action every Monday evening in September with a 6:30 p.m. opening post time.
Total handle was $64,816.
For race replays and more, go to redshores.ca.
To view Monday's complete results, click the following link: Monday Results – Red Shores Summerside.
(Red Shores)