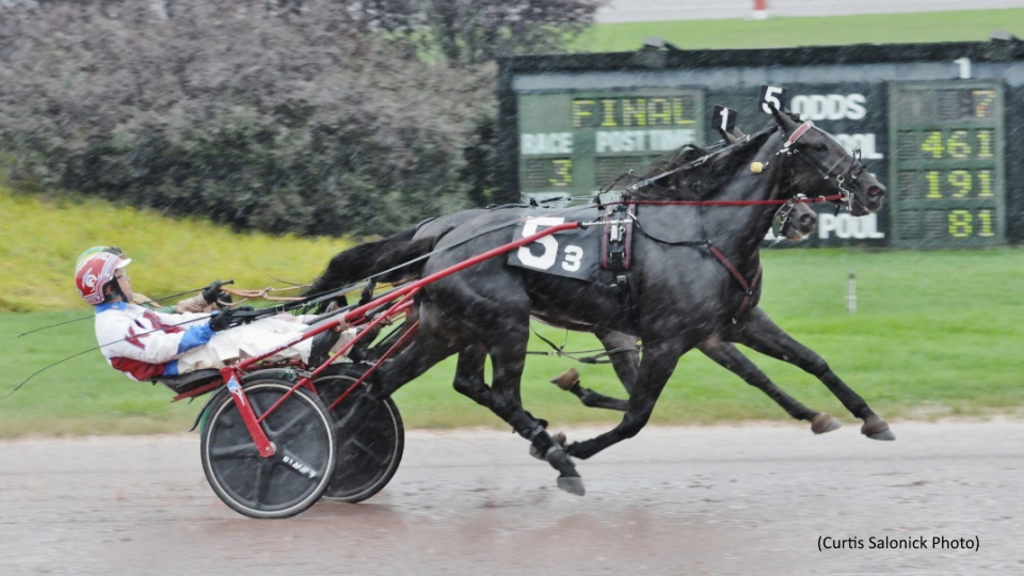 Published:
September 5, 2022 10:08 pm EDT
Rain awaited the top point earners in the Pennsylvania Stallion Series preliminary rounds as they came to The Downs at Mohegan Sun Pocono on Monday afternoon to contest their eight $40,000 Championship events.
The sloppy track all but ensured that there would be no stakes records taken over the normally-speed Pocono oval.
There were several other notable trends during the eight Championships. On the negative side, besides no records, there were no repeat winners from age two to three, and no prelim point leaders carrying on to a title.
On the more positive side, there were five winning favourites (including all four males), five horses sustaining their lead from the half to the wire, six exciting stretch drives resulting in photo finishes (two noses, two heads, and two necks), and Pocono's leading driver, Matt Kakaley, winning three of the Championship races, all with fillies and all in photos (he tacked on a fourth win in an overnight by a neck).
All of the above coalesced in the one winner who threatened a stakes standard, the Googoo Gaagaa sophomore trotting filly What Should I Goo (named well for the conditions), who after setting the pace defeated pocket sitter Chake by a head in 1:54.3, a new mark and just a fifth off her division's PaStS finals record, set at Pocono first by Choose Happy in 2013 and tied by Jezzys Legacy in 2019.
The 1-9 favourite won for Kakaley, trainer Jennifer Bongiorno (the day after her prize pupil Beach Cowgirl set a 1:50 world record in her Sires Championship at Philly), and owner Kenneth Jacobs.
 The head separation at the finish for What Should I Goo was a positive luxury margin for Kakaley, whose other two Championship wins were by a nose.
In the two-year-old filly pace, held right after What Should I Goo's race, the Stay Hungry–Armbro Cinnamon filly Nevertellmethodds, the 5-2 third choice, came from right behind favoured front-stepper Little Lady J to edge her by the smallest of margins in 1:53.2, her fastest victory, for trainer Christopher Beaver, co-owner with Anastasia Meshkova.  
Also cutting it very fine was the Father Patrick-Hillarmbro freshman trotter Heaven Hanover, who set all the pace and clung to a nose victory for Kakaley and owners S R F Stable, Rick Wahlstedt, Heights Stable, and AMG Stable Inc. Heaven Hanover was also one of the very few Marcus Melander-trained trotters who will return $14.60.
The other filly contest also was decided in a picture, with two sophomore stablemates in the battle to the wire: the Sweet Lou filly Heartbreak Hotel getting a perfect steer from Dave Palone to edge Hood Party, her Nifty Norman stablemate, by a neck in 1:51.2.  It was a lifetime best for the pacer owned by Let It Ride Stables Inc, Bottom Line Racing LLC and Mac Nichol. Heartbreak Hotel paid $6.80 as the second choice.
The males provided the other two photo winners, both triumphing as expected. The Captaintreacherous–Love Canal freshman pacing gelding Quixote came first-up to defeat Secret Captain by a neck in 1:53.2 for driver Tyler Buter and trainer Nifty Norman (a second Championship win); the latter is co-owner with Let It Ride Cooper Stables, Bottom Line Racing LLC and Howard Taylor.
Using the engine as the method to a 1:51.2 head victory over Code Cracker was Quixote's sophomore counterpart, the Sweet Lou colt Jo Pas Warrior, trained by Jim Campbell for the Emposimato Stables. Driver Tim Tetrick teamed with Jo Pas Warrior to earn his fifth PA stakes triumph of the weekend after winning four Sire Stakes Championships, and allowed him to stay atop the all-time Stallion Series drivers win list with ten such successes.
The two male trotting Champions provided no stress at all to the photo finish operator or the wagering public. The freshman International Moni–Aspidistra Hanover gelding Austral Hanover went to the top in front of the stands and won by 2-3/4 lengths in 1:56.4, lowering his record by a fifth, for driver Anthony MacDonald, trainer Tim Twaddle, and Thestable Austral Hanover, while the Explosive Matter sophomore gelding Mrmayor Hanover used similar tactics in his 1:54.2 triumph for driver Jim Pantaleano, trainer Rod Bolon and owners Doug Dunbar and Fred Woolford.
Pocono will race Tuesday afternoon at 1:30, and then will next be back in action on Monday, September 12, on that date switching to a Saturday - Monday – Tuesday at 1:30 basic schedule for the rest of 2022.
(PHHA / Pocono)