Published:
September 5, 2012 06:55 pm EDT
"We planned on getting racing done this summer and show them we have a good product, and there is interest in maintaining racing...We hope to come up with a way for it to survive."
With the Saskatchewan provincial government having announced this spring it will no longer provide grants to thoroughbred and standardbred racing, Saturday could mark the final day of racing at Cornerstone Raceway in Yorkton.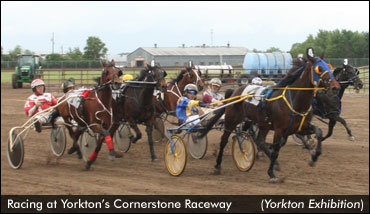 Yorkton Exhibition Association (YEA) manager Shaun Morin said they want to send a message to the government that they should change their mind in terms of supporting horse racing, and to do that they need the public's help.
"If they want racing to survive they need them to come out Saturday," he said.
Morin said owners are certainly showing they want racing to continue having entered 89 horses for Saturday.
"I plan to run 10 races and everyone is an eight-horse field," he said.
It's not surprising the industry is concerned, said Morin. He noted when you consider 89 horses being entered, that is probably 200 people directly involved through ownership, training, grooming and driving.
"Their livelihoods are on the line now," he said, adding the $320,000 the YEA received as a grant, with the bulk of it going to purses, is a big part of that livelihood.
The races are a big part of the YEA's annual schedule of events, said Morin.
"It's important for us. It's a money maker," he said. "...The fair board has always done it. It's part of our heritage."
The YEA manager said racing should be seen as important to the community too.
"It's our niche. No one else (exhibition association) in the province is doing standardbred racing," said Morin. "It's a special thing we do in Yorkton...It's just something for the city to do on Friday nights."
The racing also has an economic impact. Morin said when you think about how purses go to owners and then to drivers, trainers, grooms, as well as feed, horseshoes, veterinary services, food and gas, it flows quickly through Yorkton.
"It's got to generate a million dollars coming into our city," he said, adding with the announced cut "all of a sudden it's gone."
Morin said while the YEA would continue to host events like tractor pulls and rodeos, the barns on the grounds would be left empty for all but a few days a year. He said while the City of Yorkton owns the barns, the YEA has been doing maintenance because they are housing horses April through September. Morin questioned what would happen to the barns without horse racing.
"People being in them keeps them alive," he said.
If standardbred racing can be preserved, 2013 could be a huge year. Morin said it has been announced the summer standardbred season in Manitoba will be dramatically cut with races expected to go to Winnipeg late in the fall. If that happens drivers such as George Isman, Richard Remillard and Travis Cullen, already familiar to local fans for occasional races here, would likely look to spend the summer racing in Yorkton, said Morin.
"They're all good horsemen. They'll be looking for a place to race," he said. "The more horses the better the competition."
So does Morin think racing can be saved?
"There are rumours going around," he said, adding the YEA hopes to meet with Saskatchewan Liquor and Gaming Authority soon, adding that during summer with the Legislature on recess lobbying the government has not really been possible.
"We planned on getting racing done this summer and show them we have a good product, and there is interest in maintaining racing," he said, adding when they do meet "...We hope to come up with a way for it to survive."
(Trot Insider exclusive by Calvin Daniels)