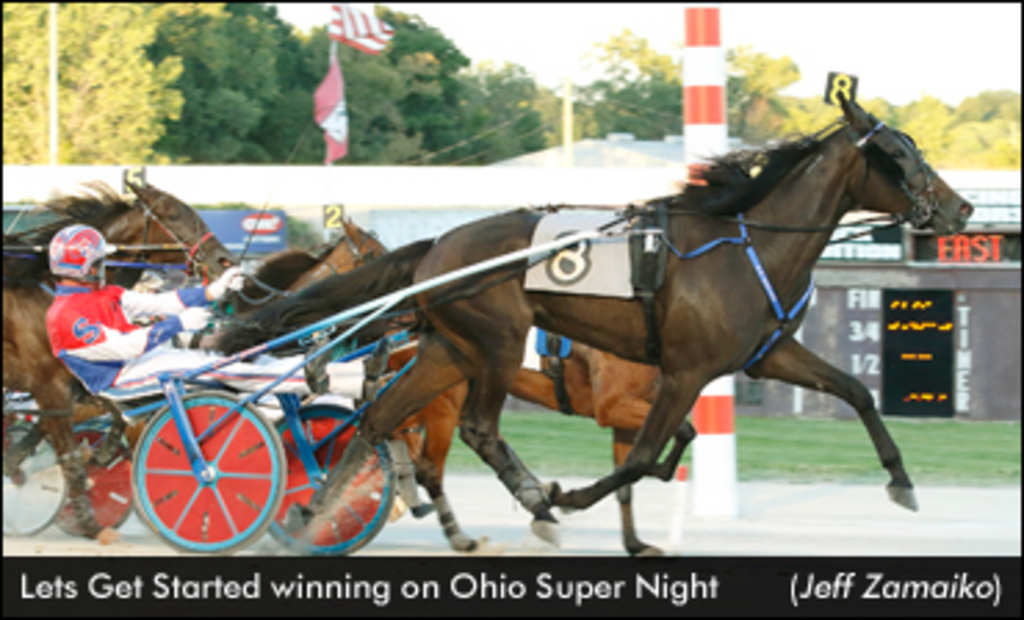 Published:
September 4, 2016 01:17 am EDT
Driver Josh Sutton couldn't have picked a better night to be on fire, as the Buckeye native notched victories in four of the eight $250,000 Ohio Sires Stakes Championships at Northfield Park.
The evening was a perfect 75 degrees with light winds and no humidity as the spotlight was on two- and three-year-old Ohio-breds vying for seasonal honours on the Cleveland half-miler.
Proving that post on the twice-around was not an issue, Sutton, 34, prevailed from not just one, but two eight-hole assignments along with one six- and one three-hole post. He ultimately captured three of the four two-year-old Championships.
In the $250,000 Championship for two-year-old trotting fillies, Sutton was behind the 3-2 favourite Lets Get Started, a homebred owned by Richard and Joyce McClelland of Zanesville, Ohio. The daughter of Dejarmbro had swept all four OHSS legs and added the winner's share of $125,000 to her already hefty seasonal bankroll of $90,300. Her time of 1:57 tied her own Northfield Park track record despite being saddled with the eight-hole.
She also overcame a miniscule break at the half, which was uncharacteristic for the Bobby Brower trainee, and then survived a brief steward's inquiry to notch her fifth career win.
"She was running in a little bit and when I corrected her, she got mad and threw in a few steps," Sutton explained. "It really wasn't like her though, and then when I saw the three-quarter time , I knew those other fillies were going to come back to us. She just trucked all the way home and never offered to make another bobble."
Lets Get Started finished half a length in front of 2-1 Amuses (Peter Wrenn), while 70-1 Bamaslastchance (Kayne Kauffman) got up for third.
Sutton then steered 9-1 Rose Run Spanky from post six to a 1:57 track record-tying triumph in the $250,000 Championship for two-year-old trotting colts. Conditioned by Bill Dailey, Rose Run Spanky is owned by Kim Dailey of Mechanicsburg, Ohio, D Snyder of South Charleston, Ohio, and S G Hines of Jamestown, Ohio. The bay gelding took advantage of a costly break by 1-9 Buckeye Boss (Aaron Merriman) early on to score his fifth victory in his 10th lifetime start. Always A Good Time (Chris Page) was second at 16-1, half a length behind the winner, while 60-1 longshot Stormy Kromer (Peter Wrenn) was third.
"When Buckeye Boss broke, I knew we were in for a big effort," Sutton said. "I thought my horse had a good shot going into the race, but when that happened, I was even more confident. Nothing's ever certain with these two-year-olds anyway—they'll make you rack your brain to figure them out."
Rose Run Spanky's earnings now stand at $187,409 with the Championship victory.
Sutton was in the winner's circle in the very next event, the $250,000 Championship for two-year-old pacing colts, with another Bill Dailey trainee, the 7-1 Scotch McEwan. The son of McArdle is owned by Carl Atley of Xenia, Ohio, and picked up his fourth lifetime victory in his seventh start, clocked in 1:54 for the one-mile test.
"Early on, this horse was quite aggressive, but he's learned a lot over the past few months and has kind of come into his own," Sutton said. "Now he's much more manageable and has learned how to race. It doesn't surprise me that he could get the job done from the eight-hole."
Scotch McEwan came flying on the outside at the end of the mile to prevail over 70-1 Corner Con Artist (Kayne Kauffman) and 5-2 Pace Car (Chris Page). This young pacing gelding upped his earnings to $195,800 for his connections.
A third Dailey-trained stablemate gave Sutton his fourth Championship victory. My Tweed Heart, the public's even-money choice, took first prize in the three-year-old filly pace, timed in 1:53.1. Owned by Carl and Melanie Atley, Xenia, Ohio and Alan Keith, Pataskala, Ohio, the daughter of Manhardt scored her ninth win of the year and career victory 12.
"She felt great tonight," Sutton remarked. "Bill [trainer Dailey] has done a tremendous job with her.
"I have no complaints about racing over the half here tonight," Sutton continued. "Everything has fallen into place for me, and having a lot of outside posts hasn't made a difference. I hate losing more than I love winning and when you have a night like tonight, well, it's just a tremendous feeling."
In the $250,000 Championship for freshman pacing fillies, Berazzled bested her seven rivals with a 1:55 triumph. Peter Wrenn was in the sulky behind the 2-1 Charley Barley daughter, who is conditioned by Danny Collins for Marion Beachy of Sugarcreek, Ohio.
"She has some issues early in the year, but has gotten better with more experience," Collins explained. "Things would spook her and she'd lose her focus, but now she's more mature and seems to have figured out what racing is all about."
Berazzled made a bold, three-wide move around the final turn to draw off from her rivals by two and a half lengths. Bourbon And Barley, a 40-1 longshot, finished second for Ryan Stahl, while 5-1 Zoe Ellasen (Ronnie Wrenn Jr.) finished third.
Berazzled now has $181,040 in career earnings.
"Consistent is the best word to describe her," said a smiling Chris Page after steering 3-2 Consolidator to victory in the $250,000 Championship for three-year-old trotting fillies in 1:55.1.
The daughter of Triumphant Caviar, who is trained by Jim Arledge Jr. for the Green Acquisition Corporation of Canfield, Ohio, picked up career win seven and made a clean sweep of the series to push her lifetime earnings to $295,303.
"She's feeling great and looks terrific," Page continued. "Jim [trainer Arledge] has kept her sharp all season long."
Consolidator led at every panel to finish three-quarters of a length in front of the hard-trying A TC Queenie (8-5, Dan Noble), while 5-2 Kestrel (Aaron Merriman) nabbed show honours.
Page returned to the Northfield winner's circle after guiding 3-1 Wegoferdaprize to win the $250,000 Championship for three-year-old trotting colts in 1:56.2. The son of And Away We Go is trained by Jessica Millner for the Curran Racing Stable LLC of Red Hook, New York, and now has $199,025 in career earnings.
"This gelding just knows how to keep on winning," Page stressed. "Everything has been winning tonight from off the pace and he really just took his time gaining on the leaders."
Wegofordaprize moved up steadily from the back of the pack to post a one and three-quarter length win over the 70-1 hard-knocking Lionbacker Kidd (Peter Wrenn), while 2-5 Kanthaka (Aaron Merriman) notched third.
Whataboy lived up to his name as he scored a 1:51.3 clocking in the $250,000 Championship for three-year-old pacing colts at odds of 5-2.
"He's done nothing but race great for us," said trainer Brian Brown. "The trip tonight couldn't have worked out more perfect."
Whataboy, a gelded son of Big Bad John, got up to best 8-5 Mr Wiggle Pants by a length in late stretch, with Canadias Bakin (Aaron Merriman) third.
"There was a lot of early speed in this race [:25.3, :54.3, 1:23.2]," noted driver Ronnie Wrenn Jr. "And the way horses were coming home, I knew we were in a good spot. Brian [trainer Brown] has done a great job with this horse all year long and he really stepped up to the plate tonight."
Whataboy's career earnings now stand at $261,554 for owners Carl Howard, Powell, Ohio, Gerrie Tucker of Montreal, Que., and RBH Ventures Inc. of New York, New York.
Earlier in the evening, Scott Rocks set a new Northfield Park track record by pacing in 1:49 with Aaron Merriman aboard in a $20,000 Open Handicap Pace. The six-year-old son of Rocknroll Hanover was parked out the entire mile and didn't clear to the front until well past the three-quarter mile marker.
(With files from OSDF)