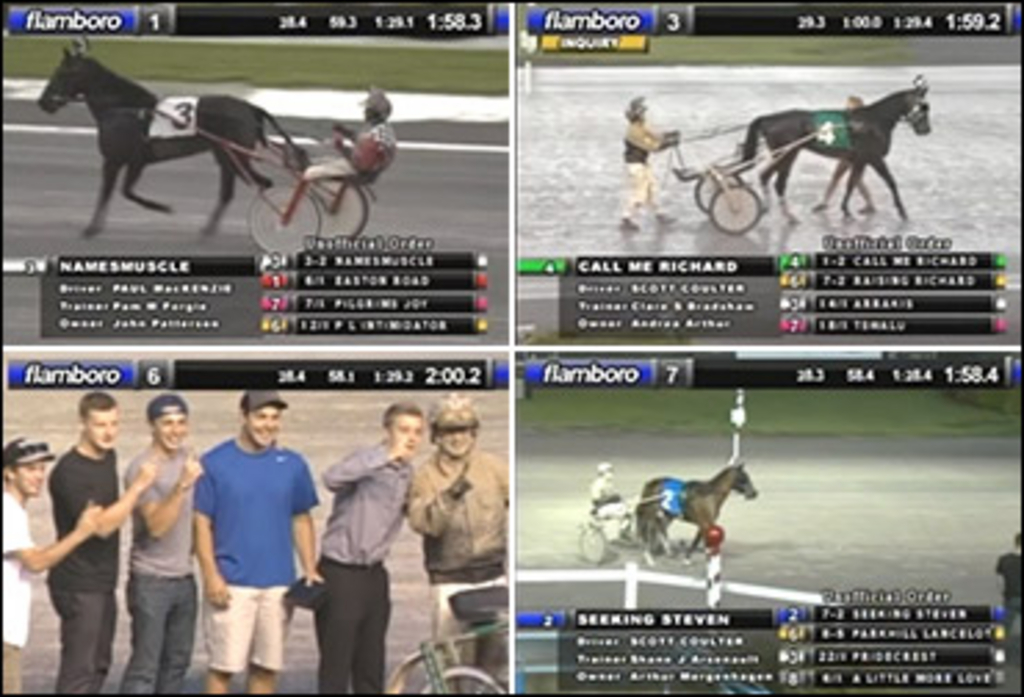 Published:
September 3, 2015 11:55 pm EDT
Driver Scott Coulter and trainer Shane Arsenault teamed up to claim two of five three-year-old trotting colt Grassroots divisions at Flamboro Downs on Thursday evening, and trotting sire Muscle Mass produced four of the five divisional winners.
Coulter and Arsenault made their first trip to the winner's circle with Irish Scotch, who earned his first-ever Grassroots trophy in the third division. Starting from Post 6, Coulter settled Irish Scotch into sixth on the rail as Muscles All Over and Ontheroad De Vie battled to a :28.4 opening quarter. Heading for the :58.1 half Coulter tipped the gelding into the outer lane and the fan favourites had circled around to take control before the 1:29.2 three-quarters.
Digging in through the stretch Irish Scotch held off Delcrest Massy and Numbers Game to secure the one-half length victory in 2:00.2.
"Scotty's drove him well, he's been very patient with him, and Sylvain (Filion) drove him last week at Mohawk and he raced really good too," said Waterdown, ON resident Arsenault. "Just like any young green trotter, you've got to be careful with him, and Scotty's done a great job with him."
Arsenault purchased Muscle Mass son Irish Scotch from breeder Paul Lindsey in mid-August with the long-term in mind. The trainer's good trotter Lexis D J — an Ontario Sires Stakes graduate and the winner of $422,522 lifetime — turned eight this year and Arsenault is hopeful that Irish Scotch could eventually follow in the veteran trotter's footsteps.
"We've got one that's getting a little long in the tooth there, he's getting a little old. You've got to think about replacing with some younger stock," explained Arsenault. "He's still racing good the other horse, but you've got to grab a young one if you can."
Irish Scotch first caught Arsenault's eye when he raced against, and beat, Seeking Steven at Mohawk Racetrack in late July. On Thursday, Seeking Steven earned his own share of the limelight with a victory in the fourth Grassroots division.
Starting from Post 2 Coulter sent Seeking Steven straight to the front end and the Muscle Mass gelding never relinquished control, sailing through fractions of :28.3, :58.4 and 1:28.4 on his way to a two and one-quarter length victory in 1:58.4. Parkhill Lancelot and Pridecrest trotted into second and third.
"He's been banging on the door, just things haven't been coming together for him, but tonight he executed it all and he made a good account of himself," said Arsenault, who conditions the gelding for owner-breeder Arthur Mergenhagen of Williston, FL. "He's kind of a nice horse. He's flawless gaited and stuff so coming to Flamboro wasn't an issue for him."
Heading into Thursday's regular season finale Seeking Steven was sitting among the top 20 point earners, but Irish Scotch was thirtieth. Their victories assured both trotters a spot in the top 20 and a berth in the Sept. 18 Semi-finals at Mohawk Racetrack. The top five finishers from each Semi-final will compete in the $50,000 Grassroots Championship at Mohawk on Sept. 26.
"Sometimes it works out and sometimes you wonder why you're doing it, but tonight was one of the nights where it worked, definitely," said the trainer. "They're two nice little horses."
In addition to the pair of Arsenault trainees he guided to the winner's circle, Brantford, ON resident Scott Coulter also scored a win in the second division with Call Me Richard. The heavy favourites controlled the tempo from start to finish, cruising through fractions of :29.3, 1:00 and 1:29.4 before romping down the stretch to a two and three-quarter length victory in 1:59.2. Raising Richard and Arrakis completed the top three.
Coulter engineered the win for trainer Clare Bradshaw of Simcoe, ON and owner Andrea Arthur of Scotland, ON. The win was the Muscle Mass son's second in Grassroots action and moved him into fifth spot in the standings with 140 points.
Namesmuscle captured the first Grassroots division, giving sire Muscle Mass four winners on the evening. In rein to Puslinch, ON resident Paul MacKenzie, Namesmuscle went gate-to-wire from Post 3, sailing down the rain-soaked stretch to a six and one-quarter length win in 1:58.3. Easton Road and Pilgrims Joy were second and third.
Goderich, ON resident Pam Forgie trains Namesmuscle for John Patterson of Bayfield, ON. In three Grassroots appearances the gelding posted two wins and one fifth for 105 points, advancing him into the post season.
The final Grassroots trophy of the evening was awarded to In Secret and trainer-driver Per Henriksen, who cruised to a 1:59 victory, five and three-quarter lengths ahead of Mandeville and South Star. Norwood, ON resident Henriksen conditions the Deweycheatumnhowe colt for Andrea Lea Racing Stales Inc. of Lakefield Gore, QC and ASA Farm of Norwood. In Secret finished short of the top 20 with 54 points.
On Sunday, the two-year-old trotting colts and geldings will wrap up their Grassroots regular season at Flamboro Downs, battling in Races 1, 2, 4, 5, and 6. The action gets under way at 6 p.m.
(OSS)
To view results for Thursday's card of harness racing, click the following link: Thursday Results – Flamboro Downs.