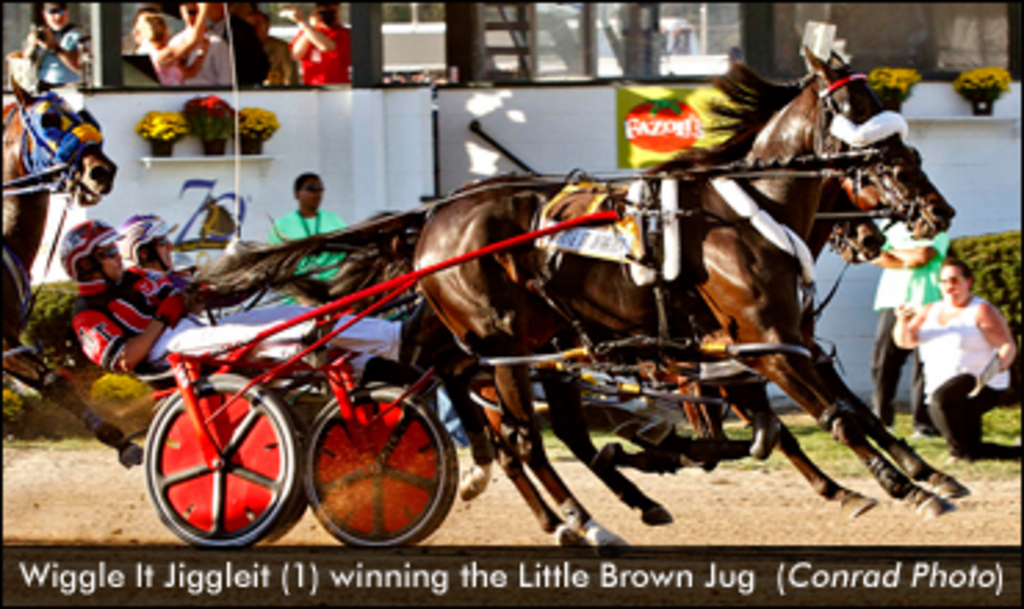 Published:
September 24, 2015 11:39 am EDT

George Teague Jr. Inc.'s Wiggle It Jiggleit provided a Little Brown Jug for the ages on Thursday, September 24 at Ohio's Delaware County Fair, as the gelded son of Mr Wiggles paced an absolutely electrifying 1:49.3 mile in the $324,960 second heat for trainer Clyde Francis and driver Montrell Teague.
The 70th edition of the Jug – the sport's premier half-mile-track event for three-year-old male pacers, which was presented by Fazoli's – saw Wiggle It Jiggleit deliver what was one of the gutsiest and most memorable performances in the history of the hallowed event.
The world-record holding son of Mr Wiggles had captured his opening-heat elimination in 1:49.2, and in doing so earned himself the right to start from an advantageous inside post (Post 1) in the second heat. The field for the second heat was reduced to seven after the connections of Split The House had to scratch their charge from what was ultimately the final.
Teague lined up in Post 1 with fellow elimination winner Lost For Words (driven by David Miller) directly to his right in Post 2. The wings of the gate folded, and, in the blink of an eye, Miller had fired his charge out sharply, as did driver Yannick Gingras, who had left in a flash from Post 6 with My Hero Ron.
Wiggle It Jiggleit was forwardly placed in the first turn, but not on the engine. Lost For Words would go on to tow the field into the backstretch under perfect weather and track conditions at the fair. Wiggle It Jiggleit had put in a particularly bad step while racing third on the opening turn, but Teague was able to quickly snatch him up and keep him on gait.
Everyone that was watching knew that Teague would be sending Wiggle It Jiggleit to the lead in good order at some point, and send he did, right after Lost For Words passed the :27 quarter pole and began to make his way down to the half-mile marker.
The epic battle officially ensued right in the vicinity of the half-mile pole. Racing bridle to bridle, Wiggle It Jiggleit started to pour it on as Lost For Words maintained rail control. As the half rang up in :54.1, the spectacle began.
Neither Lost For Words nor Wiggle It Jiggle gave an inch in the third panel and the pace did not wilt at all as the two competitors laid it all on the line. The three quarters clock flashed to life in 1:21.1 and the duo was still cooking up front.
Wiggle It Jiggleit had gotten a bit 'steppy' along the final turn in his opening-heat win, but Teague kept him under control in the same spot as he barrelled the divisional heavyweight towards the stretch in front of a roaring Delaware crowd.
Lost For Words did not throw in the towel as he led the rest of the field into the lane. If anything, it looked as though Wiggle It Jiggleit would be the one to falter.
It was in the lane where the race went from being 'electrifying' to being an instant classic. Wiggle It Jiggleit appeared as though he had enough and looked like he was about to fade through the backfield. Wiggle It Jiggleit appeared to flatten out just a smidge and lose a bit of ground as Teague angled him out just a bit wider. The backfield was hot on the leaders' heels and the field got tighter as closers began to make their bids. That is when Teague began rocking in the race bike, as he urged the mount he knows so well for some more pace. And, boy, did Wiggle It Jiggleit deliver.
It's rare to see any racehorse re-engage and come back on the way Wiggle It Jiggleit did in the stretch, especially off the fractions and an extended first-up trip, but the world record holder showed why he is a horse for the ages.
Wiggle It Jiggleit refused to quit, even though he was at a roughly one-and-a-half-length disadvantage. Both time and track was quickly slipping away, but Wiggle It Jiggleit somehow found another gear, and, incredibly enough, more resiliency. Wiggle It Jiggleit got up to defeat Lost For Words in the shadow of the wire and held off the backfield, which was in prime position to pounce, given the way the race unfolded.
Fans and horsepeople in attendance knew that they were witness to something special, as the sounds emanating from the crowd ranged from excited, to joyous, to those of disbelief in what they had just witnessed in the 1:49.3 mile.
Sent off as the odds-on, post-time choice, Wiggle It Jiggleit returned $2.60, $2.20, $2.10 across the board and bested Lost For Words ($2.60, $2.40) in a photo finish. My Hero Ron ($3.00), driven by Quebec native Yannick Gingras, finished third at odds of 19-1. Arque Hanover, trained by British Columbia native and Ontario resident Casie Coleman, finished fourth, while Artspeak, driven by Ontario native Scott Zeron, finished fifth.
Montrell did not even pull the plugs out of Wiggle It Jiggleit's ears.
George Teague, a decorated horseman in his own right, was interviewed in the winner's circle afterward, where he admitted that he thought his world record holder was beaten.
"Well, my thoughts," said George, "I was a little bit confused when he left the gate. I was like, 'this isn't working out as planned.' And then he looked and he popped over at the eighths pole, that didn't work out as planned, and at the head of the stretch I dropped my head and said, 'this son of a gun is going to lose today.' And he proved me wrong."
George had said leading up to the Jug that Wiggle It Jiggleit was the best horse he has ever seen race, and the gelding's astonishing effort in the second heat stamped that statement as true. "He's a little different than a lot of horses," he said, "and that explains what he did today."
The Jug victory was the first for Montrell and was an instant classic for the sport.
"[I got away] a bad third," Montrell explained afterward. "I didn't plan on getting away third, and retaking wasn't an option I don't think because you're not supposed to let anybody go, there's no passing lane. Sitting third, he did it the first trip, so I figured I'd try it the next trip, too."
Montrell acknowledged that Wiggle It Jiggleit's performance was one for the ages.
"That was definitely a war," he said. "I thought I was done around the last turn, too, but man, he's the gutsiest horse I've ever seen."
Wiggle It Jiggleit bumped his career bankroll over $1.7 million courtesy of his two victories in the Little Brown Jug on Thursday, and he has now won 19 of his 21 career starts for George Teague Inc. of Harrington, Delaware.
---
$108,320 – LITTLE BROWN JUG (Opening Heat – Elimination 2) – Three-Year-Old Colt Pace – Race 13
---
The second of the Little Brown Jug's opening-heat divisions (Race 13) gave everyone in attendance what they wanted to see: a battle between Artspeak and Wiggle It Jiggleit – and what a battle it was.
Wiggle It Jiggleit may have had a disadvantage when it came to post position (Post 5), but driver Montrell Teague was able to overcome both the starting spot and a determined Artspeak for a Little Brown Jug record-equalling 1:49.2 mile. The win time was also a track record for three-year-old pacing geldings.
Wiggle It Jiggleit, who is trained by Clyde Francis, took all the marbles in the $108,320 heat, and along with Artspeak (who finished second), My Hero Ron (third) and Arque Hanover (fourth) advanced to the $324,960 second heat.
As expected, Artspeak and driver Scott Zeron fired out intently from Post 1, and the strong early move forced Teague and Wiggle It Jiggleit to tuck into the three-hole early. The pair of horses kept those positions past the :26.3 opening quarter and into the stretch. It was at that point when Teague floated his world record holder out into the outer flow for a punishing shot at the lead.
Wiggle It Jiggleit was outside in second as Artspeak and Zeron, an Ontario native, buzzed the half-mile marker in :54.3. The two horses slugged it out in that position through the third quarter and past the 1:21 three quarters pole.
Neither of the combatants were willing to give an inch, but it was Wiggle It Jiggleit that prevailed in what was a thrilling mile for all that saw it live at Ohio's Delaware County Fair.
Teague gave full marks to Wiggle It Jiggleit after the dash.
"Hats off to Wiggle It Jiggleit," the young reinsman said. "It didn't work out as much as I wanted it to. He was really strong behind the gate, so I figured I'd float out anyway and see where Artspeak was. I saw that he went out there strong, so I was just ducking in and I'm glad that Matt (driver Matt Kakaley and Paparazzi Hanover) helped me out a little bit because I could have been parked."
Wiggle It Jiggleit ($3.00, $2.10, $2.10) is owned by George Teague Jr. Inc. and was bred by James L. Bernstein, Theresa A. Bantle, Eric R. Felter and Vincent J. Tancredi.
Artspeak returned $2.20 to place and $2.10 to show, while My Hero Ron paid $2.80 to show.
Arque Hanover, who was the last horse in the elim to advance to the second heat, is owned by the Canadian connections of Jeff Gillis, Mac Nichol and Big Als Stables Inc., along with Gerald Stay of Buffalo, NY.
The draw for the Little Brown Jug's $324,960 second heat was conducted after.
The results of the draw appear below.
Also, it was announced that Split The House was scratched from the second heat.
1 – Wiggle It Jiggleit – Montrell Teague
2 – Lost For Words – David Miller
3 – Artspeak – Scott Zeron
4 – Yankee Bounty – Matt Kakaley
5 – Rockin N Heaven – Trevor Henry
6 – My Hero Ron – Yannick Gingras
7 – Split The House – Tim Tetrick (SCRATCHED)
8 – Arque Hanover – Corey Callahan
---
$108,320 – LITTLE BROWN JUG (Opening Heat – Elimination 1) – Three-Year-Old Colt Pace – Race 12
---
Locally-owned Lost For Words handily captured the $108,320 first elimination of the 2015 Little Brown Jug.
After allowing Yankee Bounty (Yannick Gingras) to land on the front end, driver David Miller quickly right-lined Lost For Words from the pocket and cleared to the front just after the :27 opening quarter. As the field hit the grandstand for the first time, Dudes The Man (Corey Callahan) was starting a first-over bid from fourth and was challenging at the :55.3 half.
Those two paced stride for stride through the 1:23.1 third station before Dudes The Man started to feel the trip and start to tire. Pocket sitting Yankee Bounty made a move to challenge the pacesetter but Lost For Words had plenty left in the tank and cruised to a one-length victory in 1:50.2.
Yankee Bounty stayed for second with Rockin In Heaven (Trevor Henry) and Split The House (Tim Tetrick) also advancing to the next heat after ground-saving trips.
Lost For Words now has five wins in 12 seasonal starts for Ohioans Country Club Acres Inc., William Robinson, Richard Lombardo and Strollin Stable of Ohio. Brian Brown trains and he was ecstatic with the outcome.
"I really wasn't nervous today, with those fractions. I would have been a lot more nervous if he'd have been down to the half in :54 or less. I loved the fractions today.
"I went to bed last night worrying, the front end didn't hold up at all yesterday. I got up this morning worrying about it," continued Brown. "I walked up to the fence to watch the first race today, to see how the horse that cut the mile would do...he held on, only got beat half a length. My other two-year-old came out, won the second, we won the fourth race in a world record. I gave up worrying about the front end speed."
---
$100,000 MISS VERSATILITY – FINAL – Aged Mare Trot – Race 16
---
Bax Of Life upset the apple cart at 30-1 odds in the $100,000 Miss Versatility Final (Race 16) for older trotting mares.
Classic Martine was sent to the front by driver Tim Tetrick and controlled the early tempo. On that one's back were Ontario-based Riveting Rosie (Paul MacDonell) and Rockin With Dewey through a :27.3 opening quarter. McClure made his move first up at the three-eighths to push the tempo through a soft :57 first half.
With Harley Momma (Corey Callahan) situated second over and Bax Of Life (Yannick Gingras) third over, Classic Martine still looked strong on the front through a 1:26 third panel. Gingras launched his charge into the three path around the final turn and sprinted home with long and powerful strides to collar the pacesetter and hit the wire in 1:54.2. Classic Martine stayed for second, and Rockin With Dewey completed the triactor.
"It worked out perfect. I was third over and didn't think the cover was going to take us where we needed to go so I took a shot up the inside and got lucky to get out," said Gingras. "[Trainer Jerry Duford] told me a couple of little quirks about her but said she's a beautiful mare to drive and he was right: she drives two fingers and she's a very willing mare."
Trainer Jerry Duford co-owns seven-year-old Bax Of Life (Windsongs Legacy - Bax Machine) with Joanne Wray of Campbellville, Ont. Their stalwart trotter now has $580,459 earned lifetime along with 24 wins.
---
$38,850 – OHIO BREEDERS CHAMPIONSHIPS – Three-Year-Old Colt Pace – Race 15
---
The Eric Hamlet-trained and Kurt Sugg-driven Nashville Bound emerged the best in what was a contentious division of the Ohio Breeders Championships (Race 15).
The three-year-old Strong Player gelding left alertly from Post 5 and first to the opening quarter-mile pole, which he clicked off in 27 seconds. He was quickly deposited into the two-hole after Cornerback quickly made the lead.
From there, Nashville Bound sat within striking distance of the leaders, as Cornerback and Indian Spirit skirmished through the middle half-mile, which saw the fractions cut in :56.3 and 1:25.2.
The horses were pretty well bunched up at the head of the lane, but Sugg was able to steer Nashville Bound to the wire first in a mark-lowering 1:55.4.
Nashville Bound ($13.60, $7.00, $4.00) recorded his 17th win from what was his 39th career start. Frisky Bob ($17.00, $4.00) finished second and Chief Talkalot ($3.00) was third.
Nashville Bound is owned by Lori Hamlet of Northfield, Ohio.
---
$50,000 STANDARDBRED – Two-Year-Old Colt Trot – Race 14
---
The Perfect Lindy behaved perfectly in his maiden-breaking score, capturing his $50,000 Standardbred division for two-year-old trotting colts & geldings.
David Miller didn't let his colt's 28-1 odds deter him from trying for the front and getting there ahead of Rat A Tat Herbie (Peter Wrenn) through a :28.3 first quarter. With no challengers, Miller slowed down the tempo and managed a :30.4 breather in the second quarter to hit the half in :59.2
Josh Sutton arrived to challenge just past the half with Barryscourt, pressuring the pacesetter through the 1:28.4 third station before starting to tire and The Perfect Lindy still strong on the front heading into the stretch. After the field straightened, Barryscourt found another burst of energy and made a final lunge for the front but came up just short as The Perfect Lindy got to the line first in 1:58.2. Rat A Tat Herbie stayed for third.
"We've had some luck here, me and Jonas. He went into the gate really nice, good and solid on his gait and he felt good and strong. A couple of them inside of me weren't up on the gate so I gave him a shot and left, got easy fractions and held them off."
Jonas Czernyson trains regally-bred The Perfect Lindy (Credit Winner - Highscore Kemp) for The SRF Stable of Boca Raton, Fl. The $320,000 yearling won his first in five outings.
---
$38,800 – OHIO BREEDERS CHAMPIONSHIPS – Three-Year-Old Filly Pace – Race 11
---
Race 11 proved to a bit of a laugher for the Brian Brown-trained and Ronnie Wrenn Jr.-driven Friskie Lil Devil, as the three-year-old pacing filly captured her $38,800 OBC division with a gate-to-wire 1:54.2 mile.
The daughter of Feelin Friskie started from Post 1 and had things all her way through the mile. She cut the fractions in :28, :57 and 1:25 and closed in :29.2 in the mark-lowering performance.
The Midland Acres-bred is owned by the Lil Devil Stable of Findlay, Ohio, and it was her fifth win from what was her 21st career start.
Friskie Lil Devil ($3.60, $2.40, $2.10) had a lot of daylight between herself and second-place finisher Bell Flower ($6.60, $4.60) at the wire. Friskie Til Down ($4.20) rounded out the triactor.
---
$126,000 OLD OAKEN BUCKET – Three-Year-Old Colt Trot – Race 10
---
As expected, French Laundry was much the best in the $126,000 Old Oaken Bucket (Race 10) for three-year-old trotting colts. Not only did he win, but he etched his name in the Delaware Co. Fair record books.
After Mesmerized (Andy Miller) shot to the lead off the gate, Yannick Gingras quickly looped French Laundry to front from the pocket ahead of the :28 opening quarter. Gingras guided French Laundry through fractions of :57.2 and 1:25.1 before opening up on his rivals and tripping the teletimer in 1:53.4. That mile time makes French Laundry the fastest three-year-old trotting colt over the Ohio half-miler.
Mesmerized was nipped by his driver's namesake, Andy Ray (Tim Tetrick) for second.
French Laundry is owned by Christina Takter along with Ontario-based owners John And Jim Fielding, Marvin Katz and Al Libfeld. Katz and Libfeld also bred the colt.
"Jimmy bought the colt with John Fielding, and they asked us if we wanted a piece and we were thrilled to do that," said Katz."[His dam] Creamy Mimi won the Oaks for us, it's the best part of it when you can breed one like this...we're proud of him."
French Laundry (Muscles Yankee - Creamy Mimi) now has four wins in 14 seasonal starts to push his lifetime earnings to $547,795.
---
$38,800 – OHIO BREEDERS CHAMPIONSHIPS – Three-Year-Old Filly Pace – Race 9
---
The Virgil Morgan Jr.-trained and Brett Miller-driven Friskie Buckeye closed from the backfield with a purpose in Race 9, a $38,800 OBC division for three-year-old pacing fillies, and nailed the wire in 1:56.
The Greg Grismore-driven Sectionlinefriskie wanted the lead early and got it. The Feelin Friskie lass was on the engine and led the field through the fractions (:26.2, :55.2, 1:24.4), but she felt the effects of her trip in the final quarter of the dash, and Friskie Buckeye was ready to pounce.
Sectionlinefriskie had taken a good deal of pressure from both Hailstorm Grace and Karlee Sue in the dash, so she was softened up for the dash to the wire. Grismore had Friskie Buckeye out and racing from the backfield as the field turned for home, and the duo gobbled up a good deal of real estate before notching the win, which was the third of the bay's career.
Morgan co-owns Friskie Buckeye, a Feelin Friskie filly, with Bruce Soulsby. The lass pleased her backers, as she returned $35.80 on a successful win wager (she also paid $10.40 to place and $2.80 to show).
Sectionlinefriskie ($5.60, $2.40) finished second, while Karlee Sue ($2.10) rounded out the triactor ticket.
---
$38,850 – OHIO BREEDERS CHAMPIONSHIPS – Three-Year-Old Colt Pace – Race 7
---
Nobles Finesse and Kurt Sugg were in a mood to play hardball on Jug Day, intent on getting to the lead and staying there in the first $38,850 Ohio Breeders Championships division (Race 7).
Favoured Rock N Randall (Ronnie Wrenn, Jr.) shot for the front from Post 3, but wasn't without company. Strong Feelin (David Miller) and Nobles Finesse (Kurt Sugg) were to his inside and also left alertly. Sugg eventually landed Nobles Finesse on the lead leaving Rock N Randall parked and without a spot on the fence.
Sugg guided Nobles Finesse through fractions of :27.3, :56 and 1:25 before starting to open up some daylight on both the first-over challenger and the pocket sitter. Under a confident drive, Sugg and Nobles Finesse tripped the timer open lengths the best in 1:55. Rock N Randall edges out Roaddog Jess James (Kayne Kauffman) for third.
Nobles Finesse (Feelin Friskie - Lady Lonesome) earned himself a new lifetime mark with the win, his ninth in 19 starts this season for trainer Sugg and Ohio-based owners Dean Davis, Joyce McClelland and Mullet Stables.
---
$23,100 STANDARDBRED – Two-Year-Old Colt Pace – Race 4
---
Spider Man Hanover became the fastest two-year-old ever on a half-mile track in Race 4, as the freshman Western Ideal colt went to the lead early and paced to a 1:51.4 win for trainer Brian Brown and driver David Miller in a $23,100 division of the Standardbred.
After having started from Post 2, Miller and Spider Man Hanover opted for the three-hole, but the duo exited that position as the field turned for the backstretch. Spider Man Hanover had a head of steam behind him and made the lead just past the :28.3 opening quarter.
Miller and 'Spider Man' paced to the half-mile marker in :56.2 and went on to hit the three-quarters of a mile marker in 1:24.2. It was at that point where the initial leader, More Dragon, who was driven by David Miller, launched a bid to retake the front from the pocket.
Spider Man Hanover had other ideas and was not willing to give up the lead for anyone.
Miller just kept on truckin' with Spider Man Hanover ($2.20, $2.10, $2.10) and the duo closed with a :27.2 final quarter to cap off the 1:51.4 mile.
More Dragon ($3.60, $2.60) finished second, while Mr Ds Dragon ($3.40) and driver Brett Miller finished third.
Spider Man Hanover has now won four of his seven career races and could be a player in the 2016 edition of the Little Brown Jug.
Spider Man Hanover, who was bred by Hanover Shoe Farms, was a $40,000 yearling purchase and is owned by Country Club Acres Inc., Kenneth E. Vaupel, Mike H. Mallett, and Milt Leeman.
---
$23,100 STANDARDBRED – Two-Year-Old Colt Pace – Race 2
---
Mr Right Hanover was 'Mr. Right' for the horseplayers in the first $23,100 division of the Standardbred for two-year-old colt pacers (Race 2) with a gate-to-wire win to kick off the Jug day stakes action.
Driver Dave Palone had designs on the lead from Post 2, getting that control through a :27.1 opening panel. Palone rated the rookie through subsequent splits of :56.3 and 1:25.4 before a :28 closing quarter sealed the deal over a hard-charging Granite (Peter Wrenn), who sat the the pocket throughout and finished just back of the winner.
Fernando Hanover (Yannick Gingras) finished third but was placed fourth for a lapped-on break in the stretch. That bumped Gleneagles (Tim Tetrick) from fourth to third.
"When Pete got on my back I thought maybe it was a two-horse race then," said Palone post-race. "We turned it into an eighth of a mile sprint and my horse did get a little steppy but he recovered, a real nice colt.
Brian Brown trains Mr Right Hanover (Somebeachsomewhere - Mouse Hanover) for Ohio-based Jim Stambaugh, Wingfield Brothers LLC, Alan Keith and Milt Leeman. The freshman now has three wins in eight starts thus far.
---
After a delay due to tote issues, Race 8 went postward and saw the Harry Groves-trained and Hunter Myers-driven Harvards Z Tam make a three-wide move in the back half and ultimately win by open lengths in 1:54.1. The eight-year-old Electric Yankee gelding recorded his 40th career victory with the win. Anybody that backed the bay to win had to be pleased, as Harvards Z Tam returned $30.40 on a successful win wager.
Race 6 saw trainer/driver Dan Corfman make things interesting with his pupil The Cone Ranger. The duo demanded the lead and earned it right in the vicinity of the :27.3 quarter pole. Corfman proceeded to park everyone through the rest of the fractions (:56.3, 1:27.2), but it was 'game over' for the field when driver Chris Page found late racing room with Final Retrieve. Page and the three-year-old Stand Forever colt exited the pocket near the head of the lane and went on to post a convincing victory in 1:58.2. Final Retrieve paid $3.40 to win and the victory was the eighth of his career.
The speed continued in Race 5, as the Ron Steck-trained and Dan Noble-driven Indiana Cam recorded a gate-to-wire victory from Post 5. After having cut the fractions in :27.3, :56.4 and 1:23.4, the three-year-old Majestic Blue gelding paced home with a :27.2 final quarter. The result was a mark-lowering 1:51.1 effort for the nine-time career winner. Indiana Cam returned a decent win payoff ($9.20) to his backers.
The Allard Racing Inc. co-owned Rangers Sureshot was tops in Race 3 for trainer Ron Steck and driver Dan Noble. The four-year-old Palone Ranger gelding had recorded a win earlier in the week (Monday, September 21) at the Delaware County Fair, and was first to the wire in 1:53.2 during his Thursday assignment. The bay recorded his sixth career victory in the $3,000 event and returned $3.60 to win.
Race 1 kicked the card off with a bang at noon, as the Virgil Morgan Jr.-trained and David Miller-driven McClelland raced three-wide from the backfield in the final quarter and got up in the final strides to post a 1:54.4 victory. The nine-year-old gelded son of Cams Card Shark returned $5.00 on a successful win wager in what was his 34th career victory.