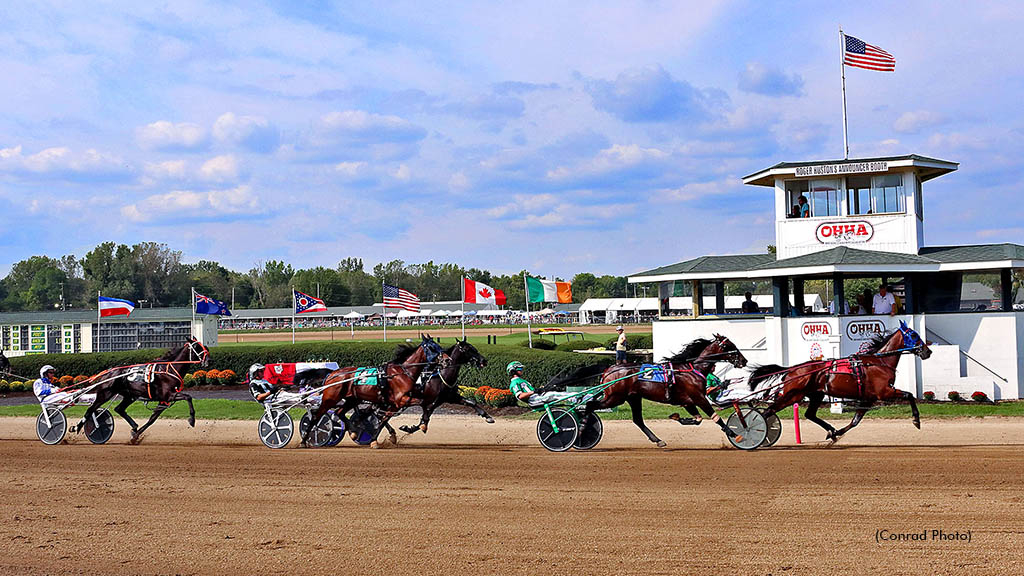 Published:
September 19, 2022 02:50 pm EDT
The elimination heats have been drawn for the 77th edition of the Little Brown Jug for three-year-old pacers to be contested on Thursday afternoon (Sept. 22) at Delaware County Fairgrounds.
A pair of $50,000 elimination heats will be held on Thursday as Races 15 and 16, with the top four finishers advancing to the $541,550 finale later on the card as Race 19, which has an approximate post time of 5 p.m.
Local Ohio trainer Brian Brown has three chances to take home his first Jug trophy with Night Hawk in the first elimination heat and Ohio-sired Gulf Shores and Six Feet Apart in the second elimination. David Miller, one of the winningest drivers in the race's history with five victories to date, will drive Night Hawk and Six Feet Apart in their respective eliminations.
Trainer Ron Burke, who sends out a trio of Jugette contenders on Wednesday, will aim to sweep the Delaware County Fair week's top sophomore events for the second consecutive year.  Lous Pearlman gave Burke his third Jug victory in 2021 and this year he has a pair of contenders including Birthday and the supplemental entry, Adios and Milstein champion Bythemissal.
Two of the P.E.I.-born MacDonald brothers are among the Canadian connections in this year's Jug, with Anthony driving Atlas Hanover for Guelph, Ont. trainer Jason McGinnis and part-owner Thestable Atlas Hanover, and Mark driving Greatest Ending for trainer Ian Moore and owner Reginald Petitpas of Irishtown, N.B. Moore, a P.E.I. native and resident of Cambridge, Ont., previously won the 2008 Jug with Shadow Play.
The connections of Bythemissal and Messenger champion Pleaseletmeknow supplemented to the Little Brown Jug for a fee of $45,000.
The complete fields for the elimination heats are listed below in post position order.
Little Brown Jug Elimination Heat #1 - Race 15
Post - Horse - Driver - Trainer
1. Atlas Hanover - Anthony MacDonald - Jason McGinnis
2. Bythemissal - Chris Page - Ron Burke
3. Market Based - Andrew McCarthy - Nancy Takter
4. Greatest Ending - Mark MacDonald - Ian Moore
5. Night Hawk - David Miller - Brian Brown
Little Brown Jug Elimination Heat #2 - Race 16
Post - Horse - Driver - Trainer
1. Birthday - Ronnie Wrenn Jr. - Ron Burke
2. Gulf Shores - Yannick Gingras - Brian Brown
3. Fourever Boy - Dexter Dunn - Tim Twaddle
4. Six Feet Apart - David Miller - Brian Brown
5. PJ Lou - Mike Wilder - Mark Harder
6. Pleaseletmeknow - Matt Kakaley - Travis Alexander
Thursday racing gets underway at 12 noon.