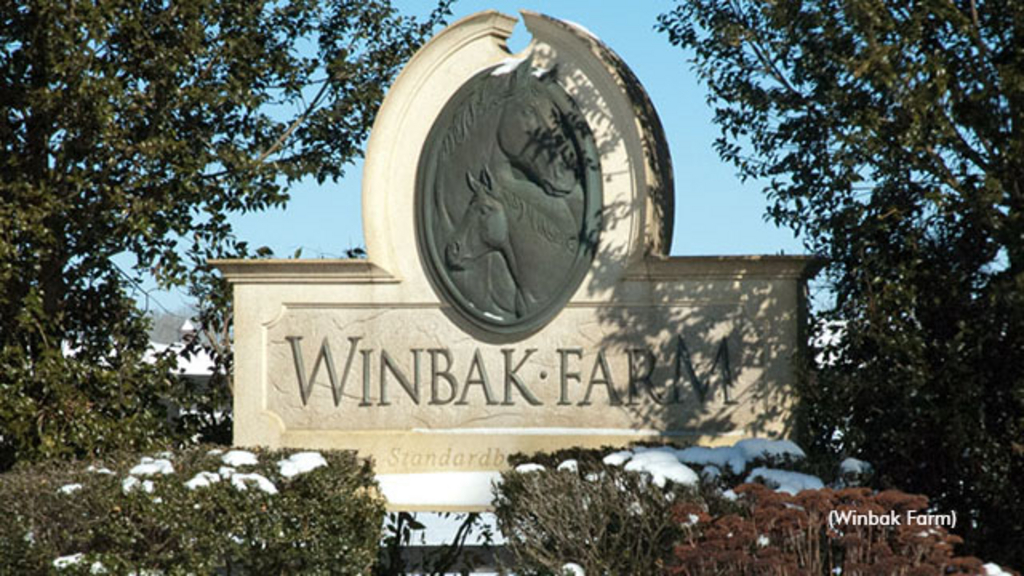 Published:
September 17, 2023 10:20 pm EDT
On Sept. 27, Winbak Farm will be hosting an open house showcasing the farm's London Classic Yearling Sale lineup. The open house and BBQ will be from 12-3 p.m.
"We are excited to host an open house to showcase our London Classic yearling lineup," said Pat Woods, Winbak Farm of Canada Manager. "We hope it will give potential buyers and their connections a way to have their first view of our yearlings before the rush of sale day."
The London Classic Sale is on Oct. 17 and 18. The sale will be held at the Agriplex at the Western Fair District.
"We are proud to be a leading breeder in Ontario Sires Stakes," said Jack Burke, General Manager. "Our offspring shine each year in the rewarding program and this year, our Ontario yearlings are some of our best looking and best bred ever."
Winbak Farm's London Classic lineup features 51 yearlings:
Archangel – Three colts / Two fillies
Betterthancheddar – Three colts / Four fillies
Jimmy Freight – Five fillies
McWicked – Three colts / Seven fillies
My MVP – Two fillies
Shadow Play – Two colts / Six fillies
Sportswriter – One colt
Stag Party – Two fillies
The Bank – Two colts / Six fillies
Trixton – Three colts
This is the first year for Ontario-Sired yearlings from Trixton.
"Each year when selecting stallions to breed our mares to, we place a strong priority on the Ontario program," said Joe Thomson, Winbak Farm Owner. "Being the breeder of 2021 Horse of the Year, Desperate Man, was one of our greatest achievements and we hope one of the 51 horses we have selling at the London Classic Sale have the ability to achieve similar accomplishments."
Highlights include:
Hip #89, Its Not My Vault, a The Bank half-sister to Mr Fritter, 3, 1:54.2s -'22 ($159,666), and 2023 NY Stakes winner Family Riches, 2, 2:00.2h -'23 ($18,507).
Hip #90, Garden Belle, a Stag Party half-sister to BNB, p, 1:52.3f ($123,758). Second dam is Sanabelle Island, p, 1:50.4s ($1,660,526).
Hip #103, Lord Timmins, a Trixton colt from a half-sister to Aisling, 1:53f ($710,839).
Hip #139, Happy Play, a Shadow Play half-brother to Burning Midnight, p, 1:50.3f ($362,629). Full-brother to Adore Him, p, 1:52s ($240,309). His dam is a half-sister to All Bets Off, p, 1:48 ($3,186,658).
Hip #199, Mai Tide, a McWicked first foal from a daughter of Tidewaterdragonfly, p, 1:49.4 ($1,079,213).
Hip #220, Better My Heart, a Betterthancheddar half-brother to Fashion Heart, p, 3, 1:49.3f ($432,860), Rocknrolwilneverdie, p, 1:50.4f ($408,108), and Cardiac Fashion, p, 3, 1:50f ($272,984). Dam, Where The Heart Is, p, 3, 1:50.2 ($220,381), is a half-sister to Art Colony, p, 2, 1:51s ($863,750). 
Hip #260, Front Burner, a Jimmy Freight first foal from a Bettors Delight granddaughter of Stonebridge Kisses, p, 1:50.2s ($1,082,459), dam of 2023 Gold Cup & Saucer winner Covered Bridge, p, 1:48.3 ($1,081,640).
Hip #275, Fast Snap, an Archangel half-brother to Ashlake, 1:53.3f ($220,994).
"Winbak Farm is currently the leading breeder in Ontario Sires Stakes for 2023," said James Ladwig, Yearling Manager. "Our first crop sires have had a stellar year, you don't want to miss their second crops. Our established stallions have continued to excel and there's great potential for their yearlings to be winners."
In 2023, the first crops from McWicked, Jimmy Freight and Stag Party debuted. They are three of the top 10 sires for two-year-old colt pacers in the Ontario Sires Stakes. Jimmy Freight and McWicked are also in the top five for two-year-old filly pacers.
Jimmy Freight's first crop is led by 2023 OSS Gold winner Resilience, p, p, 2, 1:52s -'23, BT1:51.2s-'23 ($100,616). McWicked's top winner is 2023 OSS Gold winner T H McMurray, p, p, 2, 1:51.2s -'23 ($77,166). Stag Party is the sire of 2023 OSS Grassroots winner Your Party, p, 2, 1:54.2s -'23; BT1:53.3s-'23 ($27,562).
The Bank's first Ontario crop is now two. He is in the top 10 for two-year-old colt trotters and two-year-old filly trotters earnings in the 2023 Ontario Sires Stakes. He is the sire of OSS Gold contender Hit The Bank, 2, Q1:59s -'23; BT1:56.4s-'23 ($46,453). 
Bettors Delight and Betterthancheddar are number one and two in the leading pacing sires for Ontario Sire Stakes. McWicked is sitting in fourth. Archangel and My MVP are in the top 10 for overall trotting sires in the Ontario Sire Stakes.
Interested in attending the Winbak Farm open house? Please RSVP to [email protected] or call 905-838-2145 by Sept. 25. For more information on the yearlings selling, visit winbakfarm.com. For additional sale details, visit westernfairdistrict/lcys.
(Winbak Farm)