Published:
September 14, 2019 10:16 pm EDT

After a near miss in last week's elimination, HP Royal Theo parlayed a perfect trip from second over en route to capturing Saturday's $370,000 final of the William Wellwood Memorial for two-year-old trotting colts.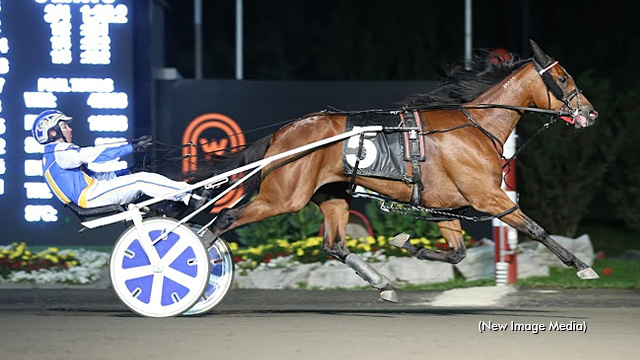 Beyond Kronos flew to the front from Post 9 and proceeded to knife out fractions of :27.2, :56.1 and 1:25.1 with relatively no pressure. HP Royal Theo got away fifth before sliding to the outside for driver Louis Philippe Roy to catch cover from second over as the field headed to the half.
Roy tipped his charge three-wide coming out of the final turn, and HP Royal Theo used a :28.2 closing quarter to prevail by 1-3/4 over even-money favourite Capricornus. That one's stablemate, Back Of The Neck, rallied up the rail late to nab the show dough.
"He's a freak, I call him the freak," said Baillargeon of Hp Royal Theo. "He doesn't mind fighting. His first qualifier he went :28 the first-quarter and :28 the last-quarter, the speed was always there we just had to manage him. Now he's controlled it and we're going to try to keep it that way."
The homebred son of Royalty For Life-Mikas Mazurka, who hangs his harness bag in the barn of trainer Ben Baillargeon, now boasts a 2-2-0 from six tries for Quebec partners Claude Hamel and Michel Damphousse. The lion's share of the purse bumped the juvenile's bankroll to $227,600.
"Jean Tourigny did all the ground work and after that we had to work a few quirks he had," said Baillargeon, who also gave credit to his trotter's drivers. "He was a little aggressive, but between Sylvain (Filion) and Louis (Roy) we got it done and now we have a great horse."
Be sure to check out the rest of the recaps from Saturday's stakes-packed card in SC's News Centre
To view results for Saturday's card of harness racing, click the following link: Saturday Results – Woodbine Mohawk Park.