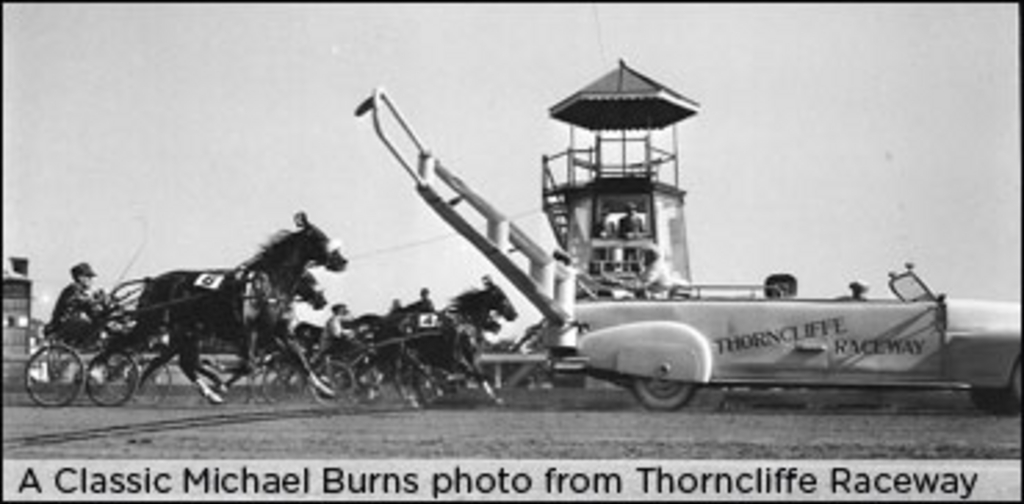 Published:
September 12, 2009 07:46 am EDT
Writer Robert Smith reflects on the lengthy career of Toronto based world class photographer Michael Burns and his contributions to the sport of harness racing
.
Some 45 or so years ago, I spent a lot of time at the then almost new Garden City Raceway in St. Catherines. I seldom went in to the stands, preferring to watch from the fence right at the finish wire. I don't know how many people ever noticed the Track photographer but I did.
At or near the start of every race, a neatly dressed rather handsome gentleman who I presumed to be in his mid 30's or so appeared seemingly from nowhere. He positioned himself on the track, took the customary finish and winner's circle photos and left. Such was his regular routine. I always sensed his mission was made a little brighter if an owner or driver purchased a picture or two, but I don't think too much deterred him from his pattern. One thing was for sure, you could tell that he enjoyed what he was doing.
I suspect that it was some years later that I realized that the man I had often nodded to or exchanged pleasantries with, as such a "giant" in his field. That man was Michael Burns.
Many years ago as I began to write stories and visit people to gather information, I soon noticed a certain "class" of pictures existed in some folks collections. After a while I didn't need to ask or look on the back side of the better photographs, I just knew of their origin. His knack of capturing different poses and aspects of the action set him apart from all others engaged in his field.
Mr. Burns official entry into the business of taking pictures at the racetrack took place in 1943 at The Old Woodbine track, covering the thoroughbreds. His first serious connection to harness racing came in 1950 when he was asked to do the official photography at the newly revived Thorncliffe Park in the Toronto suburb of Leaside .Many photos remain from that time period, often adorned by hand-scripted notes.
One of the first related assignments he recalls was set up by legendary sportswriter and Thorncliffe publicist Jim Coleman. The Toronto Star was attempting to advertise the harness sport and needed some "catchy" photos to promote the behind the scenes action and who better than Michael Burns to do the job. The subject was to be the most popular and best known horse on the grounds, a speedy pacer named Oro G. Herbert, property of the well known London, Ont. father and son team of Bill and Jack Herbert. At the time both the horse and the owners were household names in the sport.
A "hitch" that occurred morning that still sticks in then young Mr. Burns' memory . He committed the cardinal sin of being late! When he finally arrived at the Herbert barn, the prize speedster had been unharnessed and put back in the stall. The Herberts however, with a bit of "friendly persuasion", were finally talked into taking him out again. That day Michael recalls with fondness as he was able to capture a number of memorable photos. One of that day's prized shots graced the back entrance at the Herbert home in Lambeth, Ont. .I remember seeing it and it was a "gem".
Those years and the ones that followed were good to Michael Burns the photographer, always in partnership with his loving wife. Today he is in the Canadian Horse Racing Hall Of Fame and his many accomplishments are detailed there. No need for me to repeat the work of others who have so eloquently described his work. Also, if anyone thinks he has only photographed horses, guess again .
What about Michael Burns in 2009 you ask? He has in recent years turned the "reins" of the photography business to his son Michael Jr. and his daughter Patricia. Does he still take pictures and attend the races? The answer of course is YES. A couple of days a week he "helps" the junior Mr. Burns at Woodbine. When I asked if ever he had grown tired of what he has been doing all these years, the answer was an emphatic "no!".
This November Michael Burns Sr. will turn 84 - hard to believe. He speaks of names, places and events of 60 or so years ago as if they just happened yesterday. Talking to him for even a short time has added a great new addition to my memorable people met in the sport.
One question I failed to ask but I will attempt to answer myself. Surely after over 65 years and tens of thousands of photos shot, one or two must occupy a special place in his heart. My guess is that based on even my short telephone visits, one that probably stands out above the rest was not taken by Mr. Burns at all, but one that was "developed" in 1950 . That was the year he and Helen, his bride of nearly 60 years were married. He seldom uses the word "I" when asked about his career, he nearly always says "we".
Michael Burns, thank you for preserving so many memories.