Published:
September 11, 2021 07:05 pm EDT

The card of harness racing on Saturday (Sept. 11) at Exhibition Park Raceway was one of the best of the season, featuring the inaugural New Brunswick Breeders Stakes, divisions of the Dawn Bremner Memorial, the Rod Goguen Memorial and a leg of the Atlantic Aged Pacing Mares Series.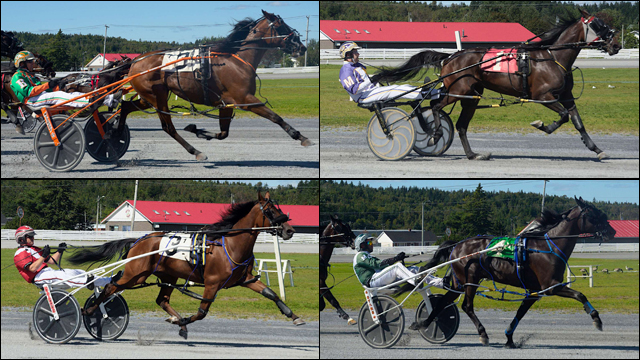 Clockwise from top left: Mystifying, Mermaid Magic, Woodmere Stealdeal and Brumby. (Tom Adams Photos)
Brumby picked a great time to break his maiden, capturing the $11,040 New Brunswick Breeders Stake for two-year pacing colts. Driver David Dowling placed Brumby on the front, carved out fractions of :30.3, 1:01 and 1:31.4 before sprinting home in :28.3 to trip the timer in 2:00.2. Big Time Brawler (Mike Downey) finished more than three lengths back second while favoured Frivolous Appeal (Jason Hughes) was a non-factor in third.
A son of Pang Shui - Anatevka, Brumby now sports a 1-0-4 summary from seven appearances with $12,784 in purses for trainer Jamie Smith and owner Five Guys Horses N Lies of Charlottetown, P.E.I.
In the $11,040 New Brunswick Breeders Stake for two-year-old pacing fillies, favoured Mermaid Magic and driver Brodie MacPhee patiently sat off the lead for the first half of the race as KCs Starlite (Stephen Trites) set fractions of :29.4 and :58.1. MacPhee tipped her from fourth at the half, advanced quickly around the far turn and then left her rivals in the dust. After hitting the third station in 1:29.3 with an eight-length lead, Mermaid Magic coasted home under a hand drive to win by more than 16 lengths in a lifetime best 1:59. KCs Starlite and Crimson N Clover (Ken Arsenault) completed the triactor.
Trained by Tom Weatherbie for David Kennedy and Ian Smith of P.E.I., Mermaid Magic picked up her second win in six starts. The lion's share of purse lifts her bankroll to $11,689.
Sharing the spotlight with the New Brunswick Breeders was the Dawn Bremner Memorial for three-year-olds. Favoured Mystifying almost took herself out of contention early, rolling offstride shortly after the start of the race. Driver Gilles Barrieau was able to reset her quickly and settle into fourth just behind second choice Tobins Brownie (David Dowling), who wanted to part of a three-hole tuck and forged on for the front early. Tobins Brownie set the tempo with fractions of :29.2, :58.1 and 1:28.1.
Mystifying, who was sixth and last at the half, advanced third over down the backside and closed the gap to less than four lengths with a three-wide move that was pushed four-wide around the far turn. Once Barrieau gave her clear racetrack she responded breezed by her rivals to win by a length and a half in 1:57.1. Plain Jane (Marc Campbell) also rallied well to edge past Tobins Brownie for second.
That's the ninth win this year for Mystifying (Source Of Pride - Dreaming) in 12 starts, and the victory gives her connections — trainer Darryl MacLean and his co-owners Gordon MacLean and Stephen Downey — $37,744 in earnings from those dozen dashes.
Woodmere Stealdeal evened the season tally against divisional rival Dustylanegoliath with a convincing victory in the $10,300 Bremner for male pacers. After Dustylanegoliath (Barrieau) paid the price to control the pace, clearing to the front after a :28.1 quarter and then hitting the half in :55.4, Marc Campbell and Woodmere Stealdeal steadily advanced first over through the midway point and kept that pressure on past a 1:25.1 third station. The sophomores traded blows around the far turn but Woodmere Stealdeal was much the best on this day, edging away to win by two in 1:54. Dustylanegoliath was second best, with Pictonian Thunder (Adam Merner) third.
Danny Romo trains Woodmere Stealdeal (Steelhead Hanover - Very Ideal Hanover) for owners Kevin Dorey and Bob Sumarah of N.S. and Glenn MacDonald and Frank Brundle of Ontario. That win was the 18th in 22 lifetime starts, pushing his earnings to $114,121.
Time To Dance made his New Brunswick debut a memorable one, winning the $6,000 Rod Goguen Memorial in wire-to-wire fashion. The son of A Rocknroll Dance - Mystical Gyspy hit the wire more than nine lengths to the good over Woodmere Ideal Art (Jason Hughes) and Imalookertoo (Barrieau) in 1:53.1, missing the track record by one-fifth of a second for trainer / driver Marc Campbell and owners Brent Campbell of P.E.I. and Matthew McDonald of Ontario.
The win with Time To Dance in the finale was Campbell's third win of the day. He also took home the leg of the Atlantic Aged Pacing Mares Series, rallying Arc Light to a neck victory over Ladylike (David Dowling) in 1:56.1. Campbell also trains the daughter of Camystic - Red Star Ashlee for Crossroads Racing Stable.
Little Manny cruised to victory in the $1,600 winners over pace, going gate-to-wire for driver Stephen Triters and trainer Charlie Miles to win in 1:57.1.
To view the results from the Saturday card at Exhibition Park, click the following link: Saturday Results - Exhibition Park Raceway.