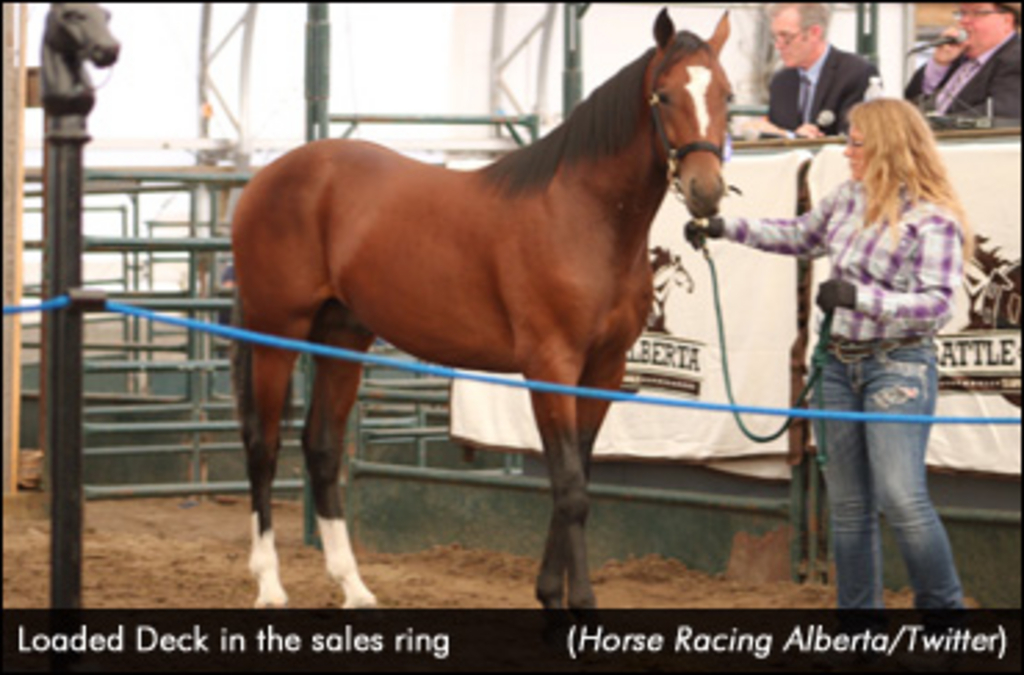 Published:
September 10, 2017 10:29 pm EDT
This year marks the second year in a row that the Alberta Standardbred Horse Association Yearling Sale has shown a strong trend in the upswing of prices in the market for Alberta.
Mr. Brian Jean of the United Conservative Party began the sale on Sunday (September 10) by welcoming everyone and introducing the Standardbred 4-H Project horses and members, as they were presented with their ribbons and gifts from their confirmation and showmanship classes. Following the presentations, Akesh Aheer did an amazing job starting things off with O'Canada.
After starting out somewhat slowly for the first six or so yearlings, the sale gained momentum with the sale of Hip #9 Flying Officer, with a price of $13,000 for consignor Meridian Farms. He was purchased by Lorne Duffield of Edmonton, Alta. The sale continued on a fairly strong trend with a few dips here and there.
Selling for $27,000, the sale toppers were #18 Kneedeep N Custard (Custard The Dragon-Art Amour), consigned by Surdale Farms of Kelowna, B.C., and #67 Loaded Deck (Riverboat King-Lucky X Ample), consigned by Meridian Farms of High River, Alta. Both sale toppers will be staying in Alberta with #18 going to Blair Corbeil of Edmonton and #67 to J.F. Gagne of Wetaskiwin. Kneedeep N Custard is a half-brother to sub-1:50 pacers Rockeyed Optimist ($609,558) and BGs Folly ($562,815) while Loaded Deck is a half-brother to multiple Alberta stakes champion Minettas Nightstar ($253,361).
Other wonderful noteworthy sales were #54 June Morning, selling to Lorne Duffield for a price of $16,000. June Morning, was sold for the "Let The Sun Shine" program spearheaded by Meridian Farms' Bill Andrew. The entire proceeds from the sale of June Morning will be shared by the five groups participating in the program for 2017. The groups are Airdrie & District Victims Assistance Society, Autism Speaks, Didsbury Volunteer Fire Department, Olds & District Christmas Angels, and the Olds & District Hospice Society. A touching blanket presentation was held immediately after the sale when the group representatives along with Bill Andrew of Meridian Farms presented Rod Hennessy, who accepted on behalf of Duffield, a "Let the Sun Shine" cooler/blanket.
Hip #68 Lollipop Yacht, the 2016 Name that Foal contest horse named by Sadie Clark of Ponoka, Alta., sold for $20,000 to Blair Corbeil.
There were three entries from the Standardbred 4-H program again this year and the sales for these yearlings were up as well. 4-H members and the breeders, who offered their horses for the program, were all very happy with the sales. The horses were sold from between $4,500 to $6,000 this year, which is up from the 4-H topper of $3,700 last year. These amazing young people put in a tremendous amount of work with these yearlings, and it shows. ASHA anticipates the program only getting stronger as the years go on.
You never know year from year how the sale will turn out, but there is a lot of renewed optimism in the Alberta horse racing industry. With the construction of Century Mile in the Nisku area near the Edmonton International Airport, and the long term deal with the government that Horse Racing Alberta has worked so hard to secure, there is a lot to be thankful for and look forward to. Combine that with hardworking breeders, horsemen and women and serious buyers from Manitoba to British Columbia to California, you have a recipe for success.
The Board and staff of ASHA would like to thank all consignors and purchasers from the 2017 yearling sale for another great sale and wish you all the best with your future stars of racing.
To view complete sale results, click here.
(With files from ASHA)