Published:
August 7, 2021 01:56 pm EDT
The runner-up in the Adios Final one week ago, Rockyroad Hanover picked up his first major victory with a strong performance to capture the $276,150 Cane Pace for three-year-old male pacers, the second leg of harness racing's pacing Triple Crown, during the Hambletonian Day card on Saturday (Aug. 7) at The Meadowlands.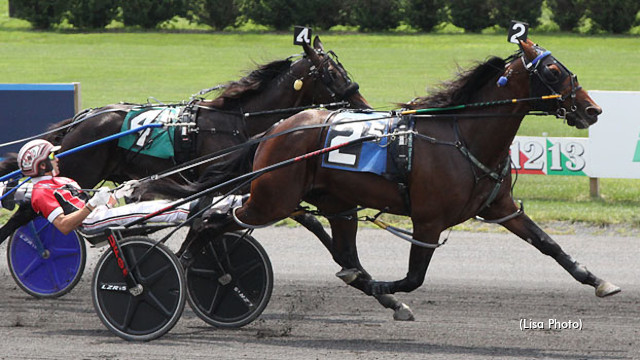 Settled away early in fourth by driver Dexter Dunn, Rockyroad Hanover allowed American Courage (Matt Kakaley) and favoured Perfect Sting (David Miller) to take turns on the lead through a :26.2 opening quarter and :53.4 half before forging first-up approaching the third station. Perfect Sting opened up on the pocket-sitting American Courage around the final turn as the third quarter was reached in 1:21.3, with Rockyroad Hanover continuing to advance on the outside.
Straightening out turning for home, Perfect Sting and Rockyroad Hanover locked horns with the pacesetter not giving in to the challenger easily. In the final sixteenth, Rockyroad Hanover started to edge past Perfect Sting and hit the wire a length the best in a lifetime best 1:48.1. Summa Cum Laude (Brian Sears) finished third some five lengths back of the front pair.
"He's been racing great, he's had a couple of trips there that were pretty unlucky, but he's been in good form all year," said Dunn. "He got away fourth, moved first over and he really tugged me to three-quarters, which is a good feeling. And he kicked home good. Perfect Sting's a hard horse to get past sometimes, so I knew it was going to be a bit of a battle but he was good today."
Tony Alagna trains Rockyroad Hanover (Captaintreacherous - Romantic Moment) for Riverview Racing LLC of Florida, Brad Grant of Milton, Ont., Kenneth Jacobs of Plouffe Head And VJ Stable of Boynton Beach, Fl. — the Plouffe in that stable being Daniel Plouffe of Quebec. The colt's fifth win lifetime and fourth on the season nearly doubled his lifetime earnings to $294,626.
According to co-owner Myron Bell, Rockyroad Hanover's next appearance will be in the Hempt Memorial at Pocono.
The Cane Pace is part of a stakes-packed card of harness racing on Hambletonian Day. Be sure to check out the 2021 Hambletonian Day News Centre for recaps and replays of all the action.