Published:
August 30, 2014 09:23 pm EDT

The locally-owned homebred pacer Modern Legend pulled off a stunning upset in the Canadian Pacing Derby while the undefeated win streaks of two-year-olds Artspeak and world champion JK Shesalady continued in the Metro Pace and Shes A Great Lady Stakes on an action-packed Saturday night of harness racing at Mohawk Racetrack.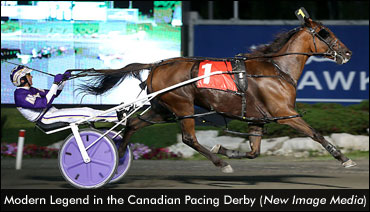 Locally-owned Modern Legend pulled off a 66-1 shocker as he defeated a powerful Ron Burke quartet led by the streaking Sweet Lou with a 1:47.2 Canadian record equalling performance in the $634,000 Canadian Pacing Derby.
Dave Drew of St. Catharines, Ont. trains, owns and bred the Modern Art-Ruby Cam gelding, the only horse currently in his stable.
"At this point, that's all I have. I've had as many as five or so and I'm down to one. This is an absolute top horse. A horse of a lifetime for me. A race of a lifetime," said Drew after winning the 72nd edition of the Derby. "He's been racing on the Grand Circuit for the last couple of years and coming close, but never really put it all together. David Miller gave him a great trip and he was right on his game. It's just a super night for him."
The Burke brigade dominated the top four spots lining up with Bettors Edge (Matt Kakaley) on top over Foiled Again (Yannick Gingras), Sweet Lou (Ron Pierce) and Clear Vision (Brett Miller) through a :26-second opening quarter. They switched things up through the second panel with Foiled Again taking over and then Sweet Lou sweeping by before the half was reached in :53.
Clear Vision then moved underway with Modern Legend and Miller tracking his cover after watching the early action from fifth.
Riding a 10-race win streak, Sweet Lou continued to lead the way to three-quarters in 1:20.1 and into the stretch before being swarmed from both sides with Clear Vision pressuring outside and Foiled Again closing up the inside as a path along the pylons opened up. However, the real threat on this night was Modern Legend looming second over as he powered past the stablemates down the stretch with :26.3 closing speed for the three length triumph. Foiled Again and Clear Vision rounded out the top three finishers. Captive Audience (James MacDonald) and Thinking Out Loud (John Campbell) came on for fourth and fifth.
"It worked out great, just the way I wanted it to," said Miller after the race. "I know the horse Clear Vision and I figured if I could get on his back and follow him, he'd take me to where I needed to go to be in the race. I was really surprised, around the last turn I had a lot of horse and we came into the stretch and fanned him out and the horse did the rest. He raced tremendous.
"He beat some great horses tonight. Hats off to the horse. He's battled with them for the last couple of years and it's good to see he finally got the job done."
Modern Legend boosted his earnings to $841,285 and now sports a career record reading 18-6-12 in 58 starts. He's earned four of those wins this year in his six-year-old campaign.
"He has always raced well. He had some outside posts early on in the season and had some tough trips -- got some interference -- but he's been racing well," said Drew. "It's just a matter of putting it all together at the right time and the right place and he did that tonight. I'm very proud of him. It's a superb night for me and my family and this great horse."
It was also a superb night for those who backed Modern Legend as a $2 win ticket paid a whopping $135.70.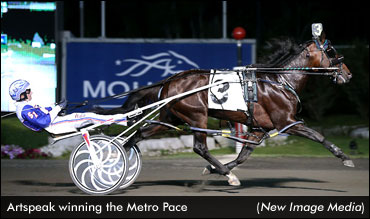 Artspeak ($2.30) continued his undefeated freshman campaign as he swept home off cover to take the $667,000 Metro Pace in a career-best 1:50.2 for driver Scott Zeron and trainer Tony Alagna
Lyons Again (Yannick Gingras) fired off the gate from post eight with Lone Survivor (David Miller) also leaving to his outside and working to the top through a :26.3 first quarter with Lyons Levi Lewis (Sylvain Filion) settled away third.
Go Daddy Go (John Campbell) committed first over from fourth just before the half with 1-9 favourite Artspeak securing a perfect second over trip as he followed the live cover from mid-pack. Lone Survivor raced by the half in :55.3 and three-quarters in 1:23.3 with his outside challengers closing in.
Go Daddy Go took over command into the stretch, but Artspeak swept by down the lane with a :26.2 final kicker to win by three and a half lengths. Ron Burke trainees Lyons Levi Lewis and Lyons Again finished second and third, respectively.
"To be second over was a dream trip for that horse," said former Woodbine and Mohawk regular Zeron after the race. "He follows horses so well. I've always had to put him on the front just because he is 1-9, but today I was able to trip him out behind a really nice horse of John's and when I showed him some air down the lane he was game. He's a freak of nature."
The Western Ideal-The Art Museum colt is owned by breeders Brittany Farms of Versailles, Kentucky and Marvin Katz of Toronto, Ont., along with partners Joe Sbrocco of Brecksville, Ohio and In The Gym Partners of Staten Island, New York. Artspeak now boasts six wins in as many starts and $469,962 in purses.
"When we had Captaintreacherous and he started his career, we had such an amazing ride with that horse and to come back and have this colt right after that, it's amazing," said Alagna amidst the winner's circle celebrations. "It's very surreal."
"It never gets old," added Katz. "I said that to Tony out on the track here, when you can win these types of magnificent races with the challenges that are involved in this business...this is a thrill. This is an absolute thrill and to be enjoyed."
The win was Zeron's first in the Metro Pace and the 25-year-old reinsman acknowledged Alagna and Myron Bell for their support with his relocation to the U.S. last year.
"This is the whole purpose of it. I really stuck my neck out going down there all by myself, I worked as hard as I could this year," said Zeron. "Alagna and Myron, the two of them together told me they'd really help me out in the move and that gave me all the confidence to do it. This is the reason I did it, to go down there and get a horse like this [to drive], it's once and a lifetime [experience]."
"I talked to Scott last fall and I knew that he had talked about maybe making a change and coming down to the states and I told him if he wanted to come down and try it, I was willing to give him a shot," said Alagna. "He's made the commitment, and he's been to the farm training and baby racing before qualifiers and he deserves the win."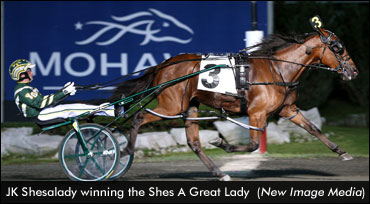 Undefeated JK Shesalady ($2.90) equalled the 1:50.1 world record for two-year-old pacing fillies in the $480,000 Shes A Great Lady Stakes.
JK Shesalady equalled the record, originally set by I Luv The Nitelife in her 2012 elimination at Mohawk Racetrack and matched by 2013 champion Precocious Beauty while racing at The Red Mile.
The homebred Art Major-Presidential Lady filly, now six-for-six in her career with $326,425 banked in purses, is trained by Nancy Johansson for the 3 Brothers Stables of New York.
Happy Becky (David Miller) fired off the gate from post six with another undefeated filly in Band Of Angels (Ron Pierce) getting away second and Bettor Be Steppin (Corey Callahan) parked from post seven and advancing. Bettor Be Steppin eventually cleared to command after a :26.4 opening quarter, but her time on the lead didn't last long as Band Of Angels was on the move and took over as they raced to the half in :55.
Meanwhile, heavy 1-2 favourite JK Shesalady and driver Yannick Gingras were flushed first over from fourth down the backstretch and swept by Band Of Angels en route to three-quarters in 1:22.1. She began to draw off into the stretch and cruised home to win by four lengths. Bedroomconfessions (Scott Zeron) came on for second while Shakai Hanover (Jody Jamieson) finished third.
"Baby racing I liked her; I wouldn't say I thought she was that kind of filly," said Gingras of his initial assessment of the full-sister to North America Cup champion JK Endofanera. "They've done a great job because every start she keeps getting better and better and better. Last week, she really, really impressed me. She went a big mile last week and that's when I thought she really stamped herself as the best filly."
Gingras noted choosing between driving elimination winners JK Shesalady and Band Of Angels "was the toughest decision as far as horse racing that I've ever had to make.
"I thought JK Shesalady was the best filly out of the two, but there was the Ron Burke factor [with Band Of Angels] and Mr. Donovan, I drive Maven for him and went to Sweden and she's given me a great thrill. So it was a very, very tough decision as far as connections go. I'm sorry, I had to pick one and I went for the win, but I'm sure I'll pay it back towards Ronnie real soon."
The Show Returns ($12.20) was victorious in the $30,000 Shes A Great Lady Consolation with David Miller driving for trainer Chris Ryder and owners Richard and Joanne Young.
She brushed to the lead down the backside, and after giving way to Cashaway (Tim Tetrick), slipped through along the pylons in the stretch to prevail by two and a quarter lengths in a career-best 1:52. Favourite Dancin Caroll (Randy Waples) closed well to finish second over fellow Tony Alagna trainee Cashaway.
Purchased for $180,000 at the Lexington Select Sale as a yearling, the Rocknroll Hanover-Stienams Place filly is a full sister to the Youngs' double millionairess Put On A Show, who won the 2009 Shes A Great Lady Final in 1:52. The Show Returns notched her second win in seven career starts and has earnings of $35,399.
Earlier in the night, the Jimmy Takter trainee Gettingreadytoroll ($10.10) and Gingras equalled the Simcoe Stakes record of 1:49.4 for three-year-old pacing fillies in the $207,689 division.
The Rocknroll Hanover-Captain Holly filly matched the mark established by another great Takter-trained filly, 2012 Simcoe champion American Jewel (also a Shes A Great Lady winner the previous year).
O'Brien Award winner Precocious Beauty (Doug McNair) led the field through fractions of :26.4, :54.3 and 1:22.2 with Gingras sending Gettingreadytoroll first over down the backstretch. Gettingreadytoroll eventually wore down the pacesetter in the stretch and held off the late-closing Beach Gal (Tim Tetrick). It Was Fascination (Scott Zeron) finished third.
Gettingreadytoroll won her only start as a two-year-old and has since earned five more wins from 10 sophomore starts to boost her bankroll to nearly $210,000. She last won the Miss New Jersey on Aug. 2 at The Meadowlands.
"It's a long gap," said Takter of the filly's time off between starts. "I qualified her myself in Pocono last week and I just gave her a little workout there, but when racing the speeds they do, these horses, staying sharp is a big factor, but she's a game girl.
"She came from no two-year-old season and suddenly going 1:50 speed, it's like she went to college right away, she didn't go to the small races," he continued, addressing some of her breaking issues. "It took a while to get used to the speed, but she's always been a very powerful filly, with good lungs in her.
"This was a good race, she beat some quality fillies here."
Gettingreadytoroll is owned by Takter's wife Christina and Toronto brothers John and Jim Fielding.
Takter also captured the $218,076 Simcoe division for three-year-old trotters as he steered Trixton ($2.80) to a 1:52.2 triumph, overcoming a trailing tier start from post 11.
In the words of track announcer Ken Middleton, "he faced more traffic than the 401 on a Friday."
Getting back to work after his Hambletonian victory on Aug. 2, heavy 2-5 favourite Trixton got away sixth along the pylons, but was able to move into the outer flow past the :26.4 opening quarter, which was put up by Muscle Matters (Mario Baillargeon). E L Titan (Chris Christoforou) advanced from fourth and confronted the early leader down the backstretch before taking over past the :55.2 half-mile mark.
Damfoolrmillionair (Randy Waples) moved up to challenge next and edged by around the final turn as they raced to three-quarters in 1:23.1. He drew clear into the stretch, but Takter had Trixton third over and ready to roll. Trixton rallied off cover and opened up three lengths before hitting the wire with Damfoolrmillionair coming in second and second over P L Hercules (Ron Pierce) closing for third.
"It's really hard to predict a race like that," said Takter when asked about his strategy from the trailing tier. "When you are a trailer and you have horses that I don't really know -- quite a few horses are Ontario horses I haven't seen -- you don't know what to do. But the race was tough, they were smoking up there. I was lucky that John [Campbell]'s horse [Ole Jack Magic] couldn't keep up to Il Sogno Dream there and so I was able to sneak out at the first quarter. My horse got a little bit grabby and normally he's not, but...because he was trapped in I think he had a little bit more energy there."
Trixton is owned by Christina Takter and Brixton Medical Ab of Matawan, New Jersey. The Muscle Hill-Emile Cas El colt is now eight-for-10 with earnings of $908,189 this season.
Also on Saturday's card was the regular $34,000 Preferred Pace in which Dovuto Hanover ($8.70) and Zeron defeated Fool Me Once (Ron Pierce) and Dapper Dude (John Campbell) by a quarter-length in 1:49.1. Tony O'Sullivan trains the four-year-old Dragon Again-Daughterofortune gelding, who earned his first win on Canadian soil, for owner Martin Scharf of Lawrence, New York.
Melmerby Beach ($95.70) and driver Paul MacDonell pulled off a 46-1 upset as they edged by Western Vintage (David Miller) at the wire in a $25,000 Three-Year-Old Open Pace, stopping the clock in a new lifetime mark of 1:50. The Somebeachsomewhere-Db Blue Chip colt is trained by Brent MacGrath and owned by Schooner II Stable of Truro, N.S.
Saturday evening's 12-race program concluded with a mandatory payout on the Jackpot Hi 5.
Over the past few months, a carryover has been building since there has not been just one winning ticket on a Jackpot Hi-5 wager. When there is more than one winning ticket, 50 per cent of the pool is carried over to the next card.
As of a result of the carryovers, $647,331 was carried over into Saturday's stakes program. Scheduled as the last dash of the evening, the Jackpot Hi 5 attracted an additional $2,026,548, giving the pool a total of $2,673,879.
The result was a payout of $6,736.80 on a $1 wager ($1,347.36 on a $.20 cent wager) after Resistance Futile found the wire first in 1:49.1 at odds of 8-5. The top five finishers are as follows: Resistance Futile (Corey Callahan), American Gi (Brett Miller), Apprentice Hanover (Jody Jamieson), Michaels Power (Chris Christoforou) and Cobble Beach (Doug McNair).
The Jackpot Hi-5 requires horseplayers to select the first five finishers in exact order on the last race of the program. The wager, which offered 20-cent minimum, also had a takeout of 15 per cent, a continent-equalling low.​
Total handle for the 12-race card was more than $5.15 million. Last year's 12-race Canadian Pacing Derby/Metro Pace program handled just over $2.4 million.
To view Saturday's harness racing results, click on the following link: Saturday Results - Mohawk Racetrack.