Published:
August 29, 2009 10:20 pm EDT
Freshmen pacers strutted their stuff in eliminations for the $1 million Metro Pace and $810,300 Shes A Great Lady finals Saturday night at Mohawk Racetrack while pacers three years old and up competed for a spot in the $685,000 Canadian Pacing Derby
.
Favourites Deliver In Metro Pace Elims
There were few surprises in the eliminations for the upcoming $1 million Metro Pace tonight at Mohawk Racetrack, as the three favourites lived up to their billing.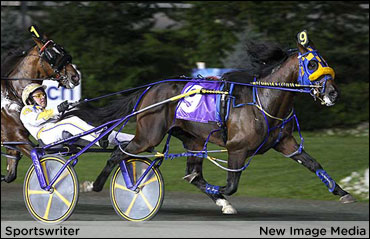 Sportswriter and driver Mark MacDonald emerged triumphant from a duel with 6-5 favourite, Delmarvalous (Corey Callahan), in the first of the three $40,000 eliminations, going on to win by a length and a half in a sharp 1:51.0.
Delmarvalous was first off the gate from the far inside, leading Rock Me Please (Steve Condren) and Foreign Officer (Tim Tetrick) through a blistering :25.3 first panel before throttling back to stroll through the second quarter in 30 seconds. The order remained unchanged until the 5/8 pole, when MacDonald put Sportswriter in motion. The pair applied pressure to Delmarvalous through the far turn and the latter colt eventually yielded, giving Sportswriter his fourth straight career victory.
Beignet, a 21-1 longshot, was third for Dave Miller, and Rock Me Please finished fourth.
Casie Coleman trains Sportswriter, a two-year-old son of Artsplace, for Steve Calhoun and the West Wins Stable. His earnings now stand at $105,196.
"I kinda wanted to get away one spot back, but you have to take what you can get from the nine hole," explained MacDonald.
"He's a good colt [Delmarvalous] but I was very confident in my horse. I've never really had to ask him too much, but tonight was different – I was first-over from the three-eighths right to the wire. I wasn't sure how he'd handle it, but he was just awesome. As soon as I called on him he just sprinted by.
"I really do think he has the capability to go faster. He just does it so easy. He's such a nice horse; he's a privilege to drive."
The unbeaten Malicious used front-end tactics to trounce his rivals in the second Metro Pace elimination and extend his win streak to seven in a row.
Paul MacDonell sent the son of Bettors Delight to the lead from the one-hole, and the pair stepped through fractions of :26.3, :55.2, and 1:24.2 with World of Rocknroll (Andy Miller) pocket-sitting and OK Commander (Doug McNair) riding along in third. Rock N Roll Heaven (Dan Dube) came after the 6-5 favourite in the lane, but Malicious held him off to win in 1:52.1. Rock N Roll Heaven crossed the wire one and a quarter lengths in arrears, and World Of Rocknroll grabbed the show spot.
Dr. Ian Moore trains and co-owns Malicious, who was sent off as the 6-5 favourite, with hockey superstar Serge Savard and the R G Mcgroup Ltd of Bathurst, New Brunswick. The near-black colt can now boast a bankroll of $144,996.
Remarked MacDonell: "He got down there pretty quick --:26.3-– and established command pretty quickly, so I just wanted to give him a breather after that. He does relax pretty nicely on the front end and then he responds in the lane. If they can do those things at this early age, it makes my job easier."
In the third and final elimination, Tim Tetrick stalked the leaders and then pounced with 4-5 favourite, Woodstock, who came three-wide from the seven hole to win in 1:53.2.
Paynes Landing and John Campbell led the field through fractions of :27.4, :57.2, and 1:25.1 with Western Thorn (Mark MacDonald) helmet-riding and Piece Of The Rock (Roger Mayotte) riding along in third. As Paynes Landing began to flag in mid-stretch, Woodstock came on strong from the middle of the track while Western Thorn found an opening on the inside to shoot through.
Woodstock crossed the wire one and three-quarters of a length to the good, with Western Thorn second and Epanephrine (Steve Condren) moving up for third. Paynes Landing faded to sixth.
A $100,000 yearling purchase, Woodstock is a son of Rocknroll Hanover, out of the Abercrombie mare, Gothic Lady. He is trained by Mike Vanderkemp for Brittany Farms, Adam Victor and Son Stable, Mel Hartman, and the Island View Partners. This was his third straight victory in as many starts.
"I thought it was a really good effort," said Tetrick. "He made up a lot of ground and went right by them.
"He's definitely on his way up," he added. "He's got a lot of room for improvement yet. The first couple of times I qualified him, I was way back and he made up a lot of ground really quickly, so he's got a lot of talent and a lot of high speed and he's got places to go, I think.
The top three finishers, plus one fourth-place finisher drawn by lot, will advance to the $1,000,000 Metro Pace final, for two-year-old pacing colts and geldings, on September 5 at Mohawk. Tonight's elimination winners have the privilege of choosing their post positions for the final.
Here is a look at the field in post position order:
1. Malicious - Paul MacDonell
2. Woodstock - Tim Tetrick
3. Sportswriter - Mark MacDonald
4. Rock N Roll Heaven - Dan Dube
5. Rock Me Please - John Campbell
6. World Of Rocknroll - Andy Miller
7. Delmarvalous - Corey Callahan
8. Western Thorn - Jim Morrill, Jr.
9. Epanephrine - Steve Condren
10. Beignet - David Miller
AE1. Ok Commander - Doug McNair
Shes A Great Lady Elims In The Books
Distaff pacing talent was much in evidence at Mohawk Racetrack this evening, as two favourites and two surprises took the four eliminations for the Shes A Great Lady stakes.
Higher And Higher made her first pari-mutuel start a winning one when she triumphed in 1:53.2 in the first of the four $35,000 eliminations, leaving 4-5 favourite Western Silk a well-beaten fourth.
A and Gs Princess and Andy Miller took command off the wings and led the eight-filly field through early fractions of :27.2, :56.3, and 1:25.1, with Real Surprising and Peter Wrenn helmet-sitting and Western Silk and Mark MacDonald waiting impatiently in third. Western Silk made her move in the stretch, but only got as far as second when Jack Moiseyev engineered the ambush with Higher And Higher, who paced easily past from fourth to a two-length win.
A and Gs Princess hung in for second and Mike Saftic urged Seriously to the show spot.
Higher And Higher, who had four qualifiers under her belt, is owned by the Bulletproof Enterprises of Boca Raton, Florida and is conditioned by Paul Reid. She is sired by Western Terror, out of the Cambest mare, Pro Bowl Best.
"You hate to go in off just a couple qualifiers up against stake fillies like that, but last time I qualified her she was pretty impressive," said Moiseyev. "I wasn't really surprised with the way she kicked home in the stretch after the way she qualified. I thought if she got a trip like that she'd kick home, and she did.
"She gets a little better each week. She's got the ability, a good gait, and the right attitude. I think she'll go a good mile next time."
The 4-5 favourite, Put On A Show, with Jody Jamieson in the bike, improved her record to a perfect four-for-four in the second of the four eliminations, cruising past Steve Condren and Panagler to win in 1:52.3 with a crushing :26.2 final panel.
Peter Wrenn sent 30-1 shot, Flip Flop Summer, to the early lead, but the flashy gray Panagler popped the pocket by the first quarter marker and took command. She led the field through the middle fractions with Put On A Show cruising comfortably in fourth. By mid-stretch Put On A Show had struck the front and dispensed with Panagler, pacing on to a one-and-three-quarter-length victory. Panagler settled for second with Flip Flop Summer holding steady for third.
Put On A Show, a two-year-old daughter of Rocknroll Hanover, is trained by Chris Ryder for Richard Young and Craig Henderson. She improved her earnings to just shy of $100,000 with tonight's effort.
"She's a killer in the last quarter," commented Jamieson. "I knew we had to be first or second to get to the final. I thought there weren't too many horses who could out-step her no matter where I was, and it worked out pretty decent.
"I was a little bit surprised with how easily she handled Panagler – that filly has been awesome every start too, so this was a very impressive start for [Put On A Show] tonight.
"Chris Ryder has got her taught to sprint coming off a helmet, and she smoked for a piece, then I popped the [ear]plugs and she smoked harder! She really impressed me coming down the stretch."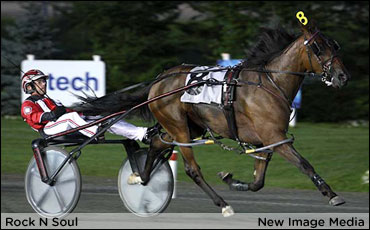 Another Rocknroll Hanover daughter, Rock N Soul, showed her strengths in the third of the four Shes A Great Lady elims, stalking leader Dancinwiththestarz (Yannick Gingras) and then blowing by in the stretch to win by three and a half lengths in 1:52.3.
Cannae Cammie and Tim Tetrick made a late rush for second, and Dancinwiththestarz hung on for third.
Rock N Soul is conditioned and co-owned by Mark Harder in partnership with the Sibling Stable and Stable 45. This was her second win in five tries, and the time was a new lifetime speed mark for the filly.
George Brennan, who engineered the win, noted, "She got a little snaky coming off the [first] turn. It was just a matter of getting to the lead and not having been there before, so she didn't know what to do when she got there. I was kind of glad Yannick [Gingras, with Dancingwiththestarz] moved to the lead. He was one of the ones I wanted to follow if I had to follow anybody. The trip worked out good.
"She paced to the wire on her own. She got a nice easy trip going into the final next week."
Fancy Filly, who was sent off at 1-5, left no doubt of her intentions in the final Shes A Great Lady elim, striking the front at the 3/8 pole for Corey Callahan and refusing to yield to pressure from You See L A (Steve Condren), going on to win in 1:53.2.
You See L A filled the place ticket, and longshot FBs Terror (Scott Zeron) grabbed third.
George Teague trains and co-owns Fancy Filly, a daughter of Western Hanover, with Ted Gewertz and Only Money Inc. of Delaware. A $15,000 yearling purchase at last fall's Lexington Select sale, she is currently unbeaten in five career starts, and has earned almost $140,000.
Corey Callahan commented, "I was fortunate that she seemed to be the best filly in the race.
"I really hoped that she would kick home a little more than she did, but she fought that other horse all the way to the wire. She's a born winner.
"George [Teague] is arguably the best colt guy in the business right now. He's got her sharp and ready, so I'll leave it up to him and hope we draw well."
The $810,300 final of the Shes A Great Lady stakes is scheduled for next Saturday night, September 5, at Mohawk.
Here is a look at the field in post position order:
1. Put On A Show - Jody Jamieson
2. Fancy Filly - Corey Callahan
3. Higher And Higher - Jack Moiseyev
4. Rock N Soul - George Brennan
5. You See L A - John Campbell
6. Dancinwiththestarz - Yannick Gingras
7. Panagler - Steve Condren
8. A And Gs Princess - Andy Miller
9. Cannae Cammie - Tim Tetrick
10. Flip Flop Summer - Peter Wrenn
AE1. Fbs Terror - Scott Zeron
Won The West Captures Canadian Pacing Derby Elim
Won The West used a strong off-the-pace rally to capture Saturday night's single $50,000 elimination for the Canadian Pacing Derby in 1:50.1.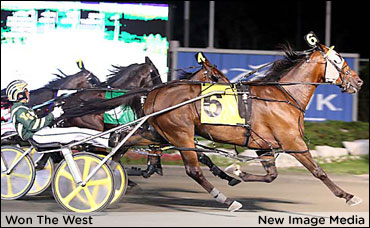 Yannick Gingras picked up the drive behind the five-year-old gelded son of Western Hanover - Gabrielle and had him in seventh position in the early going as Shadow Play (David Miller) hung up the first quarter of :27.1.
Shadow Play continued on top past the half in :55.3 and three-quarters in 1:23.1 with Art Official (Peter Wrenn) following in the pocket. By that point, Won The West had worked his way up to sixth on the outside and just four lengths from the front as the field turned for home.
In the stretch, Won The West, who was following the cover of Bigtime Ball (Paul MacDonell), catapulted off that one's back and used a :26.1 final panel to score by half a length. Bigtime Ball was able to just edge out Shadow Play for the show spot.
Won The West, who was fresh off a 1:47 upset in the $500,000 Breeders Crown at The Meadowlands, posted his third win of the campaign in 15 starts for trainer Ron Burke. The winner's share of the purse boosted his earnings to just over $487,000 this season and $1,830,000 lifetime for the Strollin Stables, William Robinson and James Koehler of Ohio.
The top eight finishers from Saturday's race will join Shark Gesture and Bettor Sweet in next weekend's $685,000 Canadian Pacing Derby Final.
Here is a look at the field in post position order:
1. Silent Swing - Steve Condren
2. Won The West - Jim Morrill, Jr.
3. Bigtime Ball - Paul MacDonell
4. Southwestern Dream - John Campbell
5. Mister Big - Brian Sears
6. Bettor Sweet - John Campbell
7. Shadow Play - David Miller
8. Mr Saratoga - Sylvain Filion
9. Shark Gesture - George Brennan
10. Art Official - Peter Wrenn
AE1. Eagle Luck - Doug McNair
To view Saturday's harness racing results, click here
(With files from WEG)