Published:
August 22, 2020 10:38 pm EDT

Though driver Yannick Gingras could not pull the plugs on Tall Dark Stranger, the Bettors Delight colt persisted and withstood late-stretch pressure to take the first of two $50,000 eliminations for the Pepsi North America Cup on Saturday (Aug. 22) at Woodbine Mohawk Park.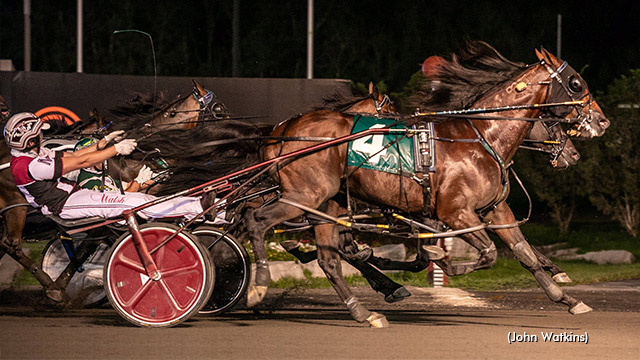 Tall Dark Stranger (covered, bottom head) wins his 2020 Pepsi North America Cup elim
Parked through a :26.1 first quarter, Tall Dark Stranger progressed to take the lead from Odds On Osiris into the backstretch with Tattoo Artist shuffled to third. Beaumond Hanover edged outside from fourth past a :55 half and rushed to race alongside Tall Dark Stranger into the final turn tracked by Capt Midnight. Tall Dark Stranger maintained command sprinting to three-quarters in 1:22.1 but faced foes from all flanks into the stretch.
Beaumond Hanover faltered between horses, but Capt Midnight catapulted off cover as Tall Dark Stranger drifted in the stretch—opening a seam for Odds On Osiris to dash through. Capt Midnight inched closer to Tall Dark Stranger in the stretch, but the 2-5 favourite held off the late challenge by a head in 1:48.4. Odds On Osiris finished third with Captain Barbossa rallying for fourth and Tattoo Artist taking fifth.
"Well, it was definitely closer than I'd like, no doubt about it. I'd be lying to tell you I was measuring and winning by a nose," Gingras said after the race. "The horse just refused to lose; he's just a winner. Halfway down the stretch I thought he'd definitely be beat, but he just kept putting his nose in front."
In the stretch, Gingras went to kick the plugs on Tall Dark Stranger but they failed to pull. He then reached with his hands to pull the plugs, but the strings came off and the plugs stayed in Tall Dark Stranger's ears.
"Some horses—you kick the plugs and stuff or you get into them and they don't go much faster," Gingras also said. "But he's the kind of horse that just waits a little bit on them, so I think that would've made a big difference. We'll find out next week, but there's no doubt he loves to win races."
Owned by Crawford Farms Racing, Marvin Katz, Caviart Farms and Howard Taylor, Tall Dark Stranger won his fifth race from six starts this season and his 13th from 15 overall, earning $1,441,999. Nancy Takter trains the $2.50 winner.
With a methodical move first over around the final turn, Captain Kirk slowly ground towards pacesetter Allywag Hanover and downed the 3-5 favourite to win the second elimination for the North America Cup.
Allywag Hanover sprinted to the top from post 7 with Aneto settling into the pocket and Moneyman Hill into third. Captain Kirk raced fifth past a :25.4 first quarter and stayed put at the pegs until midway up the backstretch. Allywag Hanover strolled to the half uncontested in :55.3 as McClure slowly advanced with Captain Kirk into the far turn.
Approaching three-quarters in 1:23.1, Captain Kirk marched to within two lengths of Allywag Hanover's lead and—upon straightening for the finish—shrunk the deficit. Allywag Hanover started to drift slightly into the final eighth as Captain Kirk hit his best stride, the latter having the momentum and sliding by in the last strides to stop the clock in 1:49.3. Mayhem Hanover took third with Moneyman Hill and Denali Seelster rounding the finalists.
"When I saw :25.3, mine got caught kind of flatfooted leaving the gate," McClure said after the race. "That caught me off guard, so he didn't get away as good as I wanted. When Louis went that big quarter, he really backed down the second quarter, which kind of helped me mosey [my] way up to the front without doing too much work. When we straightened away, I just kicked the plugs and he just dug and dug and dug. He's a classy horse.
"[Last year] he was very big, very immature… all the ability in the world and all the desire, but his legs just didn't match it at the time," McClure also said. "Now he's grown into a big boy and he's a nice horse now. One of the best in North America I'd say."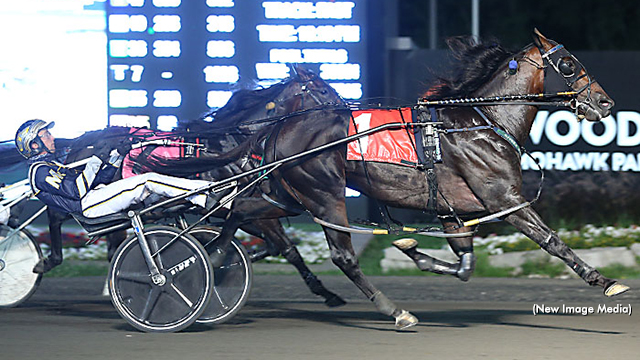 Captain Kirk collected his second win from six starts this season and his third victory from 15 starts, earning $194,280 for owners Brittany Farms LLC, Marvin Katz, Brad Grant and Captain Kirk Racing. Tony Alagna trains the $5.00 winner.
The Saturday card at Woodbine Mohawk Park also featured the eliminations for the Fan Hanover as well as a Preferred Pace. For recaps of each event, click the respective link.
To view Saturday's harness racing results, click on the following link: Saturday Results - Woodbine Mohawk Park.