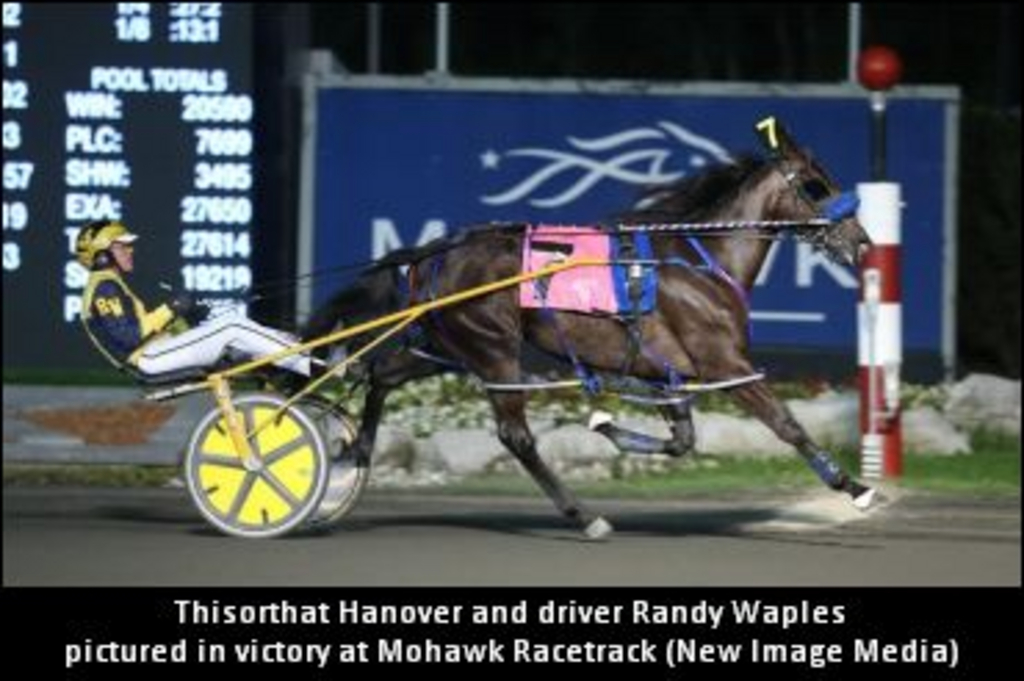 Published:
August 20, 2015 02:26 pm EDT
For James 'Friday' Dean, Saturday can't come soon enough.
Stealing headlines with freshman pacer Thisorthat Hanover since her racing debut in June, Dean's filly is poised to strike next in the first division of the Eternal Camnation Stakes Saturday night at Mohawk Racetrack.
When Dean and longtime owner Scott Horner headed to the Harrisburg Yearling Sale last year, they had reviewed the catalogue meticulously. Their thoughtful preparation led to the purchase of a filly who would go on to become one of the top contenders in her division.
"Scott generally has his picks based on pedigree and the videos. We go and look at them in Harrisburg and I think we looked at half a dozen or eight horses," said Dean. "All he said to me at the end was 'who do you really want?' and I said this filly and he bought her.
"Everything about her, her video was awesome and she had a lot of leg under her, a really nice body, everything was correct about her. I knew we'd have to pay for her but I didn't think he'd go that much, but Scott wanted her as much as I did."
When the gavel fell on Hip #161 in Harrisburg, the price stood at $110,000. With $67,900 in the bank so far, she is well on her way to making good on the investment.
Horner has been one of Dean's key owners in the last ten years since he started out on his own in 2005. Along with brother, Clay Horner, the pair have bred and owned many horses of note throughout the years. Among them was the beloved pint-sized pacing sensation, Doonbeg.
"Scott comes to the barn two or three times a week. He likes putting his horses away and jogging them and all that. He enjoys coming down and going with his horses, he's a very hands-on owner."
As for Horner's most recent investment, Thisorthat Hanover continued to impress every step of the way heading into her two-year-old season. Though Dean was confident in her progress, he was unwilling to make any early judgments.
"She was perfect prepping for this season, she never did anything wrong, she just did all her lessons well. She never gave us any problems as we brought her along. I don't think you really know how they'll do based on training, you can train them down and you can think they're going to be a nice horse, but until you actually race them, they can disappoint you. Or, they go in the other direction and surprise you."
In her second lifetime start, the Sportswriter filly blasted her way to the front, striding to the quarter in :26.1 and the half in :55.4. Maintaining her lead to the three-quarters pole, she was overtaken coming into the stretch by Thatsoveryverynice, who went on to stop the clock in an Ontario Sires Stakes record-setting mile of 1:51.2.
"She was a little warm that night, she was hitting the bike and she just took off like a rocket. Randy (Waples) had his hands full, he could never get her quiet after that so we put in some earplugs and a different check bit and she's been good since."
With four starts under her belt, Thisorthat Hanover has come to establish herself as a vicious contender on the front end, pacing her way to the top by the half in every start.
In her most recent start, Dean's filly relinquished the lead to a Mark Steacy-trained filly, Bernadette, in the third-quarter. In the stretch, Thisorthat Hanover challenged Bernadette on the outside, but was interfered with and was sent off stride before finishing second. However, the interference infraction by Bernadette vaulted Thisorthat Hanover from second to first.
"In her last start, Randy said that with the way she was, he could have sat in with her third if he wanted to but he chose to be on the front. She's really good; he said she was going to win anyways. "
Heading into Saturday's Eternal Camnation Stakes, Dean plans to give his filly a quiet week.
"This is the first time she's raced back to back two weeks in a row, so generally I don't train them hard when they're racing weekly."
Waples will once again take up the lines this week. The duo will start from Post 4 in the third race on the card. She will be up for a rematch with Thatsoveryverynice, as well as New Jersey Sires Stakes champion Blue Moon Stride, who heads into Saturday with four straight victories.
Dean isn't setting anything in stone, but a good effort Saturday will mean more Grand Circuit action for 'Thisorthat.'
"After this we're playing it by ear, with these young horses, anything can happen," said Dean. "If she races good on Saturday, she's got the Shes A Great Lady the following week and then her sires stakes obligations."
Dean will also send out Peg in the second division of the Eternal Camnation. Peg has drawn the two-hole and Phil Hudon will be in the race bike. The Dragon Again filly will face stiff competition in the form of L A Delight, who carries a five-race win streak into Saturday's event. With a mark of 1:56.3 taken at Mohawk, she has shown speed of 1:54.4 and promises to be a contender.
As for where 'Friday' will be on Saturday night, he will be heading on to the track at The Downs at Mohegan Sun Pocono with Split The House when 'Thisorthat' is scheduled to race, warming up for The Battle of the Brandywine.
Co-owned by Scott Horner, Peter Milligan and Dean, the Rocknroll Hanover colt has stormed onto the scene in his three-year-old season. Absent at two due to injury, he has made up for lost time in proving himself to be one to watch as the year progresses. Sweeping the Summertime Series at Mohawk, he heads into the 'Battle' off a career-best 1:48.3 victory in the New Jersey Classic at the Meadowlands Racetrack on July 25.
Going up against many of the horses he saw in the Pepsi North America Cup elimination, like winner Wakizashi Hanover, this time around, Dean believes his horse will be an even stronger contender.
"He's good right now. He may still be a bit of an unknown because we haven't raced against those horses a whole lot. In the North America Cup, I don't know if he was mentally ready for that race. There's not much we could do about it, we had four starts and won them all handily so we gave him a shot. It didn't work out but he's rebounded, got a nice trip at the Meadowlands with a sweet drive and everything worked out.
"I think he could be a Grand Circuit horse, we never ever questioned his ability. It's tough for a horse that doesn't race as a two-year-old to go in his fifth lifetime start and be in with the crème de la crème. He didn't race bad in his (Cup) elimination, he was only beat three lengths, but I don't think he was quite ready for it."
Split The House will have John Campbell in the bike Saturday, who will be making his return to racing after a three-week hiatus with a broken wrist.
"I tried to get Brian Sears or Yannick Gingras for him on Saturday, but Brian originally said he wasn't coming down and Yannick has his Burke obligations. John (Campbell) is a good fit for any horse, I didn't know if he was coming back Saturday. When I saw that he would be, I gave him a call and he said he'd be glad to drive the colt.
"He's been lucky so far with the draws. He'll make a good race out of it and he's got 'The Master' driving, so hopefully it'll all work out."
Thisorthat Hanover and Split The House are two of the many horses in Dean's stable that have the trainer en route to a banner year. Despite having posted less than 60 starts in 2015, Dean has put up a 17-7-7 record with his stable so far, maintaining a 0.400 training average.
"I think it's simply better horses," said Dean. "Split The House, we knew he was a nice colt last year and unfortunately he cracked a bone and couldn't prove it, so he's doing it this year. I don't race very many horses. Just overall better quality horses this year and I'm really, really happy to have them."
Saturday night features a strong group of juvenile pacers contesting two divisions of the Eternal Camnation and three divisions of the Nassagaweya Stakes, both offering an opportunity for final preparations before the Shes A Great lady and the Metro Pace eliminations on August 29. Mohawk's first race on Saturday will head to post at 7:25 p.m.
To view the harness racing entries for Saturday at Mohawk, click the following link: Saturday Entries – Mohawk Racetrack.
(WEG)