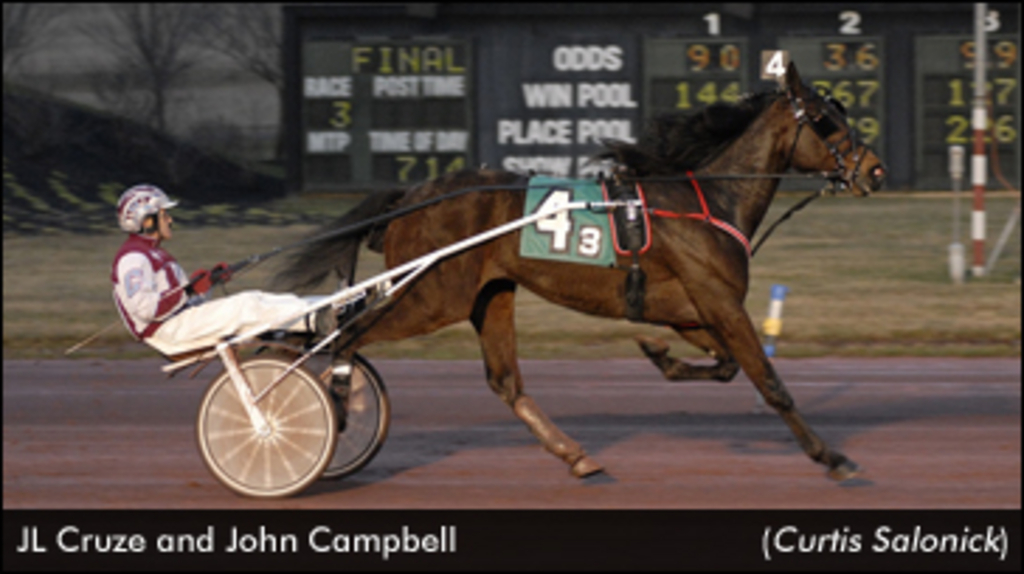 Published:
August 19, 2015 05:38 pm EDT
John Campbell is ready to get back to action and so is JL Cruze.
Campbell and JL Cruze, who have teamed for a series of world record wins this year, are part of Saturday's "Super Stakes" card at The Downs at Mohegan Sun Pocono. Campbell will be driving competitively for the first time since suffering a broken left wrist in an accident on July 31. JL Cruze will be racing for the first time since winning the Hambletonian Maturity on July 18.
The Pocono card, part of the track's 50th anniversary celebration, features a total of 12 stakes and invitationals including the $500,000 Battle of the Brandywine for three-year-old male pacers, $500,000 Colonial for three-year-old male trotters, and $350,000 Valley Forge for three-year-old female pacers.
JL Cruze, who has won 16 of 18 races this year, will face eight rivals in the $100,000 Sebastian K Invitational for older trotters. The race honours recently retired Sebastian K, who in 2014 trotted the fastest mile in harness racing history at Pocono, winning in 1:49.
Post time is 5:35 p.m. for the first race. Fireworks will follow the card.
Campbell will drive with a modified cast on his wrist. He trained several horses last weekend and expects to qualify horses on Thursday at Pocono before going behind the starting gate Saturday.
"I feel really good," said Campbell, who will have the cast removed on Aug. 26. "I trained a couple last Saturday and was really happy with how that went. Other than the broken wrist I've got no issues at all.
"It's such a great time of year. It's really tough to be on the sidelines."
As of now, Campbell is listed to drive in six races Saturday. In addition to JL Cruze, he is listed to drive Split The House in the Battle of the Brandywine, Canepa Hanover in The Colonial, The Show Returns in the Valley Forge, Muscle Diamond in a consolation division of The Colonial, and Deli Beach in a conditioned race.
"I've got some chances, put it that way," Campbell said. "I've certainly got some good horses to drive."
JL Cruze brings a 12-race win streak to Pocono and is the No. 3 ranked horse in this week's Hambletonian Society/Breeders Crown poll. In fact, the top three horses in the ratings are racing at Pocono on Saturday, with No. 1 Pinkman competing in The Colonial and No. 2 Wiggle It Jiggleit in the Battle of the Brandywine.
Trained by Eric Ell, JL Cruze is the fastest trotter ever on a mile racetrack thanks to his 1:49.4 win in the Graduate Series final on July 11 at the Meadowlands. JL Cruze also shares the world record of 1:51 for a four-year-old gelding on a five-eighths-mile track, a mark he set in winning the Sun Invitational by a nose over Sebastian K on July 4 at Pocono.
JL Cruze, who has earned $612,788 this season, won the Hambletonian Maturity in a world-record 2:04.2 for the distance of 1-1/8 miles. He is owned by Ken Wood, Bill Dittmar Jr., and Stephen Iaquinta.
"I don't think the layoff is going to be a factor," Campbell said about JL Cruze, who earlier this year won off a nearly seven-week respite. "Some horses need more work than others, that's an individual thing, but he's shown in the past to be one of those horses that doesn't need to race every week to be at his best."
Split The House drew post four for the Battle of the Brandywine, where multiple stakes-winner Wiggle It Jiggleit will start from post one. Split The House, who has won seven of nine races and $177,200 this year for co-owner/trainer James "Friday" Dean, enters the Battle off a 1:48.3 triumph in the New Jersey Classic on July 25.
Wiggle It Jiggleit has won 15 of 17 races this year including the Hempt Memorial at Pocono, Meadowlands Pace and Milstein Memorial. He has earned $1.23 million lifetime for owner George Teague Jr.
The Battle of the Brandywine also includes North America Cup winner Wakizashi Hanover, Adios winner Dudes The Man, Cane Pace winner Dealt A Winner, and New Jersey Sire Stakes champion Artspeak.
"[Split The House] is a really good colt," Campbell said. "I think he's shown how much he can step up by winning the New Jersey Classic. That was a really good field and they went [1]:48 and a piece. He's in the mix. He beat Artspeak in the New Jersey Classic, so he's at that level I believe."
Campbell will be driving Split The House for the first time, as is also the case with Canepa Hanover in The Colonial. The field also includes Canepa Hanover's stablemates Pinkman, Uncle Lasse, The Bank, and French Laundry – all trained by Jimmy Takter.
Pinkman is making his first start since winning the Hambletonian on Aug. 8. He has won eight of nine races this year and earned $1.17 million. For his career, he has captured 14 of 17 starts and banked $1.76 million for owners Christina Takter, brothers John and Jim Fielding, Joyce McClelland, and Herb Liverman.
Canepa Hanover has won two of nine races this year and earned $192,550. He won the New Jersey Sire Stakes championship in 1:51.1, which is tied for the third-fastest winning mile by a three-year-old trotter this season. He also won his elimination for the Goodtimes Stakes by 11-1/2 lengths in a Canadian record-equalling 1:51.3 at Mohawk. Unfortunately for his connections and backers, he went off stride in the final.
"He's shown tremendous ability," Campbell said. "Maybe the best race any three-year-old has gone this year was his elimination of the Goodtimes. Hopefully he's going to be back to that kind of form. He's just got to be a little more consistent."
New Jersey Sire Stakes champion three-year-old female pacer The Show Returns is part of a Valley Forge field that features no horse with fewer than $109,199 in the bank this year and no more than $244,482. The top money-earner is Bettor Be Steppin, from the stable of trainer Joe Holloway, who won the Lynch Memorial at Pocono on July 4. She is owned by Val D'Or Farms, Rojan Stables, and Ted Gewertz.
The Show Returns, trained by Chris Ryder, has earned $204,896 for owners Richard Young and Joanne Young.
"She hasn't had much luck her last couple races," Campbell said. "She showed really good form earlier in the year and she's won at Pocono, so those are all pluses. There's been no dominant three-year-old filly as of yet. They've kind of taken turns beating one another."
Following are the fields for the Valley Forge, Colonial and Battle of the Brandywine.
$350,000 Valley Forge, Race 10
1. Momas Got A Gun, Jim Morrill Jr., Virgil Morgan Jr., 9-2
2. Totally Rusty, Corey Callahan, Ross Croghan, 10-1
3. Safe From Terror, Matt Kakaley, Ron Burke, 6-1
4. Bettor Be Steppin, Corey Callahan, Joe Holloway, 4-1
5. The Show Returns, John Campbell, Chris Ryder, 15-1
6. Moonlit Dance, David Miller, Tony O'Sullivan, 3-1
7. Sassa Hanover, Yannick Gingras, Ron Burke, 8-1
8. Stacia Hanover, Scott Zeron, Steve Elliott, 7-2
9. Imagine Dragon, Scott Zeron, Frank Antonacci, 20-1
$500,000 The Colonial, Race 11
1. Crazy Wow, Tim Tetrick, Ron Burke, 7-2
2. Pinkman, Yannick Gingras, Jimmy Takter, 5-2
3. Uncle Lasse, David Miller, Jimmy Takter, 4-1
4. Suit And Tie, Corey Callahan, John Butenschoen, 20-1
5. Wicker Hanover, Corey Callahan, Noel Daley, 15-1
6. The Bank, Jimmy Takter, Jimmy Takter, 5-1
7. Jacksons Minion, Tom Jackson, Tom Jackson, 12-1
8. Canepa Hanover, John Campbell, Jimmy Takter, 8-1
9. French Laundry, Brett Miller, Jimmy Takter, 8-1
$500,000 Battle of the Brandywine, Race 12
1. Wiggle It Jiggleit, Montrell Teague, Clyde Francis, 5-2
2. Dudes The Man, Corey Callahan, Jessica Okusko, 7-2
3. My Hero Ron, Yannick Gingras, Ron Burke, 15-1
4. Split The House, John Campbell, James Dean, 4-1
5. Cooperstown, Yannick Gingras, Ron Burke, 20-1
6. Yankee Bounty, Yannick Gingras, Ron Burke, 12-1
7. Wakizashi Hanover, Tim Tetrick, Joann Looney-King, 6-1
8. Artspeak, Scott Zeron, Tony Alagna, 8-1
9. Dealt A Winner, David Miller, Mark Silva, 5-1
---
This story courtesy of Harness Racing Communications, a division of the U.S. Trotting Association. For more information, visit www.ustrotting.com.