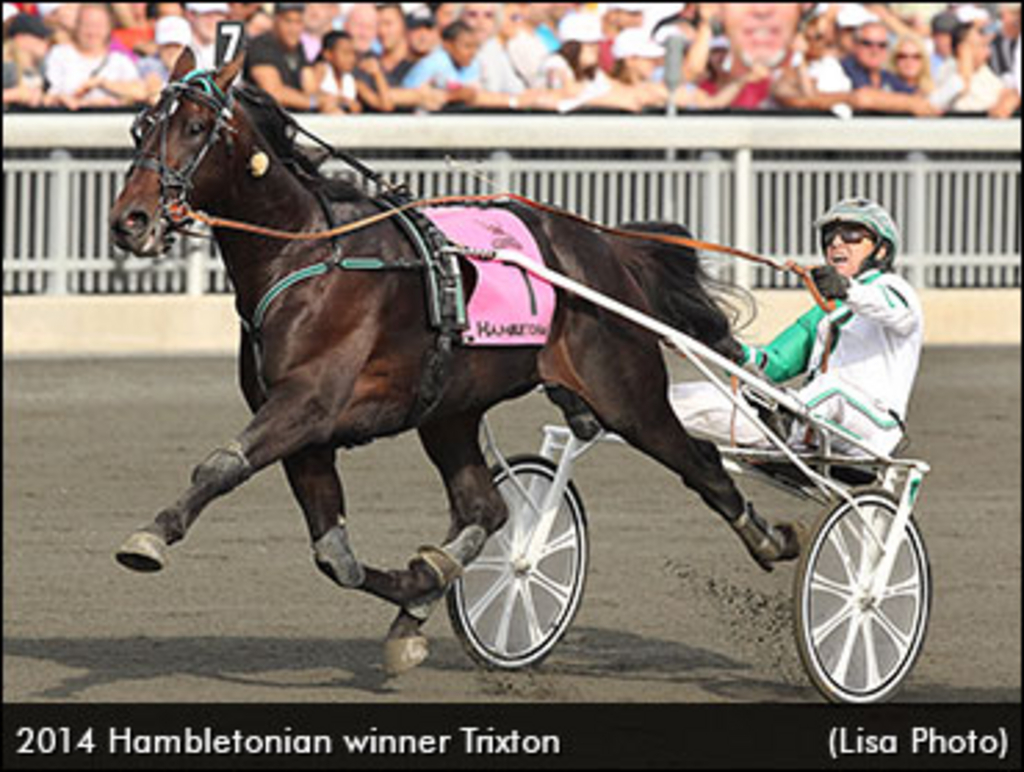 Published:
August 2, 2014 05:22 pm EDT

A break at the starting gate by prohibitive favourite, Father Patrick, left the door wide-open for a host of others in Saturday's 89th edition of the Hambletonian, and when the dust settled it was stablemate Trixton who dug down deep to post a 1:50.3 victory for trainer/driver Jimmy Takter.
Trixton and Takter tracked cover in the $1,006,125 tilt before wearing down stablemate Nuncio and driver John Campbell en route to the 4-1 mild upset in the Hambletonian.
Nuncio fired to the front from Post 5 and was pressed by the parked out Royal Ice and driver Ron Pierce through first-half fractions of :26.3 and :54. Royal Ice weakened around the final turn, and that sent Takter and Trixton three-wide to get after stablemate Nuncio. The three-quarter pole was reached in 1:23 by Nuncio, who braced for the heat that Trixton was ready to unleash on him.
Nuncio put up a game and gritty fight, but Trixton edged past him late and drew clear to win in 1:50.3. Ontario Sires Stakes star Harper Blue Chip finished third for driver Brian Sears, trainer Mark Steacy and owners Landmark 6 Racing Stable of Kingston, Ont., David McDonald of Cornwall, David Reid of Glenburnie and George Judson of Athens, Ont. That colt just nosed out Il Sogno Dream, driven by Aaron Merriman in his Hambletonian debut for trainer Chris Beaver and owners Bill Manes of Rockwood, Ont., Dan Manes of Erin, Ont., Leonard Christopher of Acton, Ont., and Randy Christopher of Rockwood, Ont.
"This is something that I'm just dreaming about," said Takter after the win. "I'll be standing here as a trainer and of course it's a bit different when you participate and do it yourself. It's hard to describe. It's going to probably take a day or two to sink in on you. I had a great day I just won the Oaks just before, so it will take a while to absorb too much good. Our God gave it to me, I'm so happy."
Takter became only the second trainer to win the Hambletonian and the Oaks in one year, joining Jan Johnson who swept both in 1988 with Armbro Goal and Nans Catch.
"I was very excited. This is so much fun and everybody works so hard to get here and not everybody gets here," said the colt's co-owner Christina Takter. "And today, being here with the whole family, all the kids and the grandkids and everything we've been through, day out and day in, this is just the icing on the cake."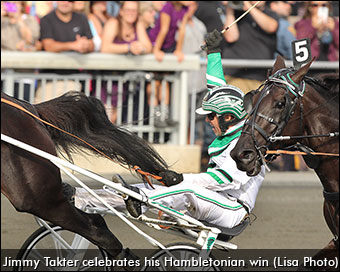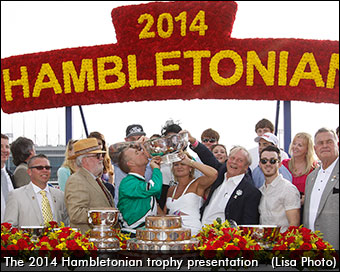 The highest priced trotting yearling of 2012 at $360,000, Trixton is a three-year-old son of two former O'Brien Award recipients as Horse of the Year -- sire Muscle Hill (2009) and dam Emilie Cas El (1994). He won for the seventh time in nine starts this season for New Jersey partners Brixton Medical AB and Christina Takter. The lion's share of the purse lifted the sophomore's cash stash to $852,839.
"So far so good," said breeder Steve Stewart. "We really believe in the business and really spent a lot of money. It's not just Cindy and I, it's all our partners on these mares and it's really paid off. We have a wonderful farm in Paris, Kentucky that helps us also. It's a team effort."
Stewart also expressed his sympathies to the crestfallen connections of Father Patrick.
"My heart goes out to Brittany and all them. That's why they race them, it's tough. We've been there before too when a horse makes breaks. We ended up on the good end of the stick this time."
John Campbell had nothing but praise for his horse, runner-up Nuncio.
"He raced great. He was pressured in the first half but when I asked him in the turn he took off. He just didn't have enough to hold off Trixton. This horse had raced great all year long. Never been worse than second."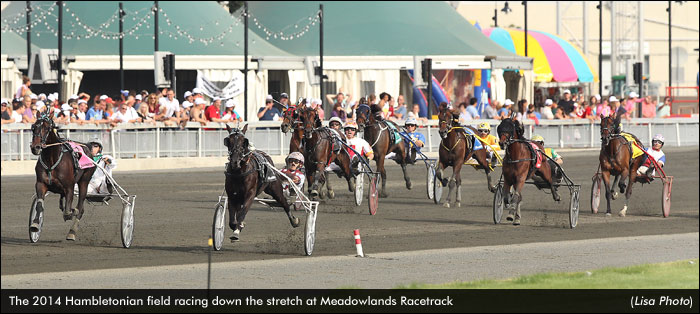 Yannick Gingras commented after the Lady Liberty on what he thought happened with Father Patrick.
"It's probably the best day I've had racing horses but it's also the most disappointing day," said a noticeably emotional Gingras. "I scored him down pretty hard because I've never left with him before, and I wanted him to pay attention and be ready for it. The gate opened, I just touched him on his tail with the whip and he took off running. It's so unfortunate because, knock on wood, I'll have another chance but you never will."
Recaps for the races on the Hambletonian Day undercard are available in the Hambletonian Day News Centre.