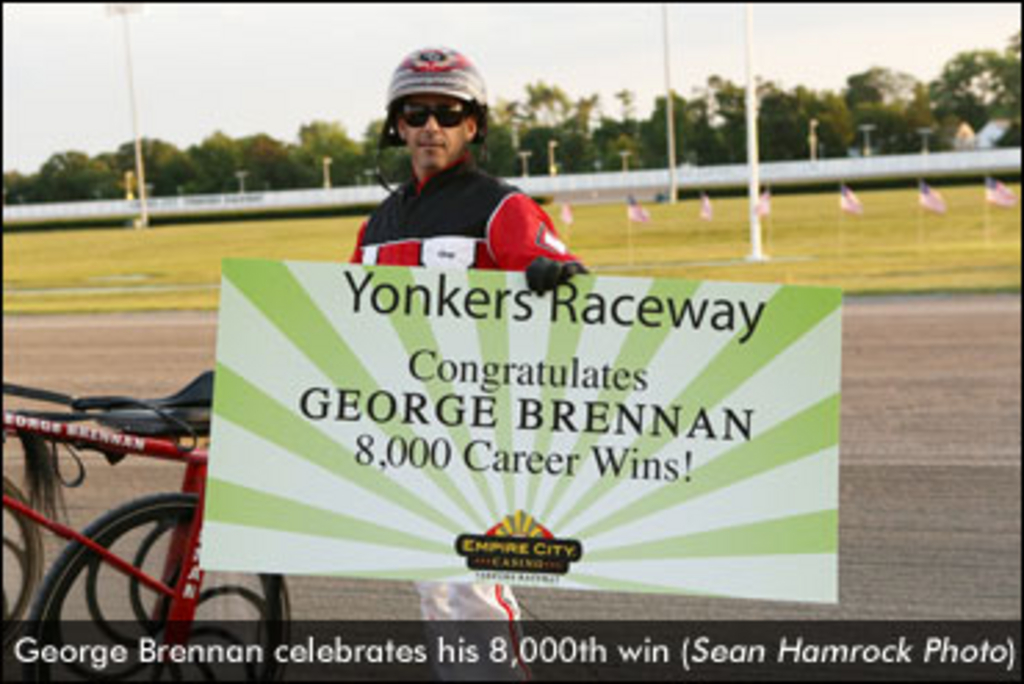 Published:
August 16, 2013 08:02 pm EDT
George Brennan won the 8,000th race his career Friday night, doing the honours with favourite Pass The Deck ($3.50) in Yonkers Raceway's $11,000 pacing opener (1:55.3).
Perched second-over from post position No. 4 (after a pair of inside scratches), Brennan was widest and fastest, prevailing by three-quarters of a length aboard Mike Polansky's pacer.
The 46-year-old Brennan, a native of Monticello, New York, won his first race -- behind Rob Ron Romper -- at his hometown track as a high school junior back in 1982.
Since moving his base of operation to Westchester three seasons ago, Brennan has been leading driver twice (2011–697 wins, single-season record $11.1 million in purses, 2012—580 wins, $8.8 million in purses). This season, he resides second to Brian Sears in both categories, with 249 wins and $5.1 million in purses through Thursday evening.
"Every number is special, and I think each one defines a stable career," Brennan said when on the verge his latest victory lap. "When I first started driving in this [New York/New Jersey] area, I didn't even have a thousand wins. I reached that number at Freehold, so I've won nearly all of my races competing against the sport's elite drivers.
"I think that says something."
Brennan, with nearly $134 million in purses, has reached seven figures in that category ($10-, $14- and $12-million) in each of the last three seasons.
Among his career highlights are wins in the 2006 Yonkers Trot with Glidemaster (subbing for an injured John Campbell and completing that colt's Triple Crown), 2011's final of the George Morton Levy Memorial Pacing Series (Real Nice), that season's Hambletonian/Hambo Oaks (Broad Bahn and Bold And Fresh) and this season's Art Rooney Pace (Doctor Butch).
A quick word about Brennan's "date"...Pass The Deck, a 13-year-old son of Davids Pass, recorded his 46th career win in his 340th lifetime start. His best season was his initial one, with the 2002 Lawrence B. Sheppard Pace ($66,500) at Yonkers highlighting a $131,000-plus two-year-old season.
Brennan later teamed up with trainer Ron Burke to sweep Yonkers Raceway's Friday night $46,000 co-featured Open Handicaps -- Pace for the lasses and Trot for either/or -- aboard two-move millionairess Rock N Soul ($6.60) and a pocket-sitting Tall Cotton ($4.50). It was the second consecutive Friday Brennan and Burke swept the co-features...with four different horses.
The weekly distaff derby saw 35-1 pole assignee Kamwood Laughter N (Shaun Vallee) seat everyone early, including Rock N Soul who, from post position No. 7, found room at the inn third.
Handsoffmycookie tried moving from second before a :27.1 opening quarter-mile, but her advances were rebuffed by the longshot leader. Soon after "Cookie" went back in, Rock N Soul made her second move.
That one launched her to the lead after a :56.4 half, leaving Lets Go Higher (Jason Bartlett) stuck first-up and Kamwood Laughter N gasping in the pocket.
Rock N Soul had some room in and out of the 1:24.1 three-quarters, taking three lengths into the lane. She shortened stride late, but won by a length in 1:53. Sir Jillian Z Tam (Pat Lachance) rallied into second, with Naughtytiltheend (Brent Holland), Royal Cee Cee N (Brian Sears) and a compromised "Cookie" completing the cashers.
For tepid wagering choice Rock N Soul, a six-year-old daughter of Rocknroll Hanover co-owned by Burke Racing, Weaver Bruscemi and Frank Baldachino, it was her sixth win in 18 seasonal starts. The exacta paid $37.20, with the triple returning $118.50.
The featured trot saw Tall Cotton, as the people's preference from post No. 6, pocketed to second choice Little Brown Fox (Sears). After early intervals of :27.3 and :57, Bound For Fame (Jordan Stratton) moved from fifth.
That one instigated the issue passing the 1:26.3 three-quarters, drawing even with the leader early stretch. However, while he did win the battle, Tall Cotton won the war. He ducked inside, defeating a stubborn Bound For Fame by a nose in 1:55.2.
Third went to a tiring Little Brown Fox, with Meladys Monet (Bartlett) and Super Manning (Mark MacDonald) rounding out the payees.
Tall Cotton, a seven-year-old Revenue S gelding co-owned by Burke Racing, Weaver Brusecemi, Howard Taylor and Edwin Gold, is now five-for-16 this season. The exacta paid $34.20, the triple returned $119.50 and the superfecta paid $408.
(With files from Yonkers Raceway)