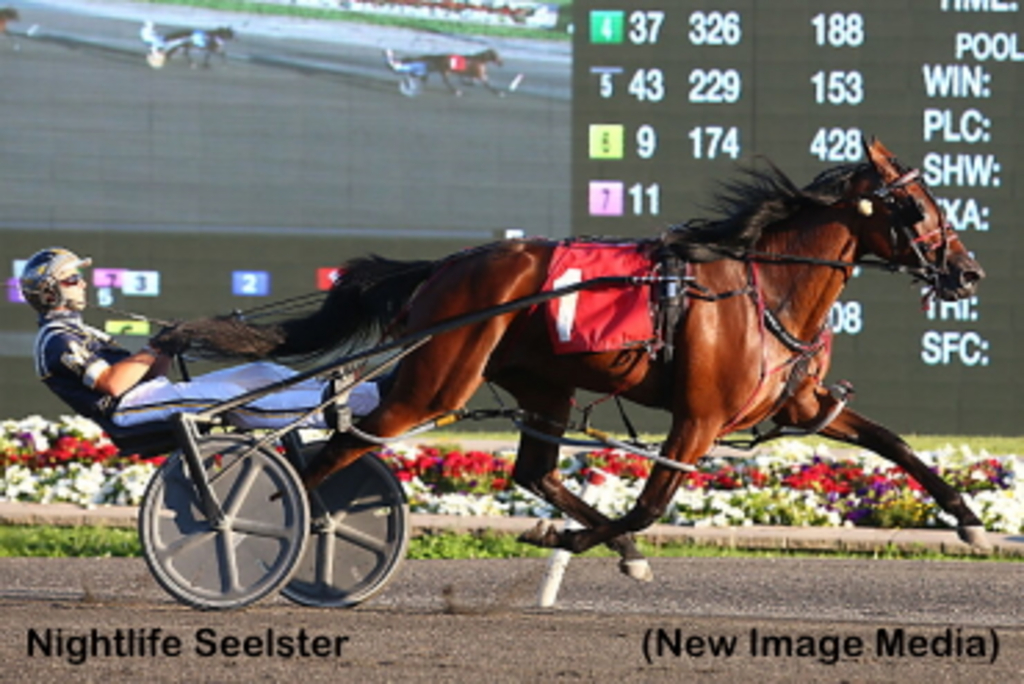 Published:
August 15, 2020 12:39 am EDT

Driver Bob McClure won a trio of Grassroots divisions at Woodbine Mohawk Park on Friday, Aug. 14, guiding two-year-old pacing fillies Nightlife Seelster, Joliette Hanover and Come On Sun to their first provincial victories.
McClure and Nightlife Seelster kicked things off in the first $23,150 division, going gate-to-wire from Post 1 in a sharp 1:52.4, the quickest mile of the five Grassroots splits. Amini finished second, three and one-half lengths behind the fan favourite, and Spittin Chicklets was three more lengths back in third.
"I'd say that she'll probably go out and try the Gold now. She's a pretty serious filly," said McClure. "I was pretty impressed by her. She's got all the weapons to be something really nice — a real nice gait, real nice attitude and drives like a sports car."
Shawn Steacy trains Nightlife Seelster for Hudson Standardbred Stable Inc. of Hudson, QC, Conrad Leber of Montreal, QC and Bertrand Gilhespy Stable of Edmonton, AB. The partners purchased the Sunshine Beach daughter at last fall's London Selected Yearling Sale, offering up $72,000 for the half-sister to $1.2 million winner Nirvana Seelster.
Friday was Nightlife Seelster's first appearance in the Grassroots program and her second lifetime start. She finished second to Joliette Hanover in her Aug. 7 debut over the Woodbine Mohawk Park oval.
In the third $23,150 division McClure allowed Joliette Hanover to ease away from Post 7 and settle in fifth as Annies Legacy battled to a :28 quarter. Chiefs Dream Girl led the field of nine to the :57.3 half, and McClure had already angled the fan favourite into the outer lane.
Joliette Hanover had a head in front at the 1:26.3 three-quarters and opened up a three and one-quarter length margin on her peers by the finish, clocked in 1:54.1. Shes A Sassy Beach and Jackieofalltrades finished second and third.
"She's just a really nice filly, you know. She's not very big, she hasn't got a lot of tools going for her, but she just always goes forward and loves her work, and she's really nice to drive, a nice mouth and everything," said Rockwood, ON resident McClure. "She's about as nice a little filly as you can drive and it's remarkable how mature she is for just her second lifetime start."
McClure engineered Joliette Hanover's second straight win and her first Grassroots victory for trainer Casie Coleman Herlihy of Cambridge and her co-owners West Wins Stable of Cambridge, Mac Nichol of Burlington, ON, James Clarke Sr. of York, PA and Robert Darrow of Dublin, OH. The Sportswriter daughter was a $50,000 purchase out of the Harrisburg Yearling Sale.
Two races later, after leaving strongly from Post 8 and landing in fourth, McClure had Come On Sun on the lead by the :57.2 half and the filly battled down the stretch to a one-half length victory in 1:54.4. Better Kissthe Men finished second and favourite Sports Drink recovered from a mid-race miscue to be third.
"She's a very, very fast filly, but they've clearly been trying to manage her a little bit, because she feels like she'd have a tendency to get hot," noted McClure. "I just kind of let the dust settle and then let her work her way to the front, and she kicked home really good. I was really happy with her too, maybe not quite as strong as her stablemate, but right up there."
The win gave trainer Shawn Steacy of Brantford, ON his second of the program and was the second lifetime and first Grassroots victory for Come On Sun. The trainer's parents, Katherine and Mark Steacy of Lansdowne, share ownership of the Sunshine Beach filly with Stephen Klunowski of North York, ON. The partners offered up $13,000 for Come On Sun at last fall's Harrisburg Yearling Sale.
Friday was Come On Sun's second start in the Grassroots program. She finished sixth in the July 17 event at Grand River Raceway after suffering interference at the midway point.
McClure almost added a fourth win to his collection in the final division, finishing second with favourite Sportsfire behind Control The Thong. Control The Moment daughter Control The Thong reeled in Sportsfire coming off the last turn and powered down the stretch to a two and one-half length win in 1:53.3 for driver Jody Jamieson, trainer Dominic Gladu and owners Roger Bourgeois of Rawdon, QC and Francois Dupuis of St-Alponese Rodriguez, QC. Sports Duchess rounded out the top three.
"The other filly, that Jody was driving, I drove last week and she's a very nice filly with a really nice attitude, but I'd already won a couple races with Sportsfire, so I felt like I owed it to her to stick with her," said McClure, who piloted Control The Thong to a runner-up result in an Aug. 7 overnight event at Woodbine Mohawk Park. "And given the fact Sportsfire had a month off and left hard and had to move to the front, I thought she put in a really great effort. I mean a mile in 1:53 off a half in :57.1, she certainly didn't do anything wrong, and maybe it will even her playing field if they're both race tight."
With two wins and a second in the first three Grassroots events, Sportswriter daughter Sportsfire currently sits atop the division standings with 125 points.
Shiatzu Seelster captured the other Grassroots division with a 1:54 effort for driver Louis-Philippe Roy of Guelph, who engineered the win for his co-owner 1876472 Ontario Inc. of Guelph and trainer Richard Moreau of Puslinch, ON. Patina Seelster finished a head behind the State Treasurer daughter and fan favourite Voelz Delight was three-quarters of a length back in third.
The two-year-old pacing fillies will make their fourth Grassroots start at Clinton Raceway on Sept. 6.
(OSS)
To view results for Friday's card of harness racing, click the following link: Friday Results – Woodbine Mohawk Park.