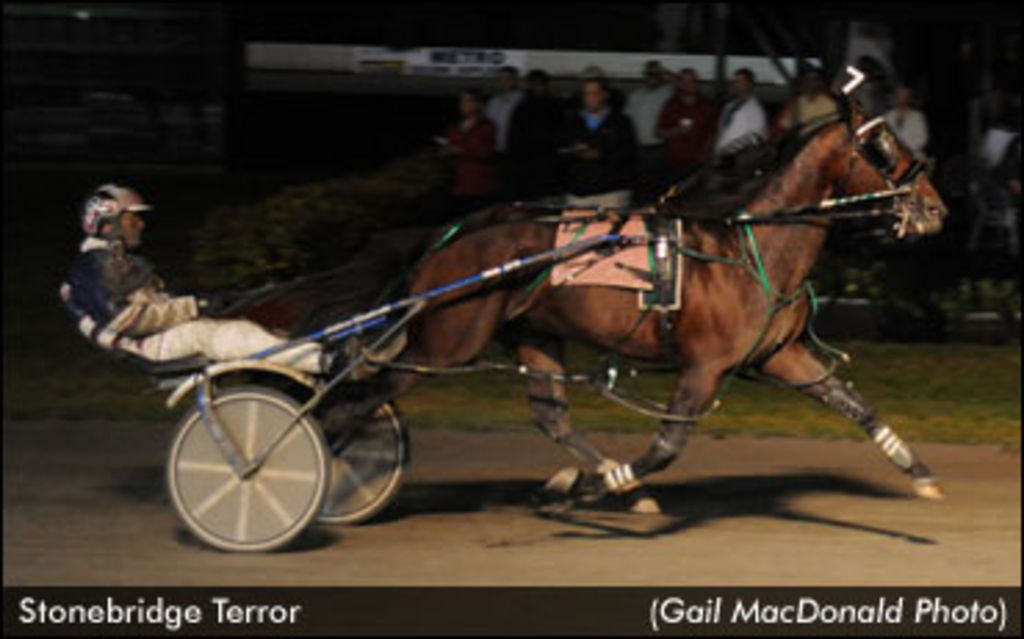 Published:
August 11, 2012 10:21 pm EDT

Stonebridge Terror swept by Mystician and opened up four and a half lengths on his foes to win the first $10,000 Gold Cup & Saucer Trial, which concluded an action-packed Saturday of harness racing at Charlottetown Driving Park.
Draconian (Jonathan Drury) fired to the front from post six ahead of insider Arabica (Kenny Arsenault) while the parked out post eight starter Mystician (James MacDonald) worked his way to command during a flashy :26.4 opening quarter over an off track. Even-money favourite Mystician led the way to the half in :55.3 as Anthony MacDonald sent second choice Stonebridge Terror first up from fourth and battled head-to-head with the leader down the backstretch. Stonebridge Terror began to edge out in front as they approached the third quarter station in 1:24 and then drew clear down the lane to win in 1:52.2. Mystician stayed for second and Draconian finished third.
Stonebridge Terror paid $7.30 to win. Travis Umphrey trains the six-year-old son of Western Terror for owners Reginald Petitpas and All In Racing Stable of Shediac Bridge, N.B., and David Lumsden of Ancaster, Ont.
"I've never driven this horse before, but I know he's prone to be a little erratic at times," commented MacDonald in the winner's circle. "I didn't want to get myself in a position where he would make a break and I didn't want to over-drive him. I didn't really like getting away fourth with James on the front, I really thought his horse was tons the best. I came up slow at the half and his horse just felt a litle soft when I got to him and I turned [Stonebridge Terror] lose and he was just awesome.
"The race with James, I race with him all the time and he's a great driver. It's only a matter of time before I'm the third best MacDonald driver," laughed the winning reinsman. "He does a good job and his horse was just a little flat on the front tonight. My horse, wow, he had an awesome night. Travis did a great job getting him ready."
MacDonald noted that the track was a bit wet on top, but very firm underneath and praised the track crew for doing a great job. He also noted that a track record performance might be possible next week.
"You do the math," he said. "He raced pretty good tonight in :52 in the mud and he was first over and he was awesome. So with the right fractions, right trip, right night, who knows?"
The win was Stonebridge Terror's fifth this year in 23 starts and 14th lifetime, pushing his bankroll to $818,943.
The second trial for the 53rd edition of the Gold Cup & Saucer will take place on Sunday afternoon, followed by the final trial on Monday night. The $60,000 Sobey's Gold Cup & Saucer will be held on Saturday, August 18 to wrap up the Old Home Week festivities.
Saturday night's card also featured open mares in action in the second legs of the Erwin Andrew Memorial Trot and the Spud Island Classic Pace.
Warrawee Jade ($6.10) doubled up in the trotting series as she held off Juliare (Marc Campbell) to win her $3,500 round two division by a quarter length in 2:01.1. Driver Brian Andrew and trainer Blake Andrew co-own the seven-year-old Angus Hall mare.
Driver Robert Shepherd and trainer Jackie Matheson swept the $2,250 second leg pacing divisions with Skylark Hanover and General Luckypercy.
Bruce Wood's Skylark Hanover ($4.10) took the lead from Charolettes Maggie (Shane Bernard) and turned back the persistent mare past the third quarter station en route to a three and a quarter length victory in 1:58 flat. The four-year-old daughter of Western Hanover was a close third place finisher while making her Charlottetown debut in the opening leg of the series.
General Luckypercy ($4.10) romped to her fourth straight win in 1:57 in the other division for owners Jodilyn Matheson and Jack Brown. The six-year-old Blissfull Hall mare prevailed by four lengths over Private Joke (John Holmes) and J K Special (Walter Cheverie).
In the weekly $2,200 Preferred Pace, I D K won his Charlottetown debut in 1:56.3 by half a length over favourite Maritimer (Kenny Arsenault) for driver Vincent Poulton and trainer Gary Poulton, who co-own the four-year-old Stand Forever gelding with Gail MacDonald.
Earlier in the day, three-year-old pacing fillies faced off in Atlantic Sires Stakes action with Malabrigo extending her undefeated sophomore win streak to nine.
Trained and driven by Marc Cambpell, Buntainwood Farm's star filly cleared to command from post four in her $7,160 division and carved out fractions of :28.4, :58.3, and 1:28.4 en route to victory in 1:57.2. April Dawns Star (Mike Stevenson) followed two lengths behind from the pocket in second while J J Bria (Gilles Barrieau) rounded out the top three finishers. The popular Western Paradise-Lots Abunny filly paid $2.50 to win for the 16th time in her career. Her lifetime earnings now stand at $96,753.
Campbell also sent Putyourwhipaway down the road to win her division by two and a half lengths in a new mark of 1:58.1. She paid $5.60 to win in defeating the popular Ruby Vance (Gilles Barrieau). The daughter of Astronomical out of The Red Robin is owned by Kickin Horse Stable.
Trainer and driven by Gilles Barrieau, A As Glory swept from second to first after the opening quarter and cruised home to win the fastest division in 1:56.3 by four lengths over Southfield Sophie (Terry Gallant) and Isleofpalms (John MacDonald). She paid $4.30 to win as the fan favourite. Andrew Ward owns and bred the Carlspur-Dies Morning Glory miss, who has earned three ATSS trophies this year.
Seeyouonthebeach turned back an early challenge from West River Wonder (Ken MacDonald) and opened up six lengths on her foes to win the other 'A' division in 1:58.4 for trainer-driver Darren Crowe. Putnams Glory (Gord Hennessy) rallied from the backfield to show. The Western Paradise-Red Sea filly, owned by Roy Springett, returned $8.60 to her backers for a $2 win ticket. Seeyouonthebeach is now four-for-five in ATSS action this season.
Campbell won the fastest $2,500 'B' division with the Clair Sweet-trained Showhall ($11.80) in 1:58.4 while Arsenault doubled up with his trainees, the streaking Woodmere Sanstone ($5.60) in 2:00.1 and Cash An Clay ($4.90) in 2:02.1. The other 'B' splits went to first-time ATSS winner G L Rose ($4.60) and Gary Chappell in 2:00.2 for trainer Stacey Lund and Hilliard Grave's homebred Waterside Wishes ($15.40) upsetting in 2:01.
To view Saturday's harness racing results, click on the following links:
Saturday Results (Afternoon) - Charlottetown Driving Park