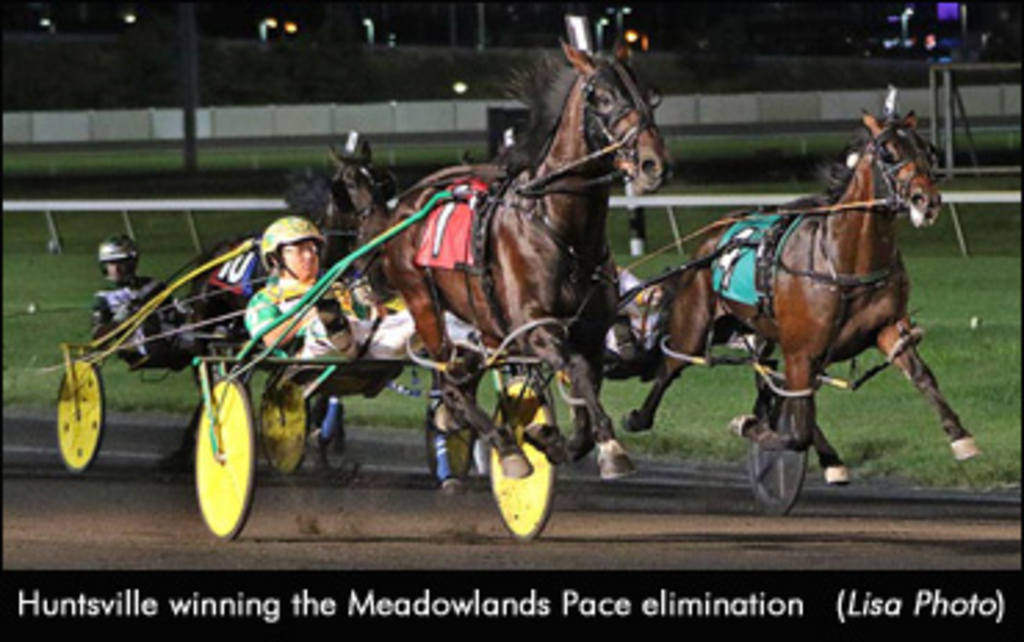 Published:
July 8, 2017 09:34 pm EDT

Huntsville ($2.20) was a dominant 1:48.4 winner in the $50,000 elimination for the Crawford Farms Meadowlands Pace contested on the Saturday night (July 8) stakes card at The Meadowlands, which also featured a pair of Graduate Series finals won by the Canadian-campaigned Marion Marauder and Sintra.
In the Meadowlands Pace elimination, Blood Line (Mark MacDonald) fired off the gate from post four with post seven starter Macs Jackpot (David Miller) driving into second ahead of the 1-9 insider Huntsville. However, driver Tim Tetrick moved Huntsville out of third as they raced by the quarter in :27.3 and took over command.
The North America Cup runner-up proceeded to the half in :55.2 and three-quarters in 1:22.2 before scooting away down the stretch for the powerful 1:48.4 win with Blood Line holding second and Santafes Coach (Corey Callahan) finishing ahead of Macs Jackpot for third.
Talent Soup (Eric Abbatiello), Filibuster Hanover (Yannick Gingras) and Boogie Shuffle (Scott Zeron) also qualified for the final.
The reigning U.S. divisional champion Huntsville now boasts four wins and two second-place finishes in six sophomore starts with an annual income totalling $331,029. The millionaire homebred son of Somebeachsomewhere and Wild West Show is owned by trainer Ray Schnittker, Theodore Gewertz, the late Charles Iannazzo, and Steven Arnold.
The top seven finishers will advance to next Saturday's (July 15) final along with Downbytheseaside, Classic Pro and Miso Fast, who earned a bye as three of the top 2017 money winners. The connections of Huntsville refused a bye to the final.
"We wanted to race because we didn't go to Pocono and we didn't want to go into the Meadowlands Pace being off so long," said Tetrick. "He was good tonight, plenty of go, a little on the left line again, but Ray will have him ready."
As the elimination winner, Huntsville benefitted from drawing between posts one and six for the $738,550 final. Following the 10th race, the post draw was conducted, with Huntsville securing post four. The complete draw is listed below.
1. Blood Line (Mark MacDonald, Jimmy Takter), 5-1
2. Macs Jackpot (David Miller, Jim Campbell), 15-1
3. Boogie Shuffle (Scott Zeron, Mark Harder), 30-1
4. Huntsville (Tim Tetrick, Ray Schnittker), 1-1
5. Downbytheseaside (Brian Sears, Brian Brown), 4-1
6. Miso Fast (Matt Kakaley, Ron Burke), 10-1
7. Filibuster Hanover (Yannick Gingras, Ron Burke), 10-1
8. Santafes Coach (Corey Callahan, Leo Iordan), 20-1
9. Classic Pro (Trevor Henry, Dr. Ian Moore), 15-1
10. Talent Soup (Eric Abbatiello, Bruce Saunders), 30-1
Back at the scene of his 2016 Hambletonian victory and better than ever, the Canadian-campaigned Triple Crown champion Marion Marauder ($3.80) was victorious in the evening's first $240,000 final of the Graduate Series for four-year-old trotters.
There was a scramble for the lead off the starting gate with Dayson (Yannick Gingras) coming away on top and Dia Monde (Jody Jamieson) settling in behind, but Trolley (Marcus Miller) rushed up from third to take over past the :27.4 quarter mark.
As he led the way past the half in :55.2, Marion Marauder and driver Scott Zeron were flushed first-up with Tight Lines (Jeff Gregory) tracking the 4-5 favourite's live cover.
Marion Marauder continued to advance outside to confront Trolley at three-quarters in 1:23.3 and trotted on by in the stretch to win in a career-best 1:51.2 mile, with a wall of horses battling across the track for second-place one length behind in a photo finish. The Luc Blais-trained Warrawee Roo (Dan Dube) took the runner-up honours over Ron Burke stable's Dayson and Tom Durand trainee Dia Monde.
Following his O'Brien Award-winning sophomore campaign in which he won 10 of 15 races and banked $1,558,254 in purses, Marion Marauder was victorious in a Graduate leg at Tioga Downs on June 11 and finished third in a Canada Day Preferred event at Mohawk Racetrack.
"[He returned] better than we expected," said Mike Keeling, who trains the Muscle Hill-Spellbound Hanover stallion with his wife Paula Wellwood. "He was in great form that first start at Tioga and we're please to be able to come down here and get in the final. He was pretty impressive tonight.
"It was the easiest tough decision we've ever made actually [to bring him back to the races]. We never really said goodbye last fall. Bringing him back was something we really wanted to do, but we just felt compelled to try the stallion route. But he loves racing and we love racing him.
"He's definitely filled out. He's more like a sophomore than a junior. He's a little bit stronger. His personality is the same and his temper is the same."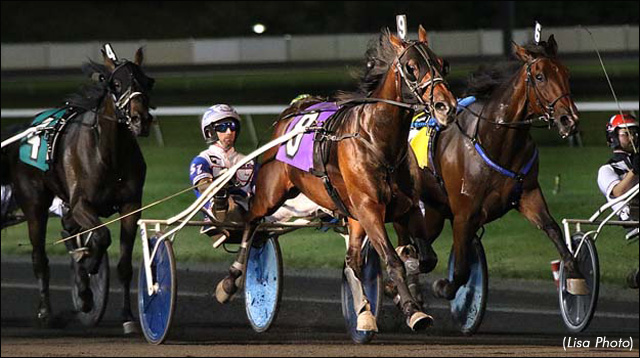 Marion Marauder and driver Scott Zeron winning the Graduate Series final on July 8 at The Meadowlands. (Lisa Photo)
Marion Marauder earned his 13th career win from 31 starts and went over the $2 million mark with the Graduate score for owners Marion Jean Wellwood of Stratford, Ont., and her grandson Devin Keeling of Cambridge, Ont.
"We have the Hambletonian Maturity here next week and we're going to have to decide when we're going to tackle Open company after that," said Mike Keeling, noting plans currently include to race on Hambletonian Day in the Cashman.
Another Canadian invader, Sintra ($4.60), turned in an impressive 1:47.2 career-best victory in the Graduate final for four-year-old pacers.
Jody Jamieson drove the Mach Three-Dancin Barefoot gelding for trainer/co-owner David Menary and his partners Brad Gray of Dundas, Ont., and Michael Guerriero of Brampton, Ont.
Firing across the track from post 10, Western Fame (Mark MacDonald) established the early lead, but Lyons Snyder (Scott Zeron) looped him to take over past the :26.3 quarter with Dr J Hanover (Doug McNair) on the move from third.
Dr J Hanover worked to clear by the :53.2 half-mile marker then Check Six (Yannick Gingras) charged up alongside with an aggressive move approaching three-quarters in 1:20.4. Meanwhile, Sinta followed his cover before swinging outside and pacing away to a four and a half length victory in 1:47.2, with his final quarter clocked in :26.2. Boston Red Rocks (Brett Miller) came on for second, with Western Fame holding a slight edge in a three-way photo for show.
"With the six-hole, I thought I had the best horse, I just had to find the right spot with him," said Jamieson after the race. "It worked out good, I got to follow a live helmet. I almost ran over Yannick at the head of the stretch I was so live, but this horse just keeps bailing me out every time I get to sit behind him."
Sintra doubled his seasonal earnings ($240,235) and now boasts six wins in eight starts this year, including Graduate legs at Mohawk on June 3 and Meadowlands on May 6, which was his previous best showing in 1:49.1.
"He loves the Meadowlands, I wish we could come here every week," said Menary.
The time of the mile was three-fifths of a second off the 1:46.4 world record for a four-year-old gelding over a mile track set by Dr J Hanover on June 3.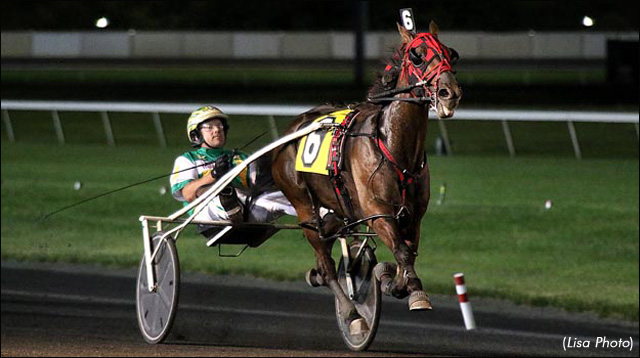 Sinta and driver Jody Jamieson winning the Graduate final on July 8 at The Meadowlands. (Lisa Photo)
A career winner of 14 races and $543,885 in purses, Sintra's next stakes engagement will be the Gerrity on July 22 at Saratoga.
The Saturday program began with the $41,880 Mary Reynolds Memorial for three-year-old filly trotters, which was won by Dream Baby Dream ($4.40) for trainer/driver Rod Allen and co-owner Joseph Palermo III. The homebred Muscle Hill-I Believe filly cleared to command past the :29.2 quarter pole ahead of early leader Sunshine Delight (Brett Miller) and cruised through middle splits of :57.1 and 1:24.4 en route to the career-best 1:52.3 victory. Sunshine Delight finished three-quarters of a length behind in second and favourite Overdraft Volo (Andy Miller) rallied off cover for the third prize.
Three-year-old trotting colt Walner ($2.40) was impressive in his season's debut on Saturday night, scoring in a career-best time of 1:51.1 to give Tim Tetrick his first of five wins on the program. The Dan Patch Award-winning son of Chapter Seven and Random Destiny swept to command by the :28.1 quarter and trotted the half in :56.1 before taking off on the way to three-quarters in 1:23.2 and extending his lead to seven and half lengths down the lane. Sweet Thing (Yannick Gingras) and Winter Harbour (Scott Zeron) rounded out the top three finish order.
"He's bigger and stronger. He's super smart and he's ready to race," said Tetrick of the early season Hambletonian favourite, who is trained by Linda Toscano and owned by Kenneth Jacobs.
Three-time O'Brien Award winner Lady Shadow ($2.60) overcame her outside post nine assignment in the evening's $20,000 Fillies & Mares Preferred Handicap Pace, making the lead through a :27.3 quarter for driver Yannick Gingras. The 1-5 favourite raced on to the half in :55.2 and three-quarters and 1:22.3. Down the stretch, Shesjustadelight N (Ron Cushing) closed inside from the pocket and Nike Franco N (Tim Tetrick) charged up late on the outside, but the divisional darling Lady Shadow held on to win by a neck in 1:49 flat. Ron Adams trains the six-year-old Shadow Play-Lady Camella mare, who is five-for-five on the year and gearing up to defend her title in the upcoming Golden Girls. She is owned by David Kryway, Carl Atley, Edwin Gold, and BFJ Stable.