Published:
July 7, 2012 08:43 pm EDT

While he didn't blow away the field, Sweet Lou delivered as the 2-5 favourite in the first 2012 Meadowlands Pace elimination on Saturday night at Meadowlands Racetrack.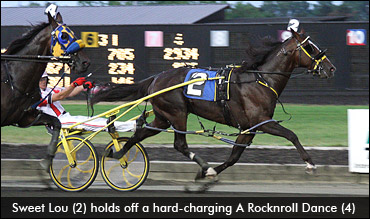 All Star Legend (Brian Sears) was able to gain early command while driver Dave Palone settled Sweet Lou into fourth. A Rocknroll Dance (Yannick Gingras) didn't find a spot on the wood and was forced to drive on for the lead after the :27 opening quarter.
As Gingras landed on top, Palone right-lined Sweet Lou from fourth and gunned his charge for the front and Gingras obliged, allowing Sweet Lou the front in a half-mile of :54.3. State Treasurer (David Miller) was first up to challenge Sweet Lou as A Rocknroll Dance was all over the helmet of Palone through the 1:22.2 third panel.
State Treasurer continued to grind away and almost made it even with Sweet Lou in the stretch before Palone asked his pacer for another gear, and Sweet Lou kicked away from State Treasurer. That gap allowed Gingras to angle out A Rocknroll Dance from the pocket. Gingras' urging was too little too late for the win as Sweet Lou hit the wire in 1:49.1.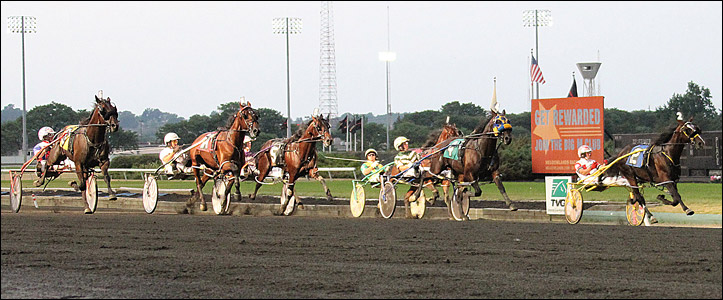 A Rocknroll Dance was a neck back in second with Simply Business (Ron Pierce) closing well for third. Allstar Legend and State Treasurer also qualified for the $600,000 final next Saturday.
Sweet Lou (Yankee Cruiser - Sweet Future) is now 14 for 17 lifetime for trainer Ron Burke and owners Burke Racing Stable LLC, Weaver Bruscemi LLC, Lawrence Karr and Phillip Collura of Pennsylvania and New Jersey.
Palone was pleased to see how Sweet Lou bounced back from his fourth-place finish in last month's Pepsi North America Cup at Mohawk.
"I thought he was OK, I wasn't sure I raced him the way I wanted to race him but when Yannick got the lead the brakes came on and I didn't want to make any mistakes," said Palone after the win. "We still got home in :26.4 and I don't think speed was ridiculously good tonight. I have mixed emotions. I know this colt wasn't at his best tonight and I know Ronnie [Burke] will have him at his best next week."
The second $50,000 elim also went to a horse that has only lost twice in his career. After a four-deep foray into the first turn, Heston Blue Chip (Tim Tetrick) and Bolt The Duer (Mark MacDonald) were first away with pari-mutuel choice Time To Roll (Andy Miller) in third through the :26.2 opener. Miller wanted no part of that position and made his move for the lead and Tetrick felt content to sit the pocket as Bolt The Duer was on his back in third.
There was no flow through the :54 half until Brian Sears moved Pet Rock to the outside from fifth, allowing cover for North America Cup champ Thinking Out Loud (Randy Waples). As Pet Rock approached the leaders on the first over voyage, Tetrick made the move to pull pocket before the third quarter - reached in 1:22.1 - and made his bid for the front.
In the stretch Heston Blue Chip pulled in front of Time To Roll, leaving no room for Bolt The Duer as Pet Rock was right there battling in the three-wide path and Thinking Out Loud started to close from off Sears' cover. With some anxious moments between Pet Rock and Thinking Out Loud that could have delayed their momentum, Heston Blue Chip was able to hang on for the lifetime best 1:49 score. Thinking Out Loud was a half-length back in second with Pet Rock, Bolt The Duer and Time To Roll completing the top five that will advance to the final.
Ken Jacobs of Baldwinsville, NY owns and Linda Toscano trains Heston Blue Chip (American Ideal - Shot Togo Bluechip), now 16 for 18 lifetime after winning in his Meadowlands debut and staying unbeaten in five outings on the season.
"I'd trained him here a few times before racing him here tonight," noted Tetrick after the victory. "All he does is win, there are some tough horses in the NYSS and he shows up every week.
"He was a litle ranker tonight than he's been in the past. He left well and I put a few in the hole. Time To Roll came and I let him go [to the lead]. My horse didn't want to sit. When I came to the top of the lane I went ahead and deuce-popped on Time To Roll, and my horse really raced game all the way to the wire."
All Meadowlands Racetrack horsemen and owners are invited to watch the post position draw for the $600,000 Meadowlands Pace and get a sneak preview of the new Winners Bayonne facility on Tuesday, July 10. The proceedings will begin at 12:30 p.m. The connections of Sweet Lou and Heston Blue Chip earn the right to select their posts for the 2012 Meadowlands Pace Final.
Hambletonian hopeful Possess The Will made his 2012 debut earlier on the card in a $46,452 division of the W.N. Reynolds Memorial for three-year-old trotters, but it was Money On My Mind playing spoiler for the husband-wife team of Andy & Julie Miller. The three-year-old Cantab Hall gelding notched his first win of the year in a lifetime best 1:53.3 with Possess The Will a solid second.
Drop The Ball was favoured in the $56,000 final of the Green With Envy Series for four-year-old pacing mares and came through with a 1:51.1 score for Yannick Gingras and trainer Ross Croghan.
For results from Saturday's card of harness racing at the Meadowlands, click the following link: Saturday Results - Meadowlands Racetrack
(Photos courtesy Lisa Photo)