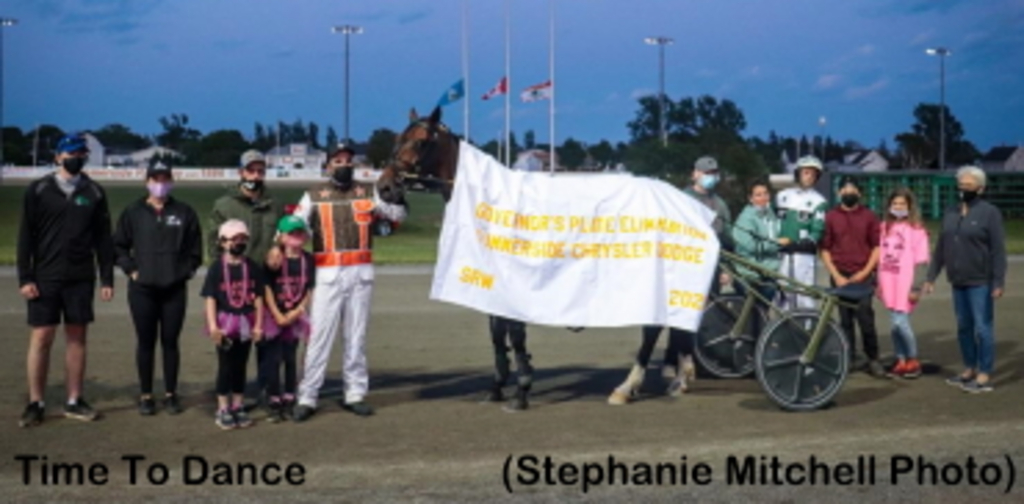 Published:
July 5, 2021 11:55 pm EDT

The ink has dried on the finalists for the 2021 Governor's Plate final, presented by Summerside Chrysler Dodge, as Time To Dance and Day Delight won their eliminations Monday evening at Red Shores at the Summerside Raceway.
Time To Dance, the runner-up in the 2020 Governor's Plate final, scored the fastest victory in winning the first $5,000 elimination through unchallenged splits of 28, 56.3, 1:25 and 1:52.3 for trainer-driver Marc Campbell and owners Matt McDonald of Ontario and Brent Campbell of Charlottetown. Blood Money (Driven by Dr. Mitchell Downey) rallied for second with Mc Pat (Gilles Barrieau) third and Rose Run Quest (Walter Cheverie) closing for fourth to earn a spot in the $25,000 Saturday evening final.
Day Delight converted a pocket-ride to victory in the second $5,000 elimination in 1:54.3 for trainer-driver Barrieau and the ownership group of Wayne MacRae, Lloyd Stone, Victor Puddy and Howmac Farms Ltd.
Avatar J (Kenny Arsenault) finished half-a-length back in second while pacesetter Woodmere Ideal Art (Todd Trites) finished third. The last spot in the final went to defending champion Bugsy Maguire (Brodie MacPhee).
The post positions for Saturday's race will be determined in a live draw during the Tuesday evening card at Red Shores Summerside.
Also on Monday, Campbell swept the $3,200 Ruby Chappell Memorial Open Mares Eliminations with trainees Dreamfair Zenfire (1:54.3) and Arc Light (1:55.4). Campbell also won with the Wade Sorrie trained Pictonian Storm (1:57.4) for the driving grand slam.
Trainer Ron Gass had a double from his Cornwall barn with Ms Moyse (Barrieau) in 1:56.1 and Betterthanbutter (Ken Murphy) in 1:57.1.
(Summerside Raceway)
To view results for Monday's card of harness racing, click the following link: Monday Results – Summerside Raceway.