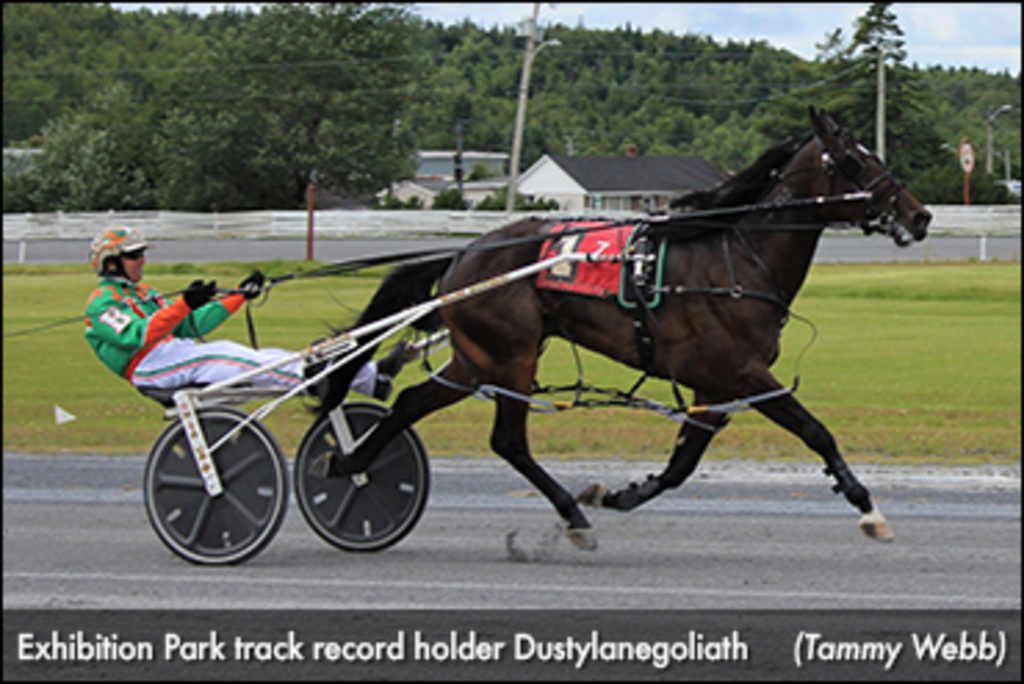 Published:
July 31, 2021 03:38 pm EDT

It's only fitting that the biggest race of the season in New Brunswick results in a track record performance. For the second time this season, Daniel Ross' Dustylanegoliath ($5.80) upset the darling of the Atlantic glamour boys, Woodmere Stealdeal, and posted a 1:53 win in the $40,352 Barrieau-McIsaac Stakes at Exhibition Park Raceway, the fastest mile ever at the historic venue.
Trainer-driver Gilles Barrieau protected pole position with the Steelhead Hanover gelding, forcing fellow leavers Elliot Moose and Tobins Brownie to abort their bids before yielding control of the pace to 1-2 favourite Woodmere Stealdeal at the conclusion of a :28 first quarter. Dustylanegoliath benefitted from a cosy and clear pocket ride behind Woodmere Stealdeal through middle sectionals of :54.4 and 1:24.3 before edging off the pegs on the final turn. Upon cornering for home, Dustylanegoalith's fresh legs propelled him to the fore, and he sprinted off at will as the stern pace took its toll on Woodmere Stealdeal. Dustylanegoliath won by a widening 5-1/2 lengths in 1:53, knocking more than three seconds off P H Breakaway's 16-year-old track record for sophomore trotting geldings and shaving four-fifths of a second off Big League's all-age track record, set in 2013.
Elliott Moose (Jason Hughes) rallied mildly to take second over the tiring Woodmere Stealdeal (Marc Campbell), who tasted defeat for only the third time in his 17-race career.
Dustylanegoliath, now a nine-time winner, exceeded $64,000 in career earnings with the stakes win, his second of the year.
In the sub-featured $5,000 Walter Dale Invitational Pace, Ottawa mainstay National Debt ($2.40) recorded a pillar-to-post score, edging away steadily to defeat Batterup Hanover and Little Manny by 5-1/2 lengths in 1:55.1. David Dowling drove the 10-year-old son of Allamerican Native, a 73-time winner, for trainer Colin Johnson and owner François Morin.
To view Saturday's complete results, click the following link: Saturday Results – Exhibition Park Raceway.