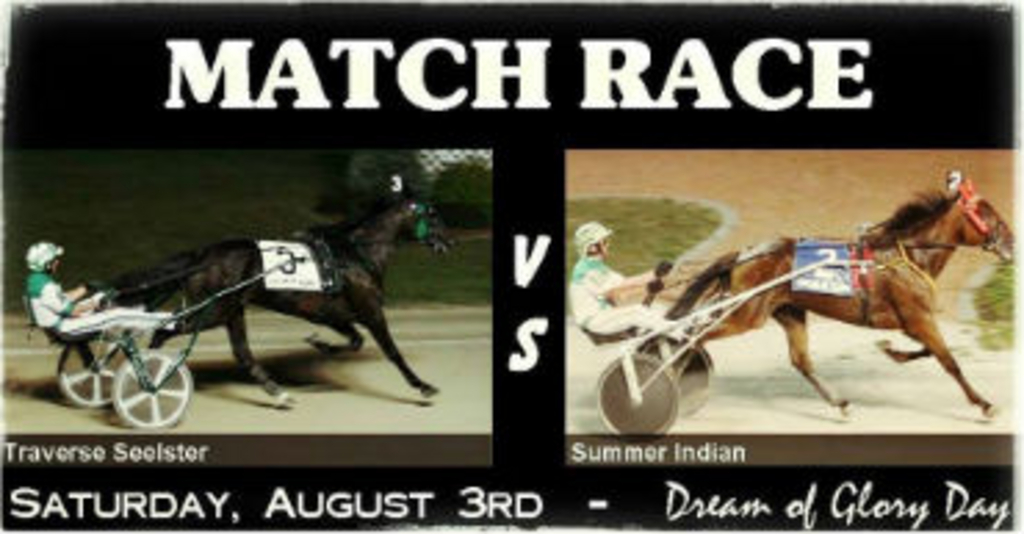 Published:
July 30, 2013 08:38 pm EDT
"Even though I'll have horses racing in the Hambletonian, the Hambletonian Oaks and the U.S. Pacing Championship, the highlight of my day will be the match race at Hanover Raceway."
That's how stoked owner Mark Weaver is going into Saturday's Dream Of Glory Night at Hanover Raceway.
With less than a week until the Champions Match Race at Hanover Raceway, the excitement is building and the temperature is heating up with a little trash talk between the connections of Summer Indian and Traverse Seelster.
The 2012 Dream Of Glory champion and world champion, Summer Indian, is coming into Saturday's $15,000 match race following a 1:52.4, second-over win at Mohegan Sun at Pocono Downs - and his connections are highly confident.
"Anytime you have a world record holder, you can say it's something no horse has ever done, it's pretty special. He's extremely fast, and when he minds his manners he's tough to beat," said co-owner Mark Weaver. "Maybe Traverse Seelster is a little handier on a half-mile track, but our horse showed in his last start that he can race off the speed. Until last week, he hadn't shown that he could relax and come from behind, but in his last start I was really happy with him."
Summer Indian will need to be sharp if he hopes to beat 2010 Balanced Image and 2011 Dream of Glory champion Traverse Seelster. The five-year-old Angus Hall gelding comes to Hanover after recently setting the fastest half-mile track clocking of any trotter in North America when he trotted in 1:54.1 at Harrington Raceway.
"He's really matured into a faster, very nice horse," said Traverse Seelster's trainer, Gary Green. "He's really good-gaited, and he's improved his speed so much. He's a beautiful horse. He can race either way, so it doesn't matter how the race plays out. He can do it all."
Traverse Seelster was bought by Keith Pippi back in February from his former ownership group and trainer Frank O'Reilly. O'Reilly trained him from his rookie season as a two-year-old and was a major player in the Ontario Sires Stakes program, as well as being the only horse to sweep Hanover Raceway's trotting stakes events for two and three-year olds.
After racing on the WEG circuit as a four-year-old, he now competes regularly in the Open classes south of the border. Green intends to continue racing him in the top classes when he returns to the U.S.
"We'll likely give him a week off after being up in Canada, and then we hope to race him in the Open at Pocono Downs," Green added.
On being a part of the Champions Match Race, the connections of both horses gave high praise (as noted above) to the event.
"I appreciate the fact that the last two winners of the Dream Of Glory have gone on to do big things," said Weaver. "The other horse is owned by a good friend of mine and it seems like a lot of fun, and an evenly matched race. Also, I think it's a good idea to showcase those two horses that have won that race."
Although Weaver and Traverse Seelster's owner Keith Pippi are "good friends," that didn't stop Weaver from taking a playful shot at the competition.
"I race against Keith all the time, and he pretty much can't beat me. I seem to come out on top in everything we do. I'm thinking history will repeat itself."
Summer Indian is trained by top conditioner Ron Burke, who is also part owner after purchasing the horse from John Bax and Parkhill Stud Farms.
"Mark [Weaver] showed me his lines and I said I was interested. Then, he showed up in the barn," noted Burke. "When we first raced him, we knew he was extremely talented, but then he went through a tough time. He seemed to be mentally out of it. But we've got it figured out now and he's a really great horse. We couldn't figure out why he made breaks, but now he seems as sharp as ever.
"We're so excited. It's something completely different for us," Burke added. "I think it's awesome. We don't do this just to make money. We do it because we enjoy the competition. This is going to be fun. It's not going to be just a regular race. We could have raced him down here for more money, but we wouldn't have gotten close to the thrill we'll get in a match race."
That thrill will come in the form of a very exciting race for fans, where Burke says his horse holds the advantage.
"With the rail, we can just go down the road and we can beat Traverse Seelster. With Summer Indian, he's as fast as the other horse and with the rail, we control the race. If they try to get around us, it'll be tough. If it turns into a sprint, we can sprint with anybody. How we train is like a match race every week. It's nothing new for him. I'm excited to see how he does."
For Summer Indian, his connections just hope he continues to be the horse he's shown he can be over the last few weeks of racing. After some troubles, he's finally racing like the horse they thought they were getting when they bought him.
The Champions Match Race will go as race six on Hanover Raceway's 12-race program and should head to post at approximately 8:00 p.m. For the connections of the two competitors, the race is putting more than just winner's share of the $15,000 purse on the line. There are also major bragging rights at stake, not to mention a healthy payoff at the betting windows. Pippi and Weaver have pledged to each wager $2,500 to win on their horse into the win pool as they get set to watch their horses duke it out one-on-one at Hanover Raceway.
The track record may very well be on the line as well, as both horses have shown the ability to shatter the 1:57 benchmark set by inaugural Dream Of Glory champion Abbey Road C.
Although Weaver and Burke both know just how fast Summer Indian can be, Weaver notes that a lot will come down to how the race plays out.
"That's up to the drivers. I would think they'd let them roll. We're not giving any instructions. They can go as fast as they want. Both horses are capable. It's just a matter of how the race plays out."
Green also offered that a new track record isn't out of the question, stating, "It's a possibility. Sometimes they don't go very fast on the front end in a match race. But, we'll see. It would definitely be fun to break the record. I've never been a part of a match race, so it's just fun to be invited."
The two men that will control the fate of the speed will be two former Canadian top dash-winning drivers Trevor Henry and Brad Forward. Henry will guide Summer Indian while Forward is set to steer Traverse Seelster.
The Champions Match Race is only one of 12 great races scheduled for Hanover's signature night of racing. First race post-time is 6:30 p.m.
(Hanover Raceway)
To view entries for Saturday's card of harness racing, click the following link: Saturday Entries – Hanover Raceway.